Superior Bike Park: here's the design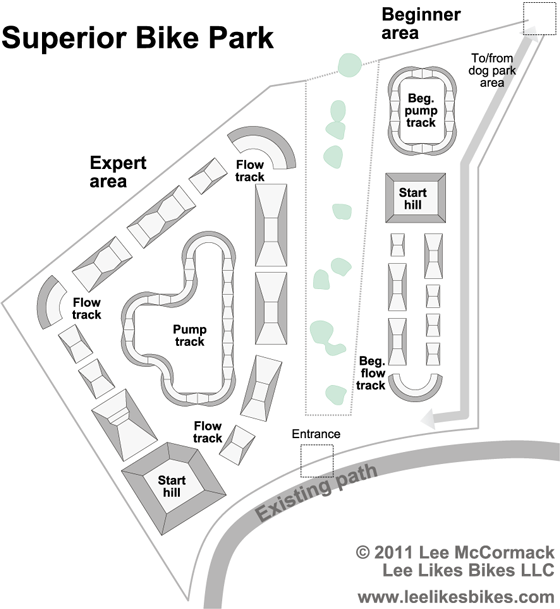 After 2+ years of wrangling, we have a design and a plan for the bike park in Superior, CO. We start digging in March.
It's interesting how these projects come to life. Enthusiastic citizens, people of influence, community support, budget, politics, environment, competition (getting screwed by the city-hired landscape architect but getting the gig anyway) … Did I say budget? Did I say politics? Did I mention getting screwed but getting the gig anyway?
Well, a whole lot of people worked very hard, and now the Game is On.
Overall
I tried to make the park as simple as possible while catering to all levels of riders. Also: The design must be build-able within our short timeframe and tight budget — by volunteers.
Valmont Bike Park in Boulder is going to be amazing, but the Superior park will cost less than 1 percent as much. We have very limited resources. We will get it done. It will be sweet.
Thanks to Zach Lewis for the design consultation.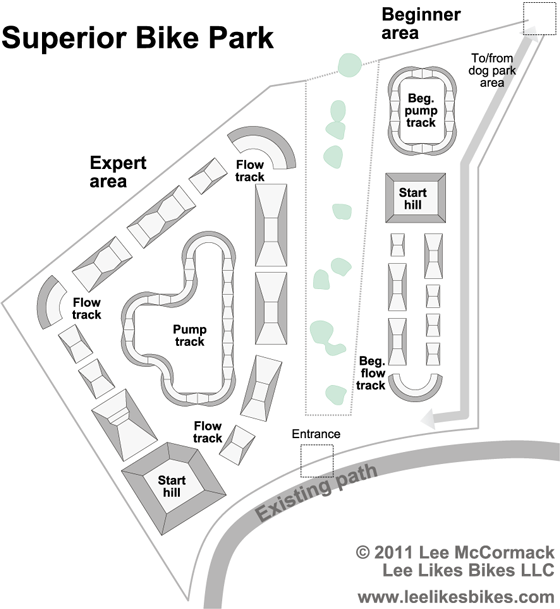 Working design for Superior Bike Park
Here are the park components. They're optimized to flow counterclockwise. This is the northern hemisphere, after all.
Beginner/expert areas
A line of trees forms a perfect boundary to separate the Superior's numerous young riders from the older rippers.
Flow track
Fun and fast. BMX inspired. Roller, table, table, table, berm, roller, camel, step-up, berm, roller, roller, and a big, trickable step-up like the ones in Lyons.
Pump track
Quickie and tricky. A long straight lays you into 3 Gs of 180-degree love. After that it's all about the technical turn sequences, culminating in three end-to-end 90s. I had linked 90s in my back yard, and it was the sickest 30 feet in mountain biking. This technical track will challenge most riders.
Beginner flow track
Over and over. This cool little section will get kids of all ages learning to jump safely. I can see kids (of all ages) hitting these tables all day long. Roller, jump, jump, berm, roller, roller, roller, JUMP!
Beginner pump track
Strider braaap! This is the straight-up international standard Welcome to Pump Track Nation pump track spec, scaled down for kids (of all ages). Keeping this track simple gave me freedom to make the main pump track extra tricky.
Sharing is caring
Part of me is saying, "Dude don't post that design. People will just steal your work, and you won't get paid or get credit."
True. That happens all the time. But, ultimately, the more I share the more we all prosper.
If you live near Superior, please come out in March. We'll eat, dig and make merry.
Braaap!
— Lee
If you want help building something like this in your community, email me. I can help with documentation, design and, if you like, construction. Authorities tend to believe me. I enjoy working with community-based teams. We will get it done. It will be sweet.
---
Know more. Have more fun!
Join the leelikesbikes mailing list:
---
https://www.leelikesbikes.com/wp-content/uploads/2018/08/leelikesbikeslogoheader.jpg
0
0
leelikesbikes
https://www.leelikesbikes.com/wp-content/uploads/2018/08/leelikesbikeslogoheader.jpg
leelikesbikes
2011-02-10 09:21:14
2011-03-08 22:40:19
Superior Bike Park: here's the design