Riding the Stumpjumper EVO 29 Pro Carbon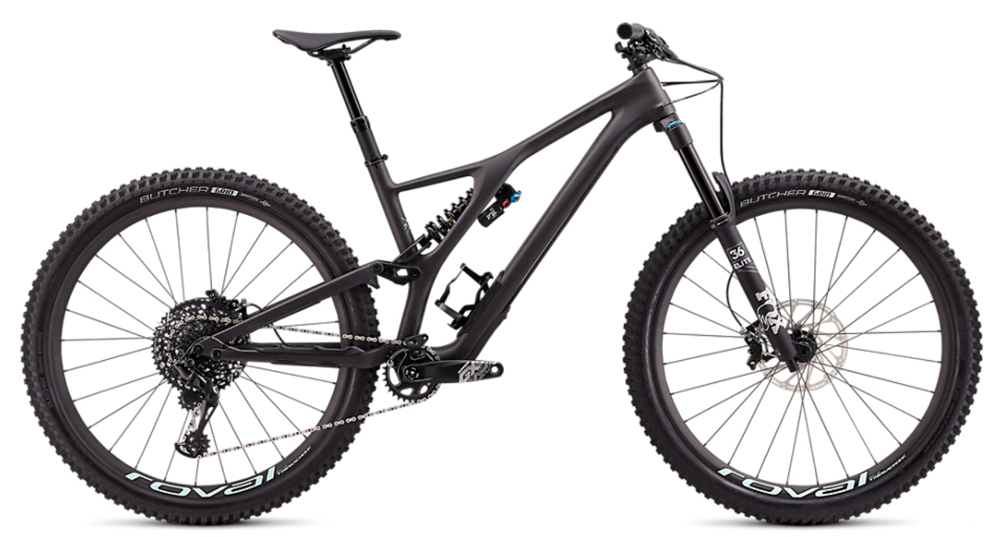 Last week I rode the 2019 Specialized Stumpjumper EVO Pro Carbon 29 in Moab, UT.
Thoughts:
---
The rides
I'm sharing this info with you so, if you know Moab, you can visualize what this bike was tested on.
Thursday: The Whole Enchilada from Kokopelli down. According to Strava, we were in the top 1% for the whole run. I felt like we were cruising easy (smooth is fast).
Friday: Slickrock Practice Loop x 2 rides. Including bonus "unrideable" uphill lines. I rode strong.
Saturday: Klondike Bluffs x 3 rides. Up Mega Steps. Once down Baby Steps, twice down Alaska (what a rad trail). Solid paces.
Sunday: The Whole Enchilada again. More crowded and less fast than Thursday.
Plus: I rode the slalom and big slopestyle lines at Valmont Bike Park in Boulder.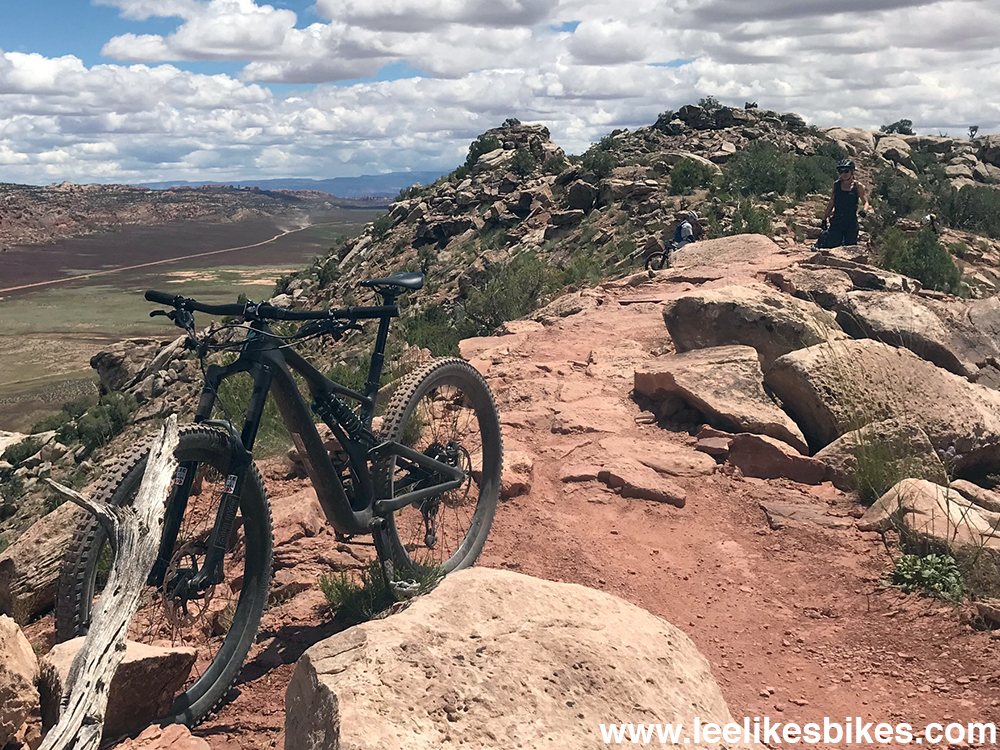 The traverse before ripping down Alaska. There's a tricky bit where Elle is standing. 
The bike
Specialized makes three flavors of the Stumpjumper:
Stumpjumper – your standard bad ass trail bike
Stumpjumper ST – badass short-travel trail bike
Stumpjumper EVO – badasser trail bike with extra badassery
The EVO 29 has the same travel as the regular Stumpy (150mm front, 140mm rear) plus all the slackness, lowness, longness and short-off-setted-ness people seem to expect these days.
I rode the Stumpjumper EVO Pro Carbon 29. It features a carbon frame, FOX 36 Performance Elite fork, FOX FLOAT DHX2 Performance Elite shock, Roval carbon wheels and SRAM Code RSC brakes with 200mm rotors. Retail is $6,700.
The Code RSC brakes work great. This is high praise coming from a full-on Shimano guy. The Codes had plenty of power, and they were easy to control, and — note this — the levers felt the same at all points during all of the rides (even the hot points). Nice brakes.
The DHX2 rear shock works very, very well. I needed the next stiffer spring and was bottoming hard and often, but man that shock plows through the gnar and tracks like, I dunno, a tractor. Bravo. Super good.
The 150mm 36 fork is fantastic. After the first day, so I could focus my impressions on the frame and geometry, I installed my 160mm Öhlins coil fork. I need to say this: For me, in Moab, with a waning gibbous moon, the FOX with GRIP2 damper works way better than the Öhlins. It feels less harsh in the chop, and it tracks cleaner. FOX. Really great.
So we're left with the Stumpy's frame. I could spout some BS about it being stiff yet compliant, and the carbon layup anointing me with shred, but I'd be making it up because who can feel that through dirt and rocks and tires and air and rims and spokes and springs and oil and pedals and shoes and handlebars and grips and gloves and the fat on your palms? I can feel when a bike sucks, but it's hard to discern subtle shades of awesome. So I'll say: This is a brand new carbon Stumpjumper. It is the epitome of quality and finish and purpose-built excellence.
For context: I've ridden the 2019 Stumpy ST and Stumpy Regular enough to know how they feel, and I currently own a 2016 S-Works Stumpy and 2017 Enduro Coil. All of these bikes ride great in its own special way.
The most notable thing about this bike is the geometry.
About that newfangled geometry
Over the past few years, "trail" and "enduro" bikes have been adopting some new angles and distances.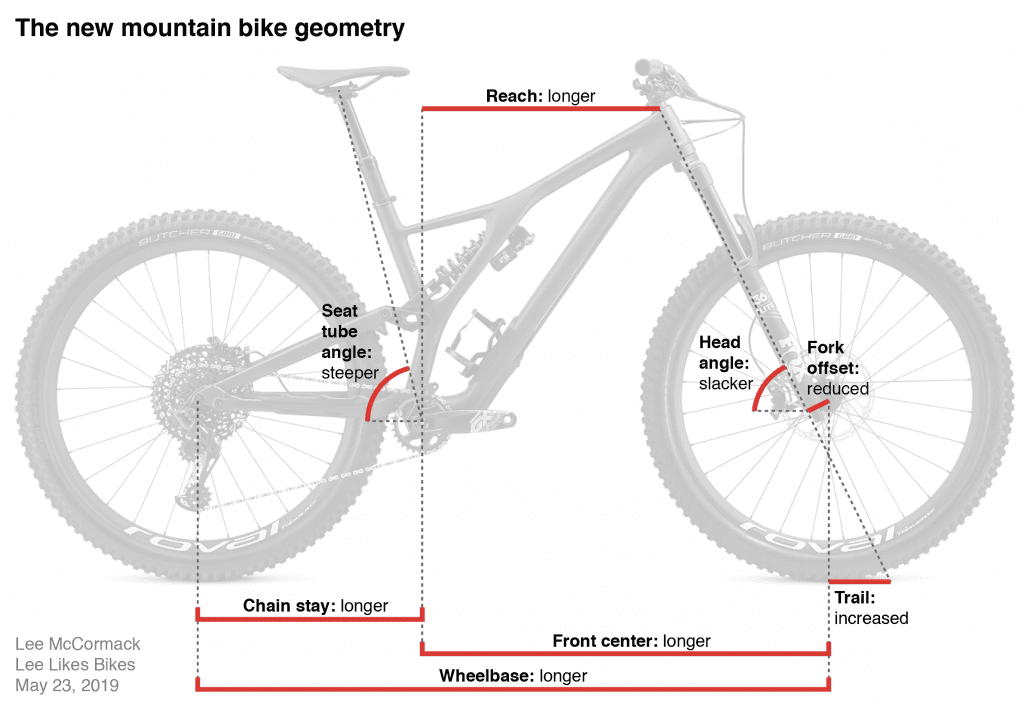 Here are some aspects of the New Geometry, as seen on the Stumpy EVO:
Slacker head angles. This increases trail (see below) and also, in a small way, better aligns the fork's suspension movement with the direction of impact. Historically, the gnarlier a bike is, the slacker its head angle (a downhill bike is slacker than an XC race bike). Slacker head tubes also increase the front-center and wheelbase. Keep reading.
Stumpy EVO 29 S2 low setting: 63.5°
Stumpy 29 M: 66.5°
Shorter fork offsets. Offset is the distance from the center of the steering axis to the center of the axle, as measured perpendicular to the steering axis. More offset reduces trail (see below). Less offset increases trail. People tell me a shorter fork offset shortens the wheelbase, but, given the dramatic way offset affects bike handling, that seems like a silly way to control the length of the bike.
Stumpy EVO: 44mm
Stumpy: 51mm
More trail. Trail is the distance your front wheel's contact patch "trails" behind the imaginary line that goes through your steerer tube. Trail is a function of head tube angle and fork offset. The more trail you have, the more your bike will tend to hold a line — the more stable it'll be. The less trail you have, the easier your bike will change lines — the more nimble it will be. In a general sense, trail/all-mountain/enduro bikes are swinging toward more trail and more stability which, of course comes at a price of reduced nimbleness.
Stumpy EVO: 138mm (this is huge)
Stumpy: 107mm
Steeper seat tube angles. This is purported to improve pedaling power, especially when your bike is sagged on a steep climb. An opinion: For some bike companies (not Specialized), it's hard to fit a fat 29er wheel and lots of suspension travel into the back of a bike. A steeper seat tube angle helps make everything fit.
Stumpy EVO: 76°
Stumpy: 74.5°
Longer reaches. When you're on the saddle with a steep seat tube, and you want to maintain your standard seat-to-handlebar distance, you need to increase frame reach. This pushes your whole body farther forward over the chassis, which some say aids climbing. With a long reach, the rider is farther behind the handlebar, and this can aid confidence. Also, longer reaches feed into longer wheelbases (see below).
Stumpy EVO: 445mm (the 27.5 model is 465mm)
Stumpy: 425mm
Longer front centers. Slack head tubes and long reaches make bikes' front-centers (horizontal distance from bottom bracket to front hub) longer. This puts the rider farther behind the front tire, which aids confidence in the straight gnar — especially for riders who are hunks of meat hurting to uncertain fates. But it reduces front-wheel pressure for cornering.
Stumpy EVO: 781mm
Stumpy: 734mm
Longer chainstays (sometimes). The position of your bottom bracket relative to your front and rear wheels determines your bike's front-rear weight bias. As with alpine ski bindings, there's a range of positions that seems to work. When your bike's front-center gets longer, the bottom bracket migrates relatively backward toward the rear wheel, and the front tire tends to get lighter. In the wrong hands, this can make cornering a shit show. Some bikes (like the Stumpy EVO) lengthen the chain stays to preserve a more optimal front-rear weight bias.
Stumpy EVO: 443mm
Stumpy: 437mm
Longer wheelbases. This is a function of slack head angles, long reaches and long chain stays. Longer wheelbases are more stable and, often, more confidence inspiring (but no modern bike is unstable). They are theoretically harder to turn tightly.
Stumpy EVO: 1,224mm
Stumpy: 1,169mm
Comparing the EVO with the regular Stumpy, some of these numbers are dramatically different (head angle! trail!), while the others are slightly different. At this price level, the subtleties — especially when combined — have a huge influence on how the bike rides.
Setup
As soon as I got the bike, I installed my own stem (OnOne 30mm), handlebars (SQlab 30X aluminum with 16° backsweep), pedals (the venerable XT Trails) and wheels (Derby 30mm rims on King hubs with 29×2.6 Butchers and CushCore — no pinch flats for this guy!).
The stock 500-lb spring was too soft for my 180-lb carcass . This gave me extra sag and made the rear end extra plush. It also empowered some epic bottom-outs.
After the first day's ride on the Whole Enchilada, I swapped the stock 150mm FOX 36 fork for my 160mm Öhlins RFX36 Coil. Both forks have the same axle to crown height. The FOX has reduced (41mm) offset. The Öhlins has normal (51mm) offset.
I have strong ideas about mountain bike setup. You can learn about them at www.llbmtb.com and in my book Dialed. Basically, the most important shred measurement is the distance from the bottom bracket to your grips (I call this Rider Area Distance or RAD). When this distance is perfect for your body, you enjoy more pumping power, more range of motion and more peak pedaling torque. It's also healthy for your shoulders.
I'm 5′ 8.5″ (174cm) tall. Specialized offers the Stumpy EVO in two sizes: S2 and S3. I rode the S2. It has a reach of 445mm. This is not long by today's standards, but it's long for me.
Even with my megashort stem and backswept bars (mounted upside down!), I couldn't get the RAD short enough. This noticeably reduced my ability to ride the bike. And it hurt my shoulders.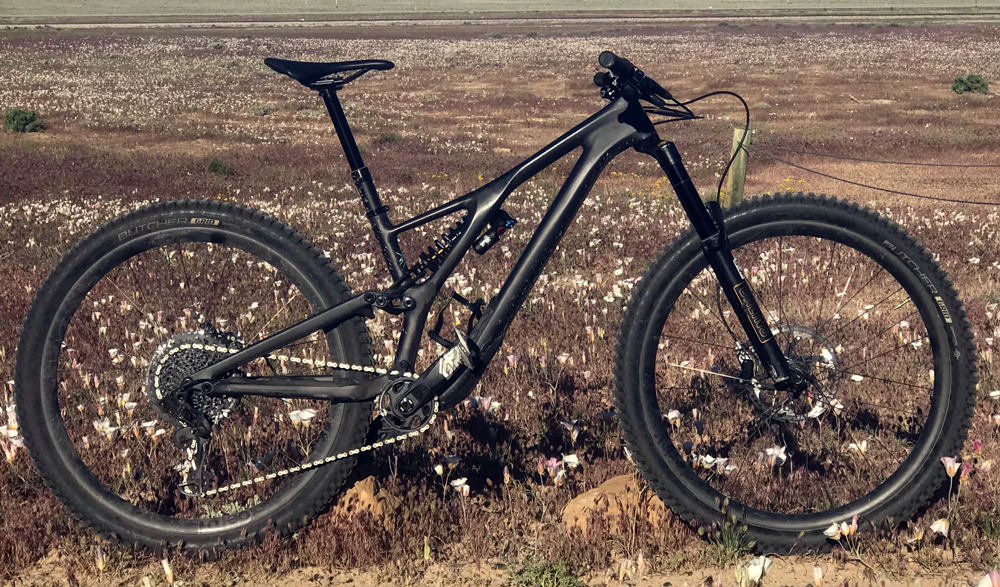 Stumpy EVO with some of my parts, including the 160mm Öhlins TTX36 Coil fork. 
Flip flop – a tale of trail
This bike's 63.5-degree head angle is right off a downhill bike (and damn close to a motocross motorcycle). With the reduced offset fork, the bike's trail is 138mm.
138 is just a number, but consider: A standard Stumpy trail bike has a trail of 107mm. A Demo 8 downhill bike has a trail of 118mm. A Honda CRR250R has a trail of 118mm. So, yes, the EVO has way more trail than a DH bike or MX moto.
Do you know how you hop on some bikes and they immediately feel like home? This is not that bike. In the parking lot, the cornering feels extremely floppy. You're going straight, then you lean the bike, and suddenly the front end rotates massively in that direction and starts to push. It feels scary, like holy shit what is going on? I adapted pretty quickly and took it to a fast Strava time, but the feel was unusual.
When I switched from the FOX 36 to the Öhlins RFX36 Coil, that increased the offset and reduced the trail. This didn't massively change the bike's personality, but it immediately felt more usual. Less floppy.
Riding the Stumpy EVO
Based on the numbers and my own personal bias, I expected the EVO to be fast on straight downhills and cumbersome everywhere else. I wanted to be open to the new geometry, but I wasn't so sure.
Sizing is a thing. As mentioned above, I found the reach to be too long. It took a lot of strength to stabilize my shoulders in the extended position, and, once those muscles got tired, riding became very painful. The too-long frame also cost me range of motion, but I'm pretty mobile (#riprow) and made it work fine. When you shop for this bike, be aware of the sizing.
Pedaling. When we started pedaling from the shuttle drop-off, I thought I had a flat tire. Nope: Just a very plush rear end and some pedal bob. Switching the shock to the firm setting eliminates this feeling, as does riding the bike for a while and getting used to it. On the final road section on the final ride on the final day, the bike pedaled just fine and nabbed a glorious sprint. Glorious!
Your pedals are on strike. That low bottom bracket means every single pedal stroke in Moab finds a rock. My issue was exacerbated by the too-soft shock spring. Switching the bike to the high and steep mode (which is neither high nor steep) helped.
Too … much … traction. The long wheelbase and supple suspension and grippy tires mean the only way you'll stop a tough climb is to 1) finish it or 2) give up and admit your failure. Done are the days of slipping out and saying Oh well next time. Note: You can say "this bike is all about the descents, that's why I walk up the hills," but we both know you're full of it.
The unclimbable hill. I promised not to get into the frame design, but the thing does transfer power in a non-flexy way. Off the main trail at Slickrock is the "Unclimbable Hill," so named because it's impossibly steep and entirely intimidating. As we rode by I was like, hmm … so I went for it. There's this moment when you hit the steepest part and you're like Holy shit, can I do this? And if I can't do this how am I gonna get off my bike!? But I locked my core and hammered … and the hill needs a new name.
Technical climbing. On some very technical and steep sections that I often walk, I 1) made them and 2) did so pretty easily. I suppose the long wheelbase helps, as does the tune on the shock. Traction is so immense that you'll wish for less because the only limiting factor is your weakness. The bottom bracket is low, so expect more pedal strikes than normal. Funny thing: I busted so many rocks the first day and so few after that. I suppose we adapt.
More sitting. On steep/rough climbs I found myself sitting where I'd usually stand. I credit the steep seat tube angle and the cushy shock.
Steering uphill. When you're going straight, the bike goes straight. As soon as you start veering side to side, the bike veers wildly, and it's hard to reign back. The fix? Lock your core and don't let the bike veer in the first place. This takes more energy than, say, a standard Stumpy.
Uphill switchbacks. Line up wide and stay wide. It's neither snappy nor quick, but it gets done.
Downhill switchbacks. See above.
Braking. As mentioned above, the Code RSC brakes are very good. Also consider the grabby tires, the supple suspension and the long wheelbase. I found it easy to haul down from high speeds, and I had tons of control in the steep/techy/grabby sections.
Long-phase turns. At around 20 mph on Porcupine Rim, I jumped some rocks and landed on edge in the beginning of a turn. The bike loaded and hunkered and grabbed … and it railed in a way I've never felt: long and deep and delicious. Yeah man, this bike rails.
Tight, linked turns. The UPS and LPS trails have some true sine waves of love. Left, right, left … sometimes with a rock between, other times nothing but air. While my normal Stumpy and even my Enduro snap between these turns, the EVO just kinda heels over, releases pressure, finds the next turn then lays in. It's not as exciting as the other bikes, but it feels smooth and secure. According to Strava, it isn't slow either.
The front end feels long and light, especially when exiting tight to medium turns. I never lost control, but I found myself losing front bite. The fix is 1) apply more pressure throughout the turn and 2) release emphatically at the end. People tell you to ride this geometry with more weight on the bars, but I think that's bad technique.
Pumping. Rather than being quick and agile and snappy*, this bike is muted, controlled and effective. When the thing you're pumping is a random pile of jagged rocks, the longness and slackness and softness erase the details and let you focus on the big wave. At one point late in the Thursday Enchilada ride, my shoulders were hurting, and I was completely focused on re-arranging them so they hurt less. At that same moment Kevin yelled, "It's so rad to see you pumping these rocks!" Little did I know, the bike was planing across the gnar, and I was subconsciously making waves. If you want to pump a BMX track, get a BMX bike. If you want to pump a mountain, ride this bike.
*Not as snappy as a regular Stumpy, but more snappy than an Enduro. The EVO seems like the middle way.
Hopping. I had a hard time with this. 1) the shock was too soft. 2) the reach was too long. Did I manage to hop what I needed to? Yes. Did I learn to simply smash into things and rely on the suspension? Yes, that too.
Manualing. First of all: Lean-back and coast-along manuals are rad, but they're a parlor trick. I'm talking about real-deal, useful pump-manuals — the kind you do between rollers and rocks. Given its length, this bike shouldn't manual easily, but it does just fine.
Jumping. Whether popping an improvised rock double or boosting a big slopestyle booter, the bike jumps like it does everything else: stable, competent, confident. There's not much else to say.
High speed smash. Hammering down the rat-tat-tat rocks of Porcupine Rim, I couldn't really see what was happening other than some general shapes, and it was violent, and it was in control, and it was wonderful. At one point Kevin and Judd were pumping so beautifully, connecting shapes and making everything so smooth, and I just held on and smashed through all of it, and I was going exactly the same speed as them. The bike just goes. Better than my Enduro Coil? Yes.
Steep down tech. I expected this bike to be a pig at low speed, but no. At the bottom of the Whole Enchilada it gets technical, and I'm tired and I usually walk some of the sections. On the EVO I'd see a section, unclip a pedal then ride it anyway. The bike imparts a subconscious upgrade to the confidence.
The coolest person in the parking lot. "Is that the Stumpy EVO?" asks Taylor Swift. "Why yes," you say then you start talking and the rest is up to your imagination. But seriously, this is a sexy and special bike, and it might make you feel sexy and special.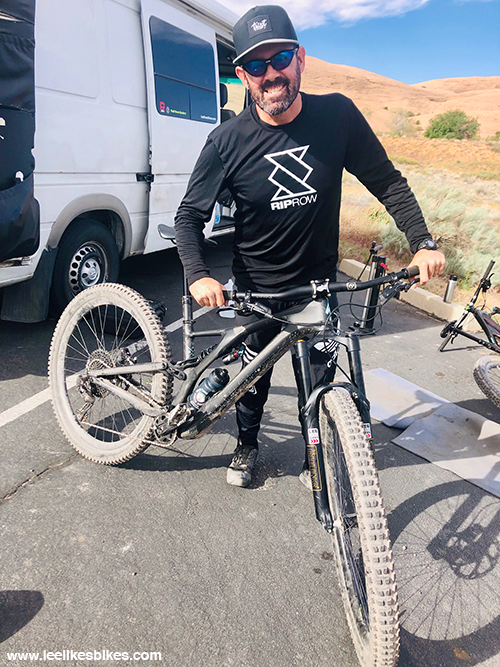 This bike makes me dress in black and shred, bro. I still do yoga though …
Parting thoughts
The Stumpy EVO brings a new of gnar-attack compared with the Stumpy Regular (and perhaps mid-travel trail bikes in general).
Is it as well rounded as a standard Stumpy? No.
Does it slay in its element (fast, rough and long-phase)? Yes.
Can this bike be ridden everywhere (including technical climbs) in the right hands? Yes. But take note:
1) Be mindful of sizing. If you're normally an extra large, consider the S3. If you're a large, consider the S2. If you're a medium, try the S2 but be aware it might be too long to give you a great fit. You can eliminate all guesswork at www.llbmtb.com and in my book Dialed.
2) You should know how to corner. Because of the long front end and slightly greater rear weight bias (compared with a standard Stumpy), the front tire wants to get light and wash out. I'm a lot better at cornering than most. When the front tire wandered, I made quick adjustments, and overall I tweaked my riding style to make this bike work. For most people — and most people are like most people — the front end will feel harder to control than a standard bike.
For the vast majority of people, a Stumpy ST or Stumpy regular will do the job better (and possibly funner) than the EVO. If you can get the EVO to fit you, and you know how to ride, and you pin the descents, and you're patient on the climbs, and you have terrain that you find steep/fast, and you want the baddest Stumpjumper ever made, the EVO might be right for you.
Also consider:
The Stumpy EVO with a standard-offset fork has all the slackness with less flop.
A normal Stumpy with a reduced offset fork would be more rounded yet impart extra confidence in the gnar. While you're at it, bump up to 160mm travel. That would be a Stumpy semiEVO.
Have fun out there,
Lee
https://www.leelikesbikes.com/wp-content/uploads/2018/08/leelikesbikeslogoheader.jpg
0
0
leelikesbikes
https://www.leelikesbikes.com/wp-content/uploads/2018/08/leelikesbikeslogoheader.jpg
leelikesbikes
2019-05-23 11:24:59
2019-05-24 12:36:50
Riding the Stumpjumper EVO 29 Pro Carbon