Stumpjumper Comp 29 test: Left Hand Canyon OHV area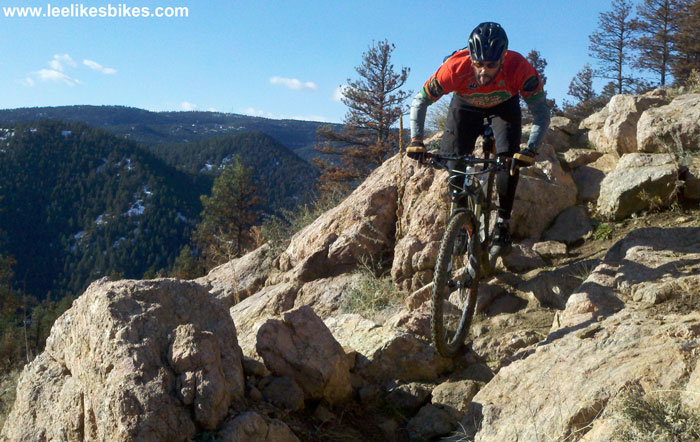 OK, so I've ridden the Stumpy Comp 29 on neighborhood gnar, pump track, dual slalom and dirt jumps, and it's been pretty impressive. What about big-mountain action?
---
Bike setup
2011 Stumpjumper Comp 29 with upgraded wheels and cranks, plus my Answer flat pedals, 70 mm Answer stem and original issue Maverick Speedball seatpost. 2.2 Purgatory Grid tires, tubeless with about 30 front, 33 rear (I let air out during the ride).

Specialized Stumpjumper Comp 29, with upgraded wheels and cranks, and my seatpost, pedals and stem.

Graffiti by my 2-year-old Fiona. She and her twin sister Finley are geniuses.
Crew
Me and Young Skywalker, aka Alex Willie. When Alex and I started riding/working together last year, he was a strong Cat 3 downhill racer. Now he's a strong Cat 1 downhill racer — and showing excellent fitness and highly refined riding technique. As a matter of fact, he's becoming downright disrespectful.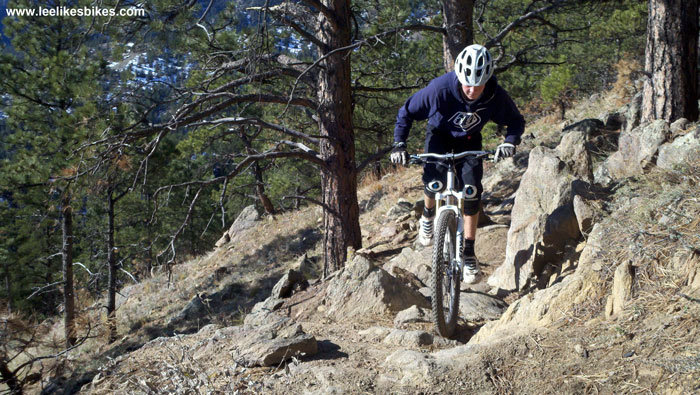 Young Skywalker works the technical uphill action.
Route
Lap 1: Up the mellow dirt road, across the icy valley and up the steep dirt/rocky road. Technical traverse to fast/flowy/rocky/random singletrack descent. Try not to get shot by the beer-drinking NRA members.
Lap 2: Same as Lap 1. Slower up, faster down.
Lap 3: Up the dirt road, turn around and pin it back down. This was fun.
We climbed and descended about 2,500 feet in a couple hours. Left Hand Canyon is pretty hectic, and a downhill bike is not too much. It's a good place to see how a bike handles random violence.
How did I do?
I'm starting here because yesterday the bike was not the limiting factor. I had low power and a hard time reading trail and staying balanced. Today the whole family is sick; a bug was definitely gnawing at me.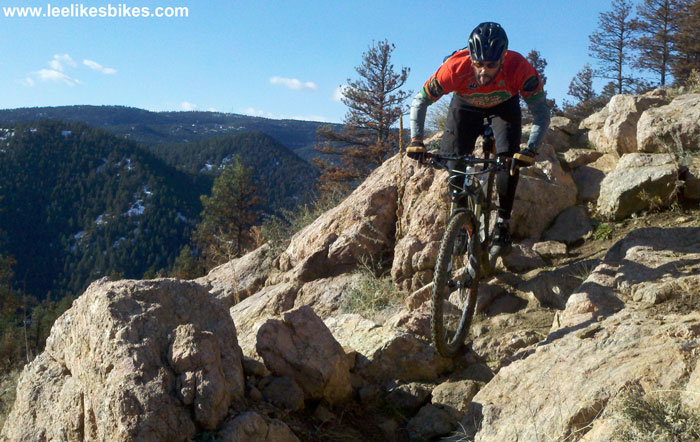 Straight ahead, straight ahead, I'm going straight ahead.
What about the bike?
• Fast chop. For the most part, Alex was showing an utter disregard for authority, and he was waxing me all over the place on his Santa Cruz Blur XC (26). The only sections where I gobbled him up were slightly downhill and somewhat rough. In these sections, I was clearly rolling faster.
• Climbing. The main climb is extremely steep, loose and rough. I typically ride until I slip or stumble, then I hike the rest of the way. The Stumpy 29 got so much traction, and it rolled over the rocks so well, that the only limiting factor was my lack of power.
• Cornering. I can't say much about the turns except that I wasn't going slow, and I made them all. Some of these turns were fast, some were tight and some were both. The bike worked. That's a great thing.
• Jumping. The final 2X down the dirt road begged me to double up various rocks and bumps. I really like how the Stumpy 29 jumps. The spring rate feels right (plush but supportive is what a bike review would say), and the thing just flies well.
• Pedaling. On that last 2x down the dirt road, I noticed myself sneaking in some cranks in places where I usually pump or plane a 26. I think the bigger wheels made these sections feel smoother. That's extra helpful with flat pedals.
• Feeling the flex. In the gnarlier rock sections, I felt way more flex than on the Enduro with 36. That's a big duh. This sort of riding is a bit beyond Stumpy 29's intended use (but it's not beyond the way Specialized tests it). When you ride a "little" bike on big terrain, you should expect some flex — and learn to use it.

Will a 29er make a bad day great?
No, sorry. If you feel like crap, you will still ride like crap. But the Stumpy 29 will help you carry speed over the chop, and it will climb so well you'll puke before you blunder.
So far the Stumpy Comp 29 is doing the job on gnarly trail and in the bike park. I look forward to riding a mellower XC trail with good health and full aggression.
Braaap!
Lee
---
Know more. Have more fun!
Join the leelikesbikes mailing list:
---
https://www.leelikesbikes.com/wp-content/uploads/2018/08/leelikesbikeslogoheader.jpg
0
0
leelikesbikes
https://www.leelikesbikes.com/wp-content/uploads/2018/08/leelikesbikeslogoheader.jpg
leelikesbikes
2011-11-07 10:48:53
2011-11-08 11:51:46
Stumpjumper Comp 29 test: Left Hand Canyon OHV area