Specialized Enduro EVO vs Status vs Demo 8?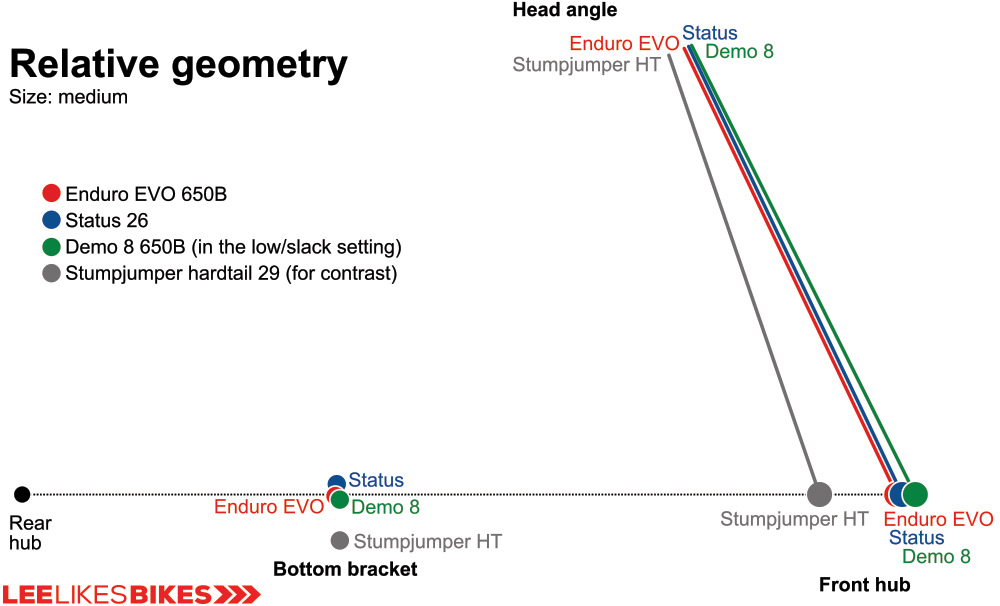 Lee,
Hope your new season is goin well. 2 things…
1st, much thnx on the Butcher SX tire recommendation. I love it and confidence is very high to play with different approaches in different type corners gives many sh_t eatin grins!
2nd, any insight/opinion on Specialized Enduro EVO vs Status vs Demo 8 bikes? No racing, just playing on natural dh tracks a few times a year. Haven't been able to ride an evo or status but heard great things. If it matters, my ride style is all bmx influenced as I still play on my 20s. Really respect your approach to things and any insight would be great!
Much thnx
Rey
---
Hey Rey,
Thanks for writing.
Specialized has a bike for every rider, trail, mood and phase of the moon.
My policy is ride what I have (thanks to help from Specialized), and be stoked. But I understand that choosing the "ideal" Specialized bike can be tricky. Here are some thoughts regarding these three bikes.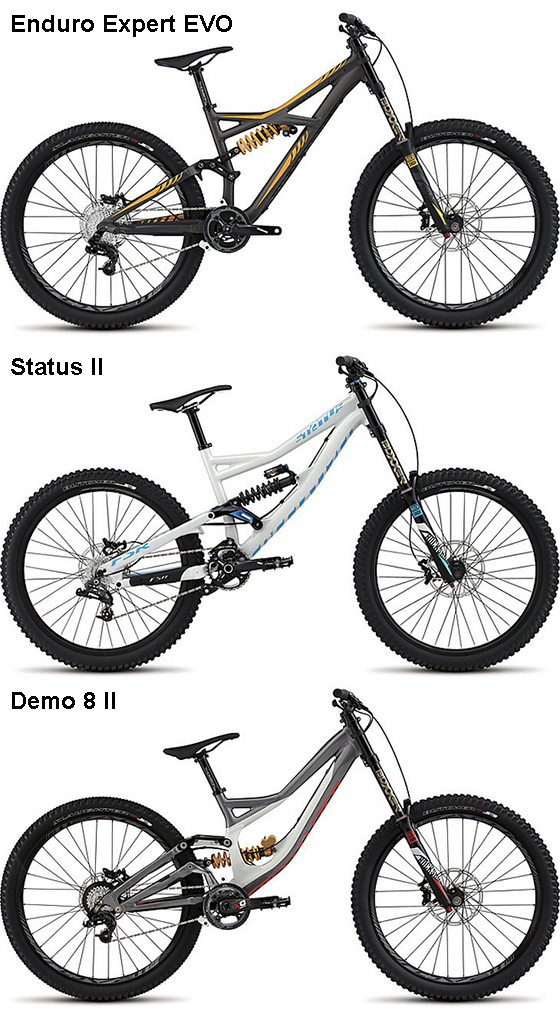 Price
If you're only riding this bike a few times a year, you might go for a less spendy model. You can ride a Status I for $700 less than the Enduro EVO and $2,000 less than the Demo 8 I.
If you're needing (or just wanting) higher end components and more tunable suspension, you can get a nicer ride on an Enduro EVO or a Demo 8.
Here are the relative prices of these models: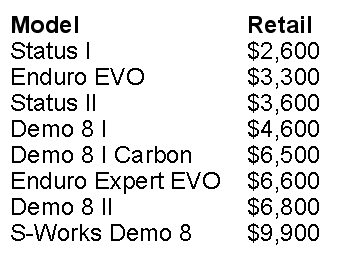 Geometry
The new Demo is a a full-blown World Cup race bike. It's long and slack and low and it will feel best at very high speed on ultra gnar.
The Enduro EVO and Status, which are very similar, are intended for better all-around ridability. Can you fully shred the gar? Heck yes: Specialized pro DHers have used both bikes for elite-level racing and huge freeriding. These bikes will do anything we mortals want to do. Plus they will feel less cumbersome at human speeds.
The alloy Demo models let you adjust the bottom bracket height and head angle to match the Enduro EVO and Status. The Demo will still be longer.
Wheel size
The Enduro EVO and Demos have 650B wheels. If you believe the hype, they roll smoother than 26s and handle better than 29s. From my perspective, a slightly bigger wheel lets you run less or firmer suspension with the same feel in small chop.
My S-Works Enduro 29 is a fantastic, sexy, capable machine in every direction. So much so that I haven't ridden my Demo 8 all year.
The Status is still rocking the 26es. Extra points for being hardcore and picking up wheels and tires on closeout. Minus points for long term serviceability (maybe).
One wrinkle of wheel size is bottom bracket drop. Are you standing above your hubs or below them? On all of these bikes you'll sag below the hubs, but the Enduro EVO and Demo will hang you lower. The lower you are relative to the hubs, your more your bike feels like it's railing. See the geo chart above.
Pedal-ability
While Statuses and Demos are dedicated gravity bikes, Enduros are made to be pedaled. You can slap a dropper post and a smaller ring on the Enduro EVO and ride it pretty much anywhere (if you're willing to pull the weight).
Riding style
If you're rocking the BMX style, you might prefer a shorter-travel, firmer bike. The Enduro EVO wins in this department.
By the way: 180mmm of modern travel, especially with a medium sized wheel, is pretty badass.
Another BTW: If you get a higher end model with tunable suspension, you can make your bike ride however you want: super plush, super firm or any combination. My Enduro 29 has a 2015 FOX 36 fork and FLOAT X shock. It's super plush, but it gets just firm enough when I take a big hit. Perfect (for me).
If you want to ride with absolute impunity — big lines and big waves without a care — you cannot beat a modern DH bike. Strap yourself into a Demo and blast off. See Big bikes are rad and here's why.
Whatever feels best
Ideally, you'll ride the bikes before you buy them. Look for Specialized demos, and rent bikes at ski resorts.
If you can't do that, it's OK. You're not going to get a bad bike!
Bottom line
I don't know whether I've helped or hurt. Basically:
Get a bike. What can your local bike shop get for you? What can you afford? An older model with 26-inch wheels is still awesome.
Set it up for you. If you buy one remote lesson, I'll show you how to optimize your cockpit for shredding.
Learn to ride it. In-person and remote skills classes. Print and electronic skills books.
Have fun!
Lee
If it were me, I'd rock an Enduro EVO with a dropper post and climbable gearing — then ride it way more than a few times a year! My S-Works Enduro 29 is very close to that, and it sees all kinds of action, from trail to bike park to downhill. BRAAAP!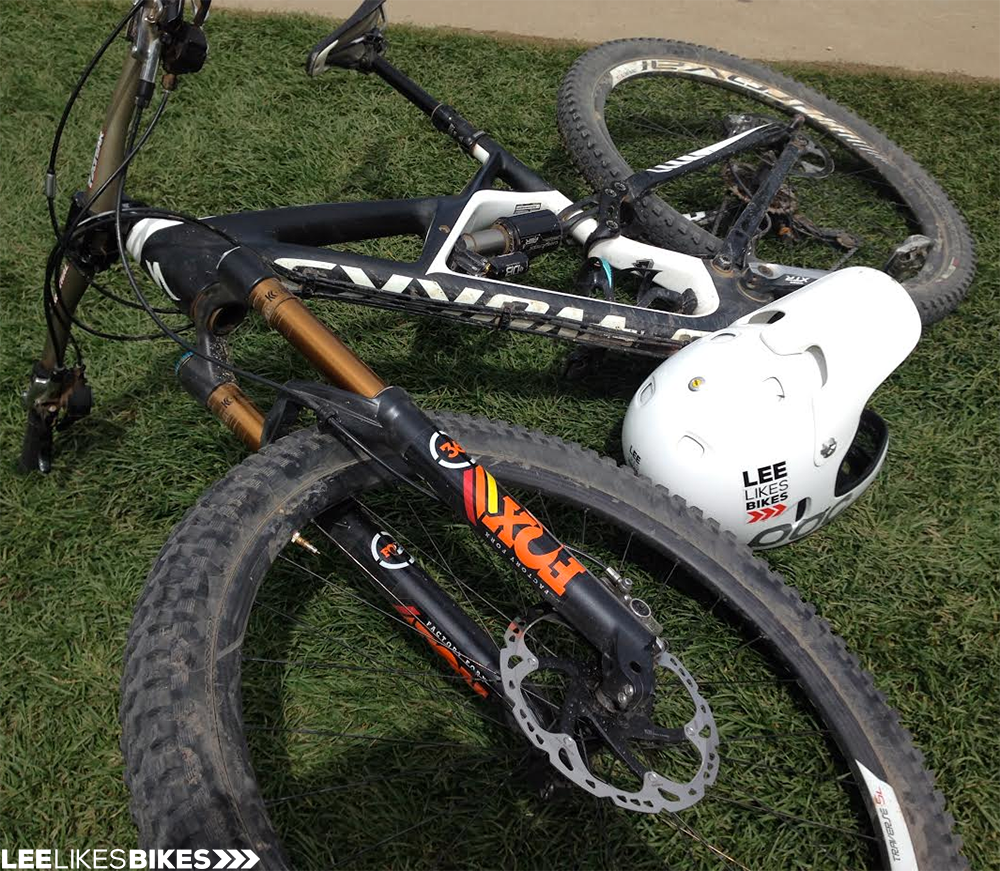 ---
Know more. Have more fun!
Join the leelikesbikes mailing list:
---
https://www.leelikesbikes.com/wp-content/uploads/2018/08/leelikesbikeslogoheader.jpg
0
0
leelikesbikes
https://www.leelikesbikes.com/wp-content/uploads/2018/08/leelikesbikeslogoheader.jpg
leelikesbikes
2015-04-02 11:47:43
2015-04-02 12:01:01
Specialized Enduro EVO vs Status vs Demo 8?