8 things I love about my Specialized AWOL
I've been riding this bike for 16 months, and I've grown to love it. Let me count the ways …
---
But first:
What is the Specialized AWOL?
The AWOL is Specialized's commuter/tourer/adventure/utility bike. It has a steel frame/fork, high drop bars, a short cockpit and mounts for fenders and racks. I use my AWOL for commuting and training on paved and dirt roads.
In Specialized's Gravel & Adventure category, the AWOL has been replaced by the Sequoia. With the Sequoia you can get a comparable bike to the AWOL, or a nicer one at a higher price point.
Some of these thoughts apply to all touring bikes, but I'm intimate with the AWOL, so here goes:
1. It's not crazy expensive. I ride the AWOL Comp. It retailed for $2,100. It has a 1x drivetrain and hydraulic disc brakes, and it's badass flat black. The base AWOL went for $1,200. The Sequoia ranges from $1,400 to $3,200.
2. The cockpit is MTB friendly. I've put thousands of miles on road bikes, and I'm done with that long/low riding position. The AWOL's short, tall cockpit feels much like my mountain bikes, which makes it more comfortable and more applicable for mountain bike training.
RipRow + AWOL = great MTB training: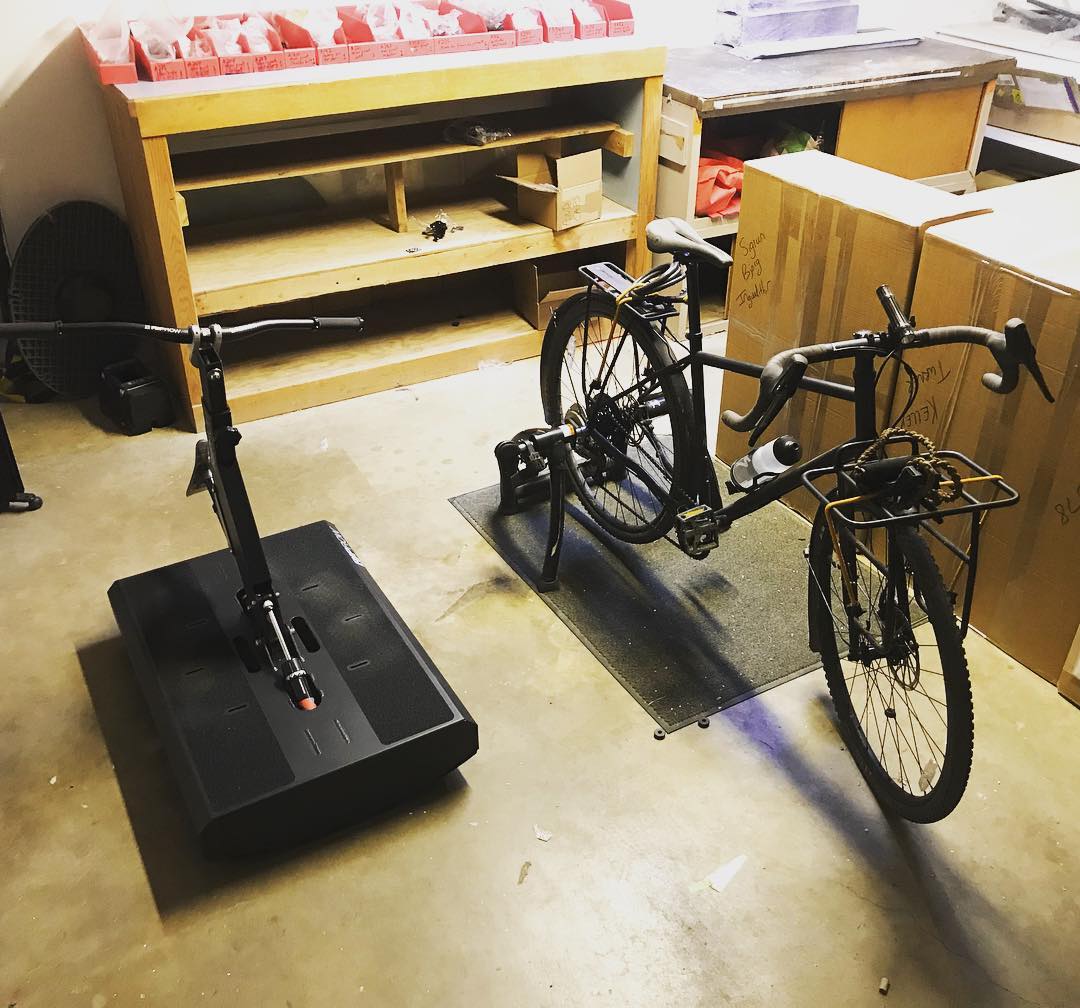 3. Disc brakes. The road world has finally come to accept the truth. Coming from XT and XTR mountain bike brakes, rim brakes were sucking pretty badly. These hydraulic brakes feel good and reliable in all weather including snow/ice. Bonus: I can charge the downhills.
4. It has low gearing. Low enough, anyway.  If I had lower gears I'd atrophy to that level.
5. Fenders! I know this isn't big news, but full fenders make crappy conditions so un-crappy.
6. It carries stuff. I have an Elite Rear Rack in back and a Pizza Rack in front. What a treat to take that weight out of a pack (and off the tender bits). I've carried a bit over 50 pounds. The heavier the bike is laden, the smoother it feels. Like a pickup truck with stuff in the back.
This was a record for me. RipRow grip tape and hardware. At least the ride was all uphill: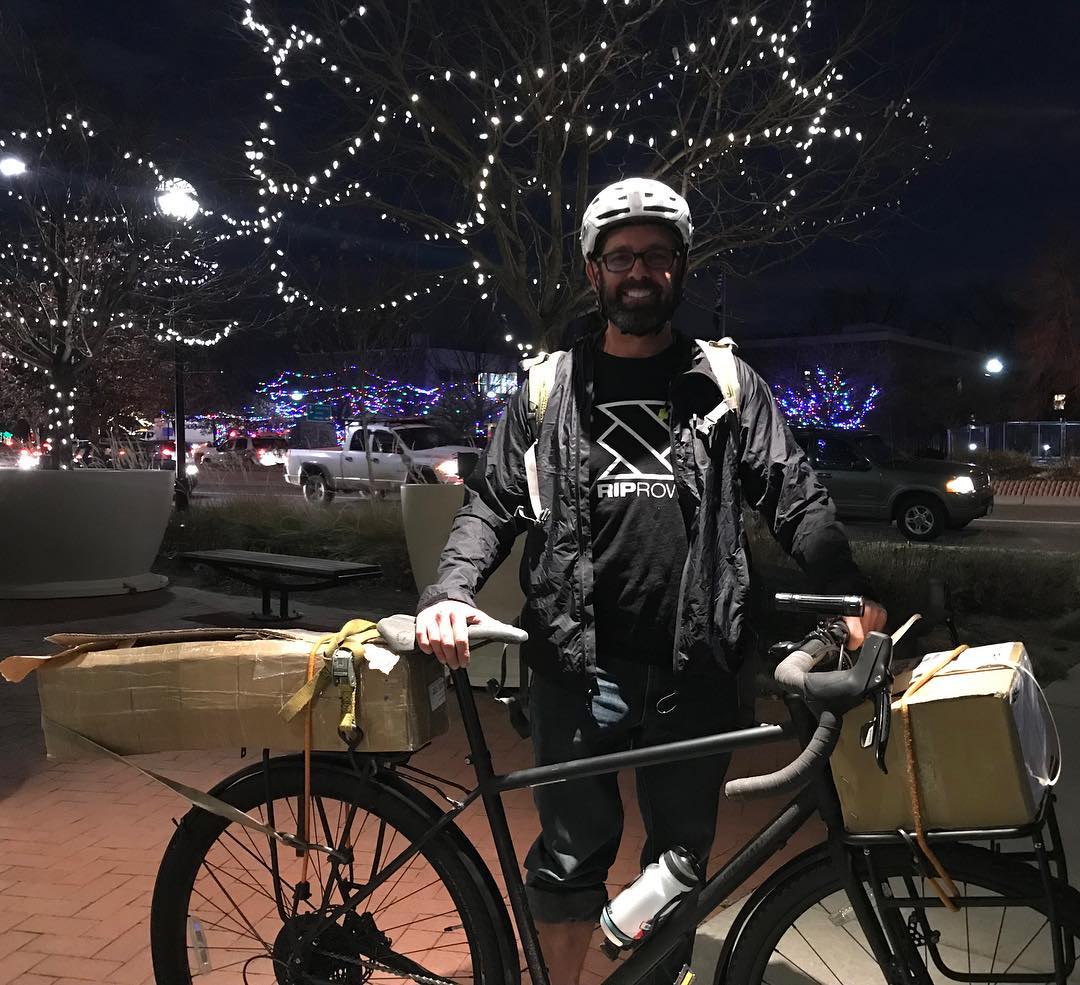 My neighbors think I'm crazy, but I'm crazy like a fox: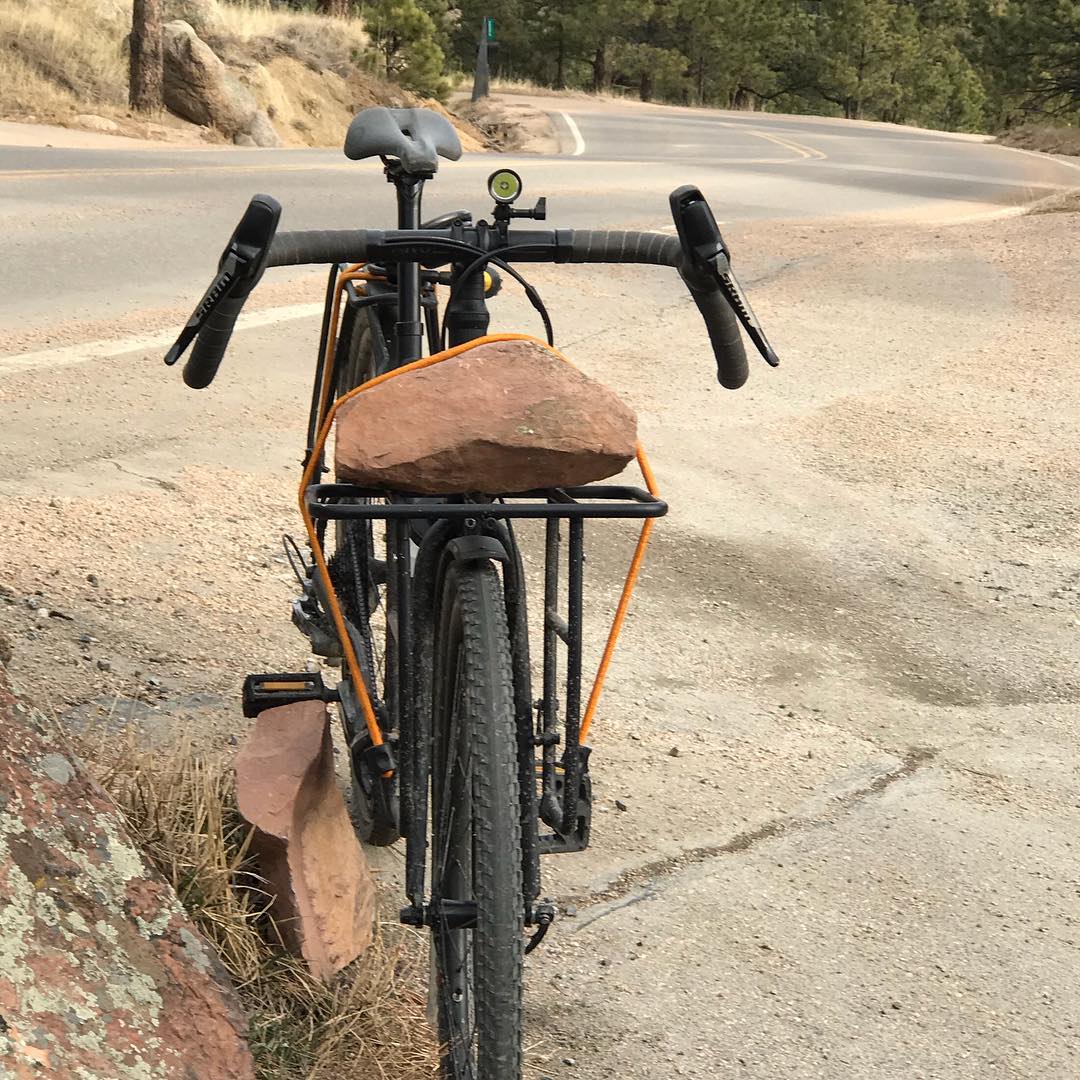 7) It handles great. When you read about high end road bikes, you learn about their laser-sharp handing. They do indeed feel like Tron light cycles:
But this AWOL, it attacks corners with impunity, and the thing rails in a very quiet and stable way. I live in the mountains, so every ride begins with a steep, curvy descent. In the tight sections I'm the fastest thing on the road — and I take delight in dropping the pro road racers who train on the hill. They have way higher gearing, so I'm relying on corner speed. #itsmyhometrail #exdownhillracer #corneringismyjob
I believe part of the cornering ability of this bike comes from the relatively short front end and long rear end. This places the rider's weight closer to the middle of the bike than a "performance" bike with shorter chainstays, and, I believe, it helps the bike rail corners. The same principle applies to mountain bikes, but the trends are going in the opposite direction.
8. It's heavy. As built it's well over 30 pounds. What? Isn't that a bad thing? 1) The bike, as stated, is stable and confidence inspiring. If a road bike is analogous to an XC race hardtail, this thing is like an enduro bike. 2) I'm in no hurry when I'm on the road. This is training for mountain biking. When your Stumpy or Enduro is lighter than your road training bike … I think that's a good thing.
If I was riding with serious road riders, I'd probably want a lighter/snappier bike. Hmm … that would be fun. But the AWOL serves my needs well.
Lee
https://www.leelikesbikes.com/wp-content/uploads/2018/08/leelikesbikeslogoheader.jpg
0
0
leelikesbikes
https://www.leelikesbikes.com/wp-content/uploads/2018/08/leelikesbikeslogoheader.jpg
leelikesbikes
2019-02-16 14:00:05
2019-02-17 12:01:46
8 things I love about my Specialized AWOL