Skills with Lee McCormack and Curtis Keene July 20, 2014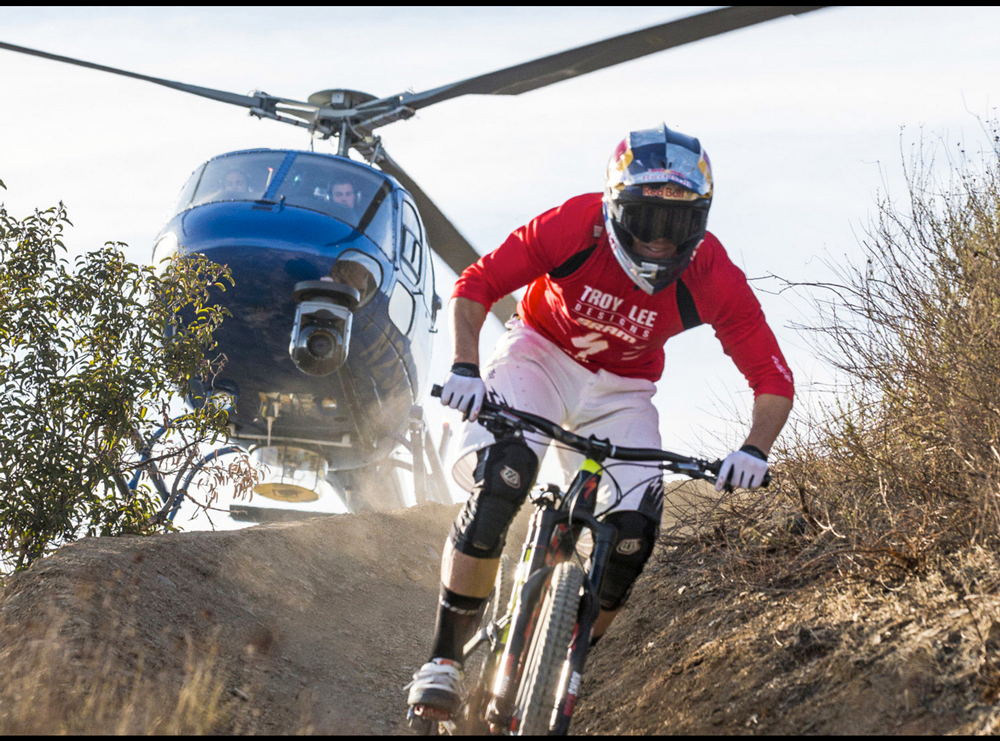 Hone your skills and shred with skills expert Lee McCormack and pro racer Curtis Keene.
I've known Curtis for a long time (from way before he was the "American Dream"). He's a great guy, a good teacher and of course an exceptional athlete. Many of my best rides have been on his wheel. I'm stoked to teach with him at Winter Park, CO on July 20, 2014.
---
Location
Trestle Bike Park at Winter Park, CO. This place is just plain fun, with tons of flow and challenge for any rider.
Meet your coaches
Lee McCormack is a world renowned MTB skills instructor. He wrote the books Mastering Mountain Bike Skills, Teaching Mountain Bike Skills, Pro BMX Skills, Welcome to Pump Track Nation, Pump Up the Base and Prepare to Pin It. Lee is the skills development director for NICA, the national high school mountain bike league. He works with riders of all styles and levels, from beginners to top pros.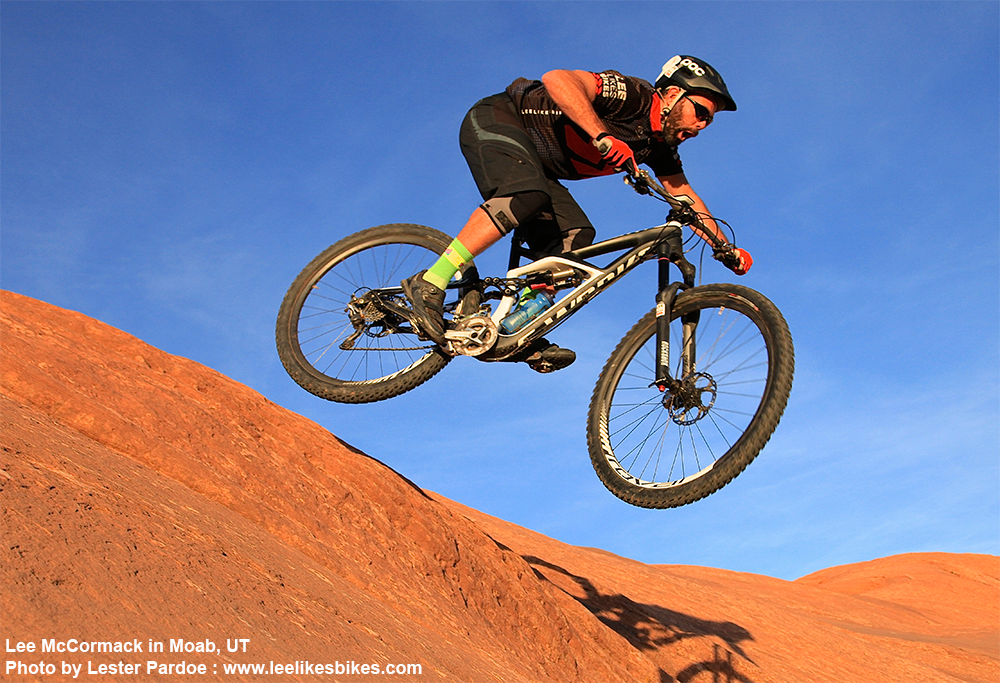 Lee having fun on the Slickrock Trail in Moab, UT
Curtis Keene is one of the top American enduro racers and an all-around nice guy. Lee and Curtis have done a lot of teaching together, and they make a great team. One great thing about Curtis: He has a knack for knowing what a rider can do, then showing that next level. Learn more about Curtis at his Red Bull page. Yes, he has his own Red Bull page.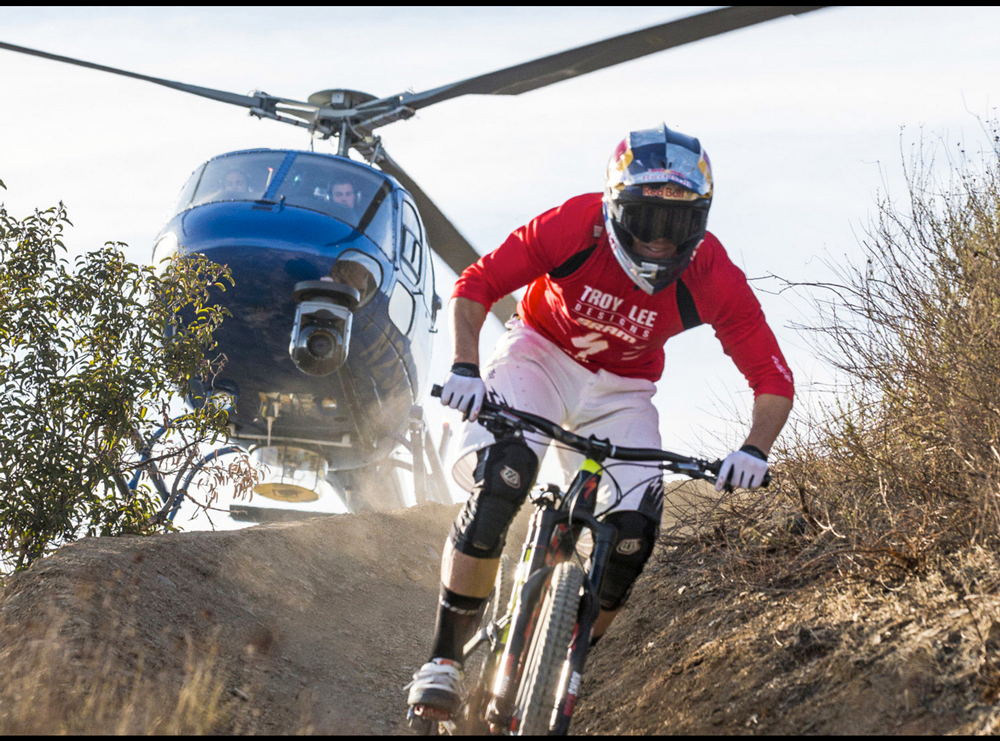 When your helmet and your chase helicopter both say Red Bull, you've made it. Curtis gets work done. Photo courtesy of Red Bull.
The Plan
July 20, 2014
10 a.m. to 5 p.m.
We'll tweak the program to suit the riders who attend. Here's the basic plan.
• 10 a.m. – We will start at the bottom of the hill. Lee will dial in core and advanced skills, answer your questions and get you ready for a great day on the hill with Curtis.
• Short food/water break. Gear up for lift-assisted runs.
• Noon – Ride Winter Park's awesome trails with Lee and Curtis! You'll get to ride the lifts with us, ask questions, apply your skills on real terrain and see how an elite rider (Curtis, not Lee) looks at lines and — most importantly — has FUN!
This is an awesome opportunity to ride with a legend, build your skills foundation and gain speed/confidence on all terrain.
NOTE: This is a rad but long day. Bring enough food/liquid to keep you sharp all day. We'll be able to eat and drink on the lift. Bring tools, spares and protective gear.
Which bike? Lee and Curtis will be riding Specialized all-mountain, aka "enduro" bikes. We recommend similar machines. Downhill bikes work well too.
Sign up!
$400 per rider. Six riders max.
You'll need a lift ticket.
Use this Paypal link to pay with Paypal balance, credit card or bank account. You do not need a Paypal account. See Policies below.
Policies
Time: The clock starts at the appointed time. Be ready to ride.
Equipment: Your bike should be well adjusted and in good working order. If we believe your bike is not safe, we will spend clinic time making it safe. If we need to adjust anything — brakes, gears, suspension — we will use clinic time. Get you bike dialed at The Fix Bike Shop in Boulder, CO.
Changes and cancellations: If you want to change your appointment, you must notify me by phone or email within 48 hours. After that time, there will be no change or refund.
Weather: Bad weather does not cancel sessions. If the conditions permit any kind of riding, we will ride. If it's raining, bring a jacket. If it's muddy, we'll find another surface to ride on. If the lift closes because of lightning, we will push our bikes or practice in the parking lot. If we do cancel because of weather, it will be at Lee's discretion, and he will notify you as early as possible.
Liability: Bike riding has inherent risks, and you must accept those risks. You will sign a waiver before you ride.
If you are a mountain bike skills coach or instructor, and you work on your own or with another party, please do not sign up for an LLB clinic. See below:
Use of information: The Lee Likes Bikes Training Method is the mountain biking instructional method developed by Lee Likes Bikes (LLB) for sole use by Lee Likes Bikes and authorized individuals. It is the intellectual property of LLB. The LLB Training Method information conveyed to the participant shall be used only for the participant's personal use. It is not to be used outside LLB-authorized activities for which LLB and the participant have a business relationship, nor is it to be shared with others — including riders, trainers or instructors — outside LLB authorized activities. Any appearance or representations made by the participant of this information in any form shall be credited to LLB. LLB does not train other bike coaches unless they are working in LLB-authorized activities. If you are interested in becoming an LLB-certified instructor, please contact Lee McCormack at lee@leelikesbikes.com.
Number of riders: While we believe in high instructor-to-student ratios, we reserve the right to allow additional riders. These might be media, sponsors, family members of attendees or people with special needs. We will make sure everyone is taken care of.
---
https://www.leelikesbikes.com/wp-content/uploads/2018/08/leelikesbikeslogoheader.jpg
0
0
leelikesbikes
https://www.leelikesbikes.com/wp-content/uploads/2018/08/leelikesbikeslogoheader.jpg
leelikesbikes
2014-07-05 11:17:12
2014-07-06 19:04:51
Skills with Lee McCormack and Curtis Keene July 20, 2014