Skills clinic at the 2011 Ranchstyle

This year's Ranchstyle event in Grand Junction, CO is stepping it up in every way. Skills clinics Friday. Slopestyle Saturday. Slalom Sunday.
My skills clinic rocks Friday, May 6, 11 a.m. into the evening. Cost is $100. Last year's session sold out, and it was rad. I'm stronger and smarter now, so be ready for some turbo kung fu. Sign up at BikeReg.com.
Keep reading for more info:
About the program


Ripping the new Superior Bike Park pump track. Park designed by Lee.
I will tailor our adventure to the attendees. I usually hit these areas:
• Position
• Braking
• Cornering
• Pump
• Jump
• Sprinting
We'll start with core skills, then we'll apply them on The Ranch's awesome terrain. Dual slalom, pump track, jumps … the Ranch has it all. You will improve your balance, control and confidence (and speed!) in all riding situations — especially slalom racing.
No matter how good you are on a bike, you will learn a lot. If you're a beginner, I'll give you a solid foundation. If you're an expert, I'll dial in your foundation, then I'll show you a whole new world of rippage. (Last year we had a few high-level racers, and they were even more stoked than the beginners.)
You don't have to participate in the Ranchstyle to sign up for the clinic. Come on out, learn some stuff, ride fun terrain, and watch the pros rip.
More info
Clinic info
Learn more about Ranchstyle
Tammy Donahugh will be running a women's clinic. Eric Porter and Nate Adams will be running a freeride clinic.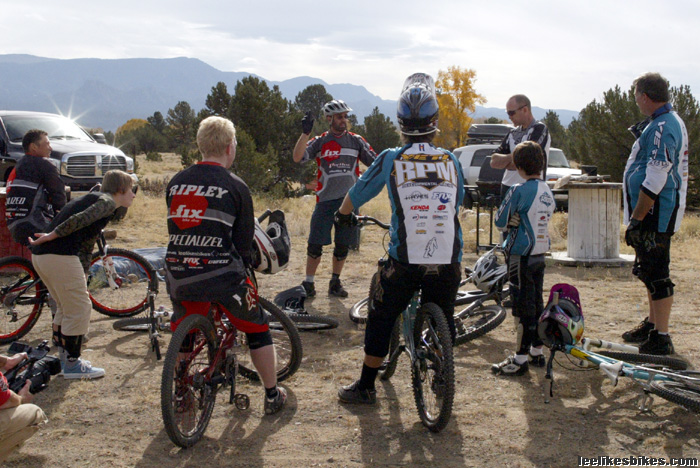 Working with racers at Keith Darner's ranch.
About me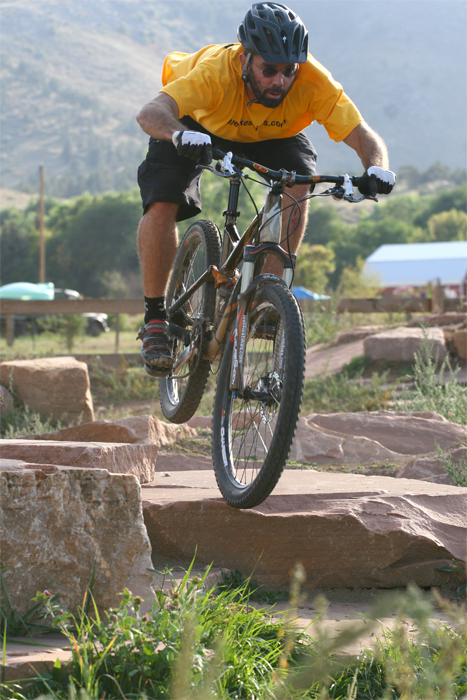 Braaaping it up at the Lyons Bike Park. Park designed by Lee.
Hi. My name is Lee, and I like bikes. I've been riding since I was about 5, but I got serious around 20. I started with road and trail — did some time as a triathlete, even commuted on a recumbent — and now I love riding all bikes. Trail, downhill, 4X/DS, jump, pump, road, cross, whatever. Bikes are rad. I ride them whenever I can. I've raced them at the semi-pro level and they have made me who I am.
Now I'm 42, and I'm considered one of the best bike skills instructors in the world. I spent a lot of years in newspapers and internet and software learning how to make complex things seem simple. I've worked at a crazy dot-com back when we got free massages, and I've even won a Pulitzer Prize for my infographics. I'm stoked with my professional success, but bikes are my passion, and about 9 years ago I quit the "day jobs" to pursue my dream: to use my professional kung fu to help people rip on bikes.
Since then I've written and illustrated the books Mastering Mountain Bike Skills, Pro BMX Skills and Welcome to Pump Track Nation. I've developed a sequential teaching curriculum and taught hundreds of riders of all styles and levels how to ride more confidently, rip new terrain and win races. Many of my pupils are racing in the pro classes. All are having more fun on their bikes. As the skills development director for the national high school mountain bike association, I create the teaching curricula and coach the coaches. I recently started working with USA Cycling to create their BMX coaching certification.
I like bikes. I will help you like bikes even more.
Let's rock this!
---
Know more. Have more fun!
Join the leelikesbikes mailing list:
---
https://www.leelikesbikes.com/wp-content/uploads/2018/08/leelikesbikeslogoheader.jpg
0
0
leelikesbikes
https://www.leelikesbikes.com/wp-content/uploads/2018/08/leelikesbikeslogoheader.jpg
leelikesbikes
2011-04-23 19:45:52
2011-04-23 19:46:56
Skills clinic at the 2011 Ranchstyle