Shorter cranks for my Stumpy EVO?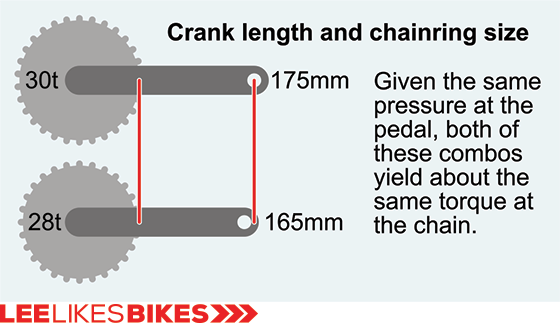 Hey Lee,
Happy new year! Quick question: Am I crazy for wanting to put 165mm cranks on my new Specialized Stumpjumper EVO? My inseam is 32 inches, and I ride aggressive trail, with some XC racing. I hope to squeeze in more pedal strokes in these tight Squamish trails, have more ground clearance and hopefully increase my average wattage by spinning a smaller, faster circle. What are your thoughts?
Nathan
---
Nathan!
Thanks for the great question.
I want to geek out on this more deeply, but for now:
Pedaling
• Changing from a 175mm to a 165mm crank reduces torque (and increases required force at the pedals) by 6%.
To maintain the same feel at the pedals, reduce your gearing by 6%. Changing from a 30-tooth chainring to a 28 will more than do the job.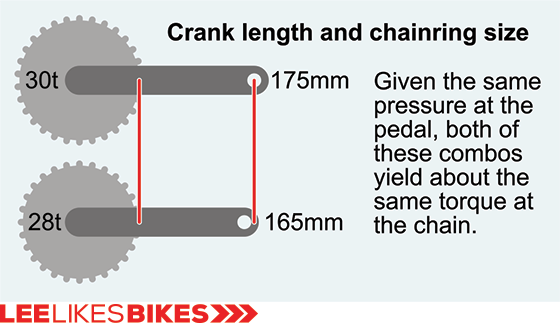 • Shorter cranks yield a smaller pedaling circle, which theoretically means you can spin faster, which can lead to higher overall wattage.
A study by Dr. Jim Martin titled "Determinants of maximal cycling power: crank length, pedaling rate and pedal speed" (Eur J Appl Physiol (2001) 84: 413-418) compared maximal sprint power among 16 trained cyclists with 120, 145, 170, 195 and 220 mm cranks. Are you ready? There was no statistical difference between the 145, 170 and 195 mm cranks. More info at cervelo.com.
So … If you practice spinning the slightly smaller circle, you'll likely get good at it. Track racers, time trialists and downhillers all tend to ride shorter cranks, and they're pedaling just fine.
Ground clearance
A Stumpy EVO is low-slung shred rocket. As such, it likes to stab pedals on technical climbs and when you sprint in the rocks.
Shorting your cranks from 175 to 165mm will give you 10mm more ground clearance when your pedal is at the down position. If you miss a rock by 1 millimeter, you missed it, right?
When I was 16, I drove a forklift in a warehouse that was laid out with one inch of clearance for the forklift and a palette. My boss used to say, "an inch is as good as a mile."
Let's use the 2015 Stumpy EVO 27.5 as our example:
Bottom bracket height: 327 mm
BB height at 20% of travel: 308 mm
BB height at 50% of travel: 260 mm
Pedal thickness: 18mm (Shimano Saint flat pedal)

Clearance at 20% of travel – standard sag
175mm cranks: 120 mm
165mm cranks: 130 mm (+8%)

Clearance at 50% of travel – railing a turn, crushing a G-out, etc.
175mm cranks: 72mm
165mm cranks: 82mm (+12%)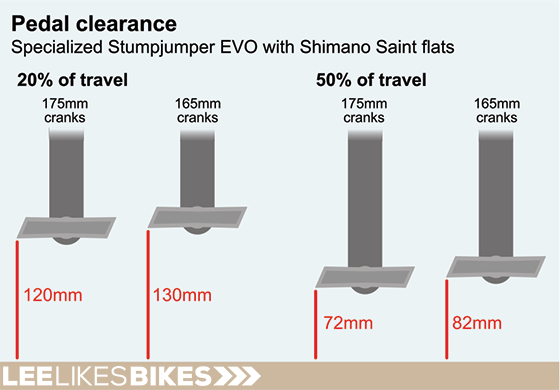 Keep in mind: A millimeter is as good as a mile!
Shredding
On a motorcycle, the footpegs place your feet next to each other. This puts you in the standard human ready position with your hips facing the challenge. This is ideal for lifting heavy objects, riding bulls and, in my opinion, shredding.
On a bicycle, the crank arms put you in a staggered stance, which tends to make you crooked. This can be overcome with some attention (Skills clinics!), but it gets harder with longer cranks. Shorter cranks make it easier for you to ride with your hips square to the challenge. One more reason short cranks feel good on DH bikes.
To sum it up
• Shorter cranks give you measurably more pedal clearance and might help you maintain a better attack position.
• You can probably pedal them just fine. Reduce your gearing and spin to win.
Tell us how it goes!
Lee
---
Know more. Have more fun!
Join the leelikesbikes mailing list:
---
https://www.leelikesbikes.com/wp-content/uploads/2018/08/leelikesbikeslogoheader.jpg
0
0
leelikesbikes
https://www.leelikesbikes.com/wp-content/uploads/2018/08/leelikesbikeslogoheader.jpg
leelikesbikes
2015-01-05 15:41:22
2015-01-06 11:28:10
Shorter cranks for my Stumpy EVO?