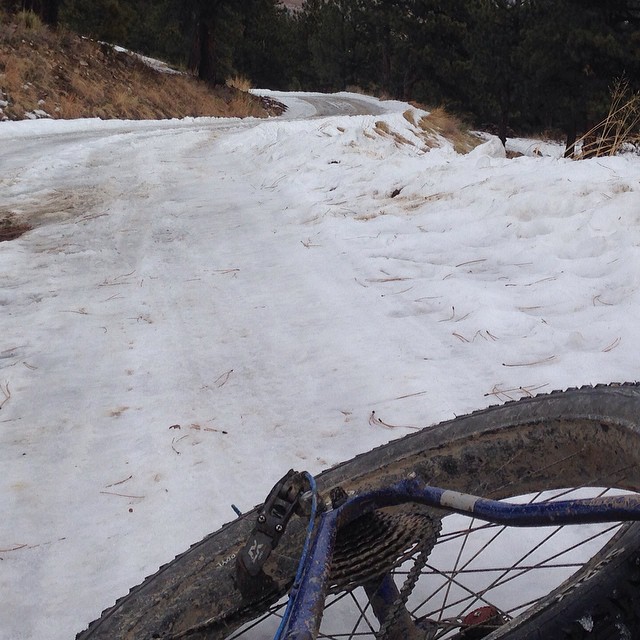 Not to be crass, but I am no longer a boy.
I am a man. A fatbike man.
We've all heard everyone gush about their fatbiking experiences. Here are my first-ride impressions:
---
The bike
Salsa Mukluk. Loaner courtesy of my endurance coach, Lester Pardoe.
This beast, "Papa Muk" is his name, weighs a claimed 36 pounds. That's before you cake him with mud and ice.
The bike is a size too big, but a 50mm stem slammed all the way down got me within range. A pair of Saint flat pedals and I was ready.
The ride
Neighborhood dirt road expedition: mud, snow, ice, down down, up up up up and back down to the house. 50 minutes total.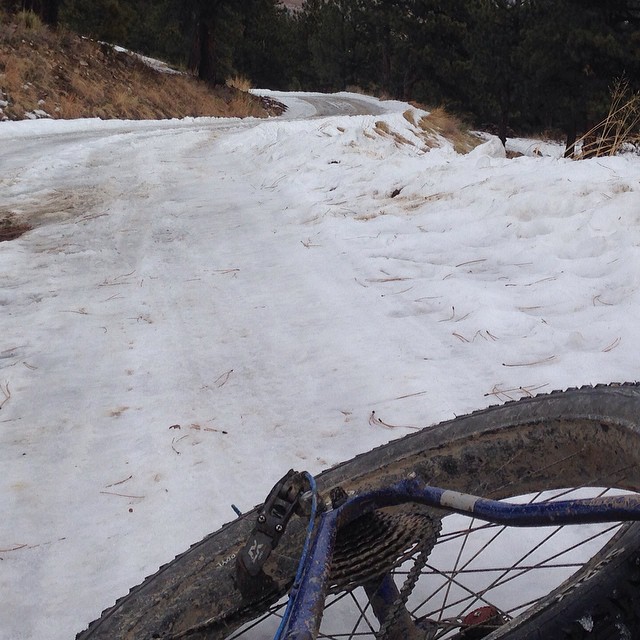 In no hurry
Heavy bike plus sloooooow tires = slow going.
Very low gearing seems like a good idea. How about a 22t chainring with a big cassette out back?
Soft touch
Rubber, even big rubber, doesn't stick well to ice.
The slippery sections took some very delicate pedal pressure. Good thing I'm a master of soft pedaling.
Go all the way
I think, if I'm going to buy a fatbike, I want the biggest tires I can get.
Why go for 3.8s when you can ride 4.8s?
Why should 10 be the loudest when you can go to 11?
Better than the trainer?
This time of year I do most of my penance on the trainer.
Today's Pump Up the Base called for two 20-minute sweet spot intervals. I sort of did that on the Mukluk, but I was going so slow on the downhills — NO. TRUST. ICE. — I felt like I was wasting time.
When descending seems like a waste of time, 1) you are wound too tightly and 2) you need to ride faster. #1 is a personality issue. #2 will come with experience.
Ouch my knee
Fatbikes have wider-than-normal crank sets, which place your feet farther apart than normal bikes. My knees have a lot of miles in them, all at standard width.
Soft pedaling felt fine. Every time I tried to make real power, my left knee hurt.
This could be a deal breaker.
Next:
I will ride this Salsa for a few more days (snowy pump track madness!), then test a Specialized Fatboy.
Let's see how the knees hold up.
Have fun out there,
Lee
---
Know more. Have more fun!
Join the leelikesbikes mailing list:
---
https://www.leelikesbikes.com/wp-content/uploads/2018/08/leelikesbikeslogoheader.jpg
0
0
leelikesbikes
https://www.leelikesbikes.com/wp-content/uploads/2018/08/leelikesbikeslogoheader.jpg
leelikesbikes
2015-01-06 17:03:35
2015-01-07 07:54:51
Ride #1 on a fatbike