Sea Otter Adventure 2010: Day 5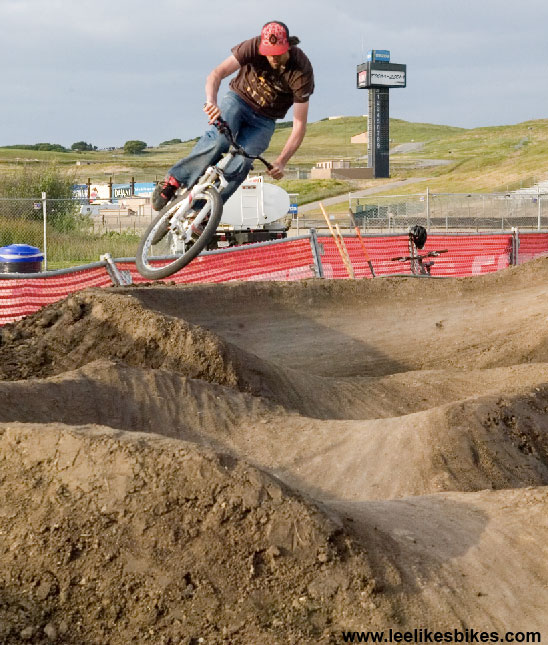 I'm starting to believe success is 1% genius and 99% determination.
And 50% luck. And 50% kindness of others. And 50% listening to people who know more than you do.
Reporting from a long day on the pump track frontier. (With a photo from yesterday!)
Yesterday's Sea Otter pro pump track build/ride session was almost perfect. We had our conflicts — how to best lead a group of leaders? — but we worked it out and created an extraordinary track. We all dug, ripped and smiled.
Last night's weather forecast called for heavy rain today.
So I got up at 6 a.m. to cover the track. I usually jump out of bed ready to pin it, but not today. I was beat. Bonus warm-up exercise: The Laguna Seca gate was locked, so I carried three 10×100 6mil tarps, plus hand tools, to the track on the P.3. Super pro.
The track was covered by about 8 a.m., then a light rain started. Texas Bruce and I helped Kyle Ebbett build a roller-camel-roller for one of the dual stunt lines (the other dual stunt line uses the roller-camel-roller on the pump track). Then the rain hit hard.
I dove into the van and wrangled a 51-page specification for new NICA sites, sent that off then fell asleep. A while later I awoke to a wet world.
The entire track surface is elevated, which created one big koi point (if we had some koi). But no koi, so it was just a mega puddle. Kyle and I worked like pigs getting that drained, then I dug a 50-foot ditch to drain a low spot next to the S line. When the sun went down I was still slopping mud and pushing water.
Lesson learned: Next time I build a track, I'm putting pipes down before I place dirt. Neither Kyle nor I can believe we didn't think of this BEFORE we (OK, I) created a mess. The pipes would only cost a few bucks and would have saved a ton of work.
More lessons: Working with Kyle is like getting an advanced degree in building stuff. He has a completely different approach. I'm learning a ton from that guy.
It's 11 p.m. and raining. Let's see what tomorrow brings.
Here's that shot from yesterday. I'll post more photos (and video!) when I get time.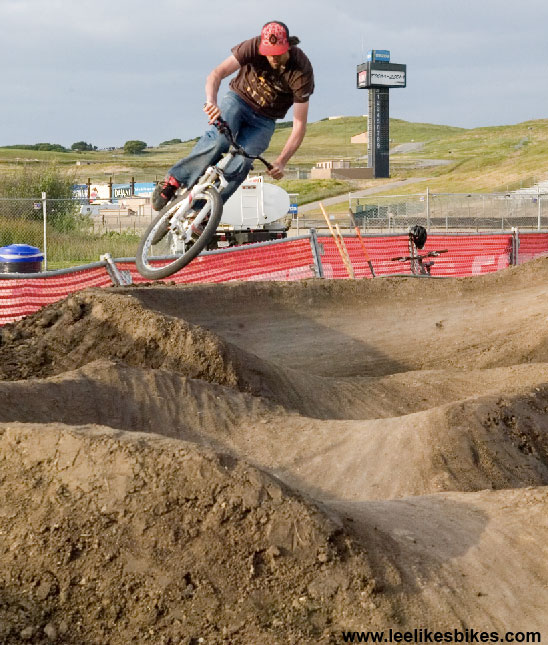 Kyle rocks a pro line: jump into the bowl berm then jump out from berm to berm. This cuts out a turn and saves mega time. And it's pretty sweet.
https://www.leelikesbikes.com/wp-content/uploads/2018/08/leelikesbikeslogoheader.jpg
0
0
leelikesbikes
https://www.leelikesbikes.com/wp-content/uploads/2018/08/leelikesbikeslogoheader.jpg
leelikesbikes
2010-04-11 23:21:44
2010-04-11 23:36:44
Sea Otter Adventure 2010: Day 5