Row, row, row your indoor rowing machine


Here's another way to learn how to move, get stronger and stay somewhat sane this winter.
---
I've been having "fun" this winter on a rowing machine.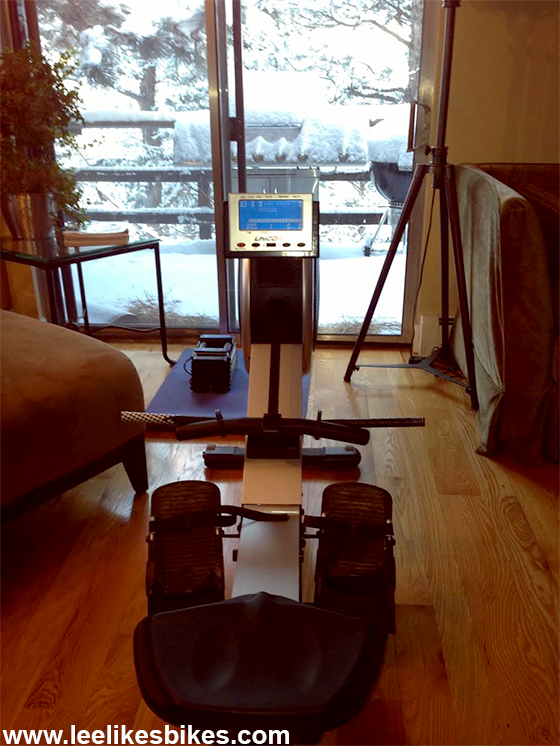 It was 0 degrees F today. Not rad. But rowing and weightlifting are rad.
Why row
Full body workout. Super efficient.
Strengthen the back and shoulders. Gotta keep these parts as long as I can.
The movement pattern is so much like mountain biking it's not even funny. The more I study and teach riding skills, the more I realize the importance of integrating legs/hips/back. Watch Mitch Ropelato shred at the beginning of this video:
And then there's Mick Hannah. Watch him on the straight.
Another way to perform intervals. Right now I'm doing some of my Pump Up the Base intervals on the rower. I can maintain the same wattage as on the bike trainer, but I'm building more overall strength than if I'm just pedaling. Also less time on a bike seat = win.
Quick on/off. No special shorts or shoes. Just get on there and give 'er.
A great warmup for strength work. And a good way to inject aerobic work between sets.
It's something different. That's always fun. Especially if your Strava-chasing Type A inner child thinks it'll help you ride better.
How to row
Basically, push with your legs, then pull with your back and arms. Reverse the motion. Repeat until you puke.
Concept 2, the A-1 company when it comes to building indoor rowers, has excellent info on its site:
http://www.concept2.com/indoor-rowers/training/technique-videos
I asked my buddy Lars Thomsen, ultra shredder and owner of Trail Head Cyclery in San Jose, CA, how to row. Back in the day, Lars rowed on a winning boat at UC Santa Barbara. His instructions were almost exactly the same as the above video. That dude knows what's going on.
Rower handles are awfully narrow
A Shimano PRO Atherton DH bar lets me pull more like I'm on a bike, and it's been interesting to see where my hands end up. That seems like a good width for riding, too.


You gotta love the Rach/Dan/Gee cut marks at the end of these bars. I like Dan width, but I'll bet I'm not as strong as Rachel.


Zip ties would work fine. These clips cost $1 each and are super easy to work with.
Have fun out there,
Lee
---
Know more. Have more fun!
Join the leelikesbikes mailing list:
---
https://www.leelikesbikes.com/wp-content/uploads/2018/08/leelikesbikeslogoheader.jpg
0
0
leelikesbikes
https://www.leelikesbikes.com/wp-content/uploads/2018/08/leelikesbikeslogoheader.jpg
leelikesbikes
2013-12-05 17:13:50
2014-01-20 11:07:09
Row, row, row your indoor rowing machine