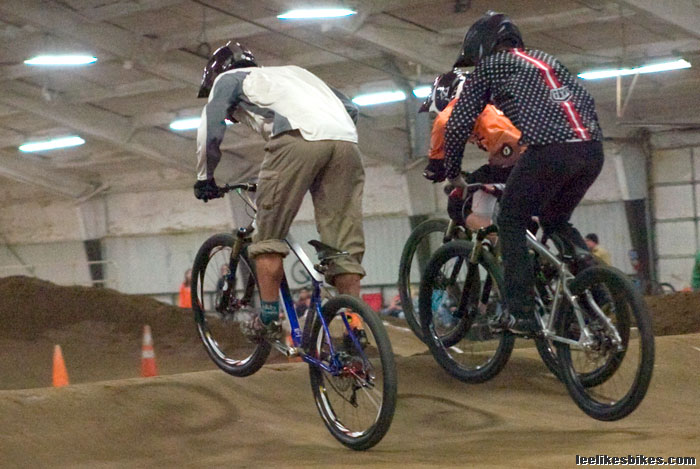 In a miraculous turn of events, I got a babysitter and went to spend Saturday at the Colorado Indoor BMX in Greeley, CO.
Plus: How does Captain America work for BMX?
Photos by Alex Willie. Thanks for shooting.
Scene
Colorado Indoor BMX is putting on a three-weekend indoor BMX series in Greeley, CO. Each track is built right before the weekend's events, which is a miracle of planning, heavy-equipment-fu and volunteerism. Registration was super pro. Everyone involved with the event was double cool.
Big turnout: The venue was an explosion of BMX awesomeness, with riders of all ages, plus their families, ready to race and lend support. There were about 50 motos, which seems like a lot for a local event.
De ja vu: I spent a weekend in this building for the American Supercamp flat-track moto clinic. What a great adventure that was. It propelled me from "mountain biker who rides moto" to a fairly decent moto rider, at least in the corners.
Sweet book: At one of the tables they were selling Pro BMX Skills. That gave me a thrill. A mom told me she changed her kid's crank length per the equation in the book … and her kid is way faster. Whew.
Mountain bikes!
They had an open mountain bike class (open meaning it's open to all rider levels). We had four gates of MTB men, featuring some fast pro 4Xers, plus a gate of women. It was fun to see some old racing friends (and former pupils). Dang, some of those dudes are fast!
Funny: When we mountain bikers were trying to line up for the first moto, the start lady treated us like morons. She was right: 7-year-old BMX racers understand how motos and lane assignments work, but mountain bikers sure don't.
Younger Skywalker
Young Skywalker (aka Alex Willie, a DH pinner featured on this site) has an 11-year-old brother named Chase, and Chase wants to try BMX. Chase and I did a basic lesson about a month ago; today was the real deal.
We worked on starts, and we talked about passing options in the corners. Chase drew gate 8 in the final, so I wanted to make sure he had the high-low pass dialed.
Once Chase got comfortable in the gate and understood the passing scenarios, we rode laps, and he found a smooth flow. I told him he's a strong, skilled rider, and that he should just have fun. He crushed his first moto.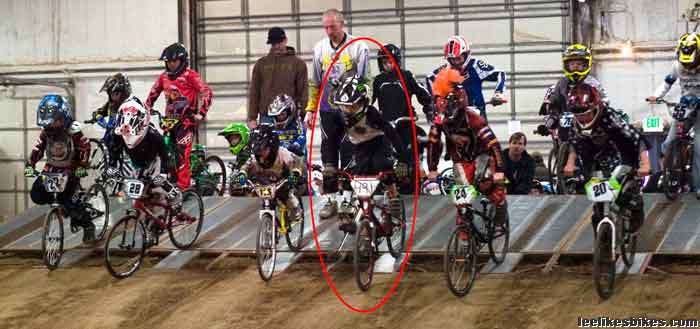 Chase's first-ever BMX race start. Not bad dude!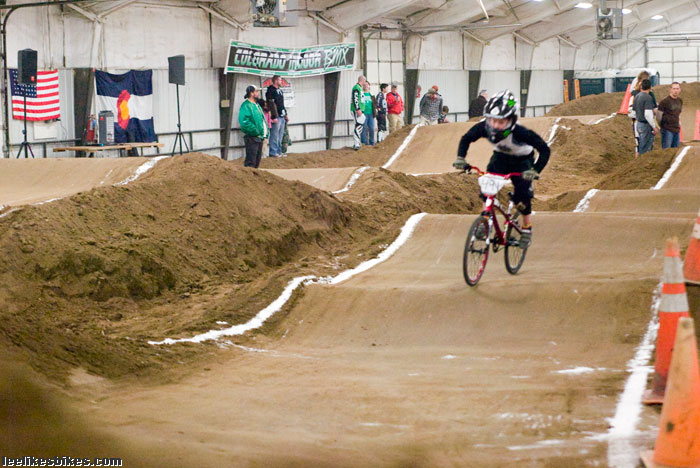 Chase with some awesome fundamental skills. Much credit goes to SMBA. (I was a coach there. I coach their coaches. They run a great program for young riders.)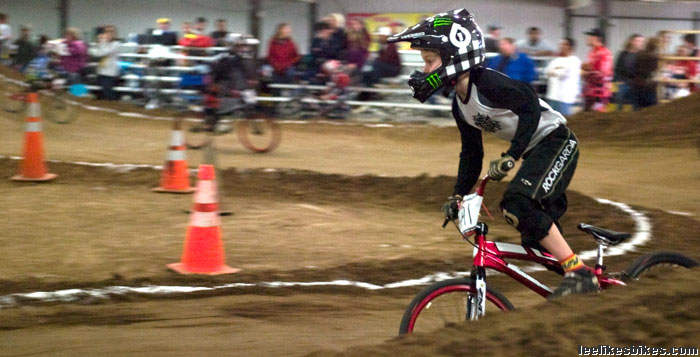 Pinning it into the penultimate straight. I was yelling, "Just ride your bike!"
As for me
The bummer about writing books about BMX is you don't have time to ride BMX. I haven't raced in years. Last time I raced a gated event, I had the worst start in Colorado. Let's hope knowledge is power.
Good news: Just by using Coach G's start fu — as described in Pro BMX Skills — I was getting great gates! Super awesome.
Yikes! But wow man, those other guys were so close, and it seems like everyone was picking on me. I felt great by myself, but to be honest, the other riders made me nervous. When the gate dropped, I waited to see where everyone was, then I pinned it, then I backed off to let everyone by. Riding the trainer does NOT prepare you for elbow-to-elbow battle.
Duh: If I want to be good at racing BMX, I have to … uh … race BMX.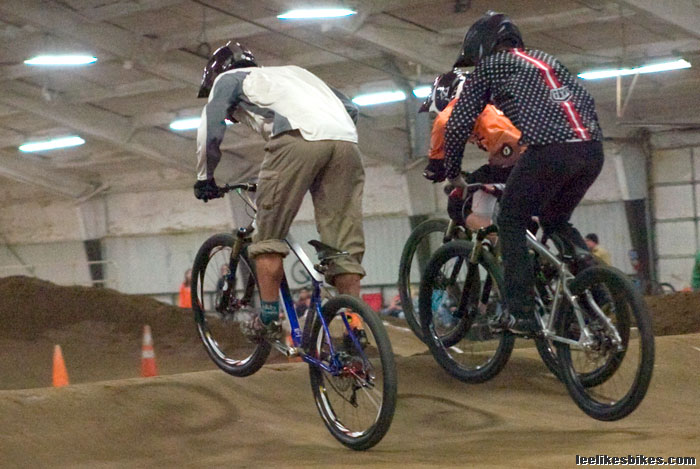 Dear diary: I was in the mix over the first jump. Knowledge is power!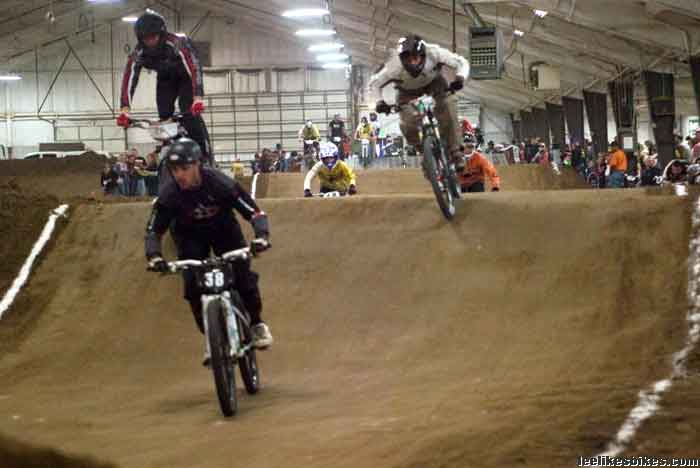 Entering the first turn in a great position to dive inside and block at least one of these guys. Instead, I'm about to back off and settle into third.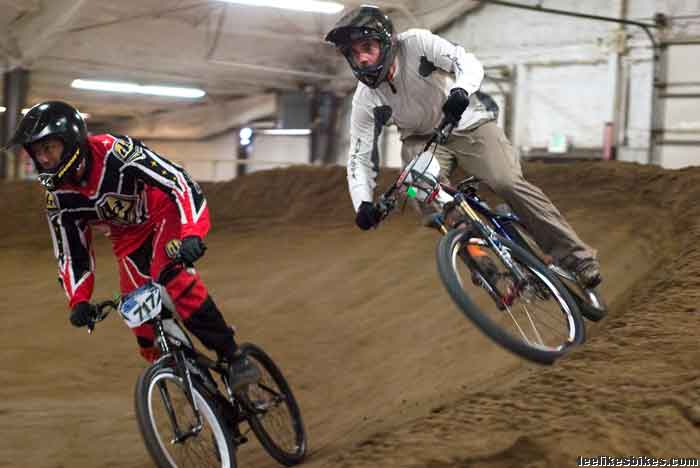 Battling in the cruiser class. These experienced old guys love to rub elbows. Me no likey.
Captain America
Yeah baby! I rode Captain America, my experimental Stumpjumper HT EVO-R in the MTB and cruiser classes. The bike worked as well as the rider. Great acceleration, awesome cornering, good pump, great looks. Ha!
More precisely:
– The tires ruled. In the tacky morning, the Specialized Renegade XC micro-knob race tires railed all lines — bermed or not — with impunity. In the dry afternoon, an over-aggressive inside line led to a hard crash, but that was my fault. The Renegades roll very quickly and get good traction on hardpack.
– The seat hit my butt on the first couple laps, but I adapted. I think the key to braaaping a bike with a relatively high seat is a level torso. That keeps the butt out of the way.
– The rhythm felt choppy, but I think that's because the bumps were pointy and I was trying to over-muscle everything.
– After each moto, I could raise my X-Fusion Hilo seatpost and keep spinning as I cooled down. Ha! Take that you 20 riders!
Overall, the bike worked great. The weak link here was my lack of BMX practice.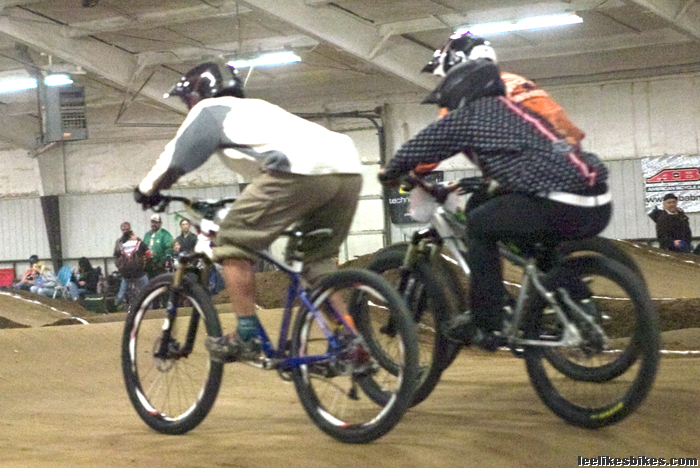 Compared with the DJ bike to the right, Captain America is a lot longer in the wheels and taller in the seat. But he gets it done.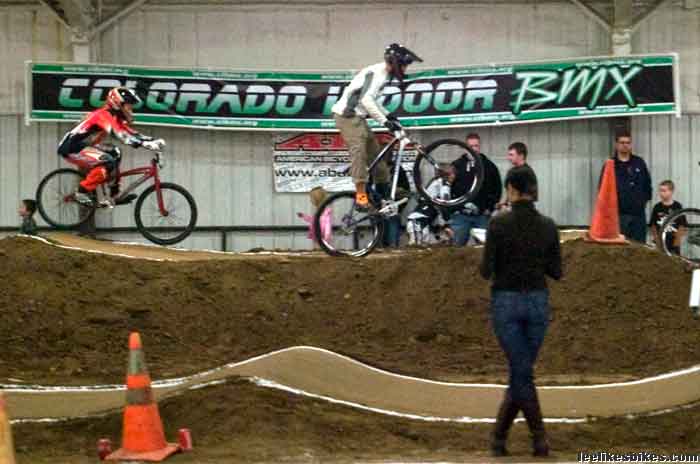 He might be long, but Captain America can be manualed. On our way to 2nd in this cruiser heat.
Life (capital L)
Right after I qualified for the cruiser main, I checked in with The Wife, and she informed me the baby sitter never showed up. Crap. That left Momma, who has not been feeling well, home with two babies who are pinned to 11. That makes 22.
I packed up, gave Chase some advice/encouragement and drove home.
Pinner: Chase won his main, which is rad. He started in Lane 8, entered Turn 1 in second position and pulled the high-low move we practiced. I think that's even radder than leading from the start. Go Chase!
Next
– Saturday, Mar. 12th | Registration: 11am-1pm / Racing ASAP | Double Point ABA BMX Race for Life, MTB, Open racing.
– Sunday, Mar. 13th | Registration: 9am-11am / Racing ASAP | Triple Point ABA BMX Redline Cup Qualifier, MTB, Open racing.
I'm gonna hire a badass Russian babysitter who actually shows up for work. And I'm gonna practice BMX (at least in my head).
Braaap!
— Lee
---
Know more. Have more fun!
Join the leelikesbikes mailing list:
---
https://www.leelikesbikes.com/wp-content/uploads/2018/08/leelikesbikeslogoheader.jpg
0
0
leelikesbikes
https://www.leelikesbikes.com/wp-content/uploads/2018/08/leelikesbikeslogoheader.jpg
leelikesbikes
2011-02-13 22:50:02
2011-02-16 21:33:47
Rocking some indoor BMX