Riding Vail on a Saturday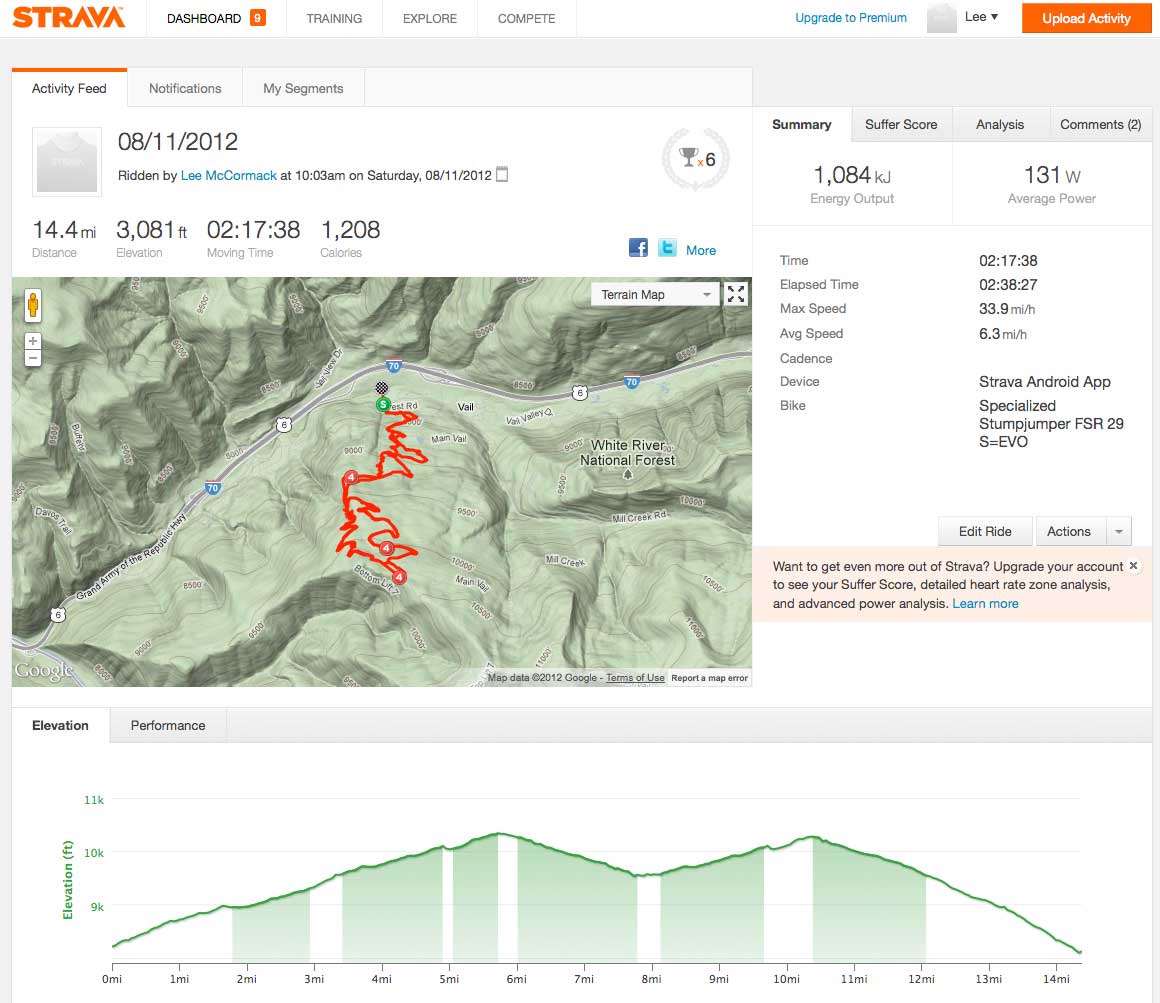 On Saturday I enjoyed a fantastic XC/DH ride in Vail, CO.
It's great to see so many civilians out having fun on their bikes. I sure had fun too.
---
Machine
The awesomely versatile and pinnable Stumpjumper Carbon 29 S-EVO. It's a 2012 Expert Carbon frame with a FOX 34 fork, Roval carbon wheels and full Shimano XTR love. Shimano SPD DH pedals and Specialized Rime shoes. Full Lycra of course.
Route
Breakfast buffet at the hotel. Kiss The Wife and The Bugs. Ride to the bottom of the gondola then cruise blue trails and dirt roads to the top of the mountain. Climbing time: about 1:15.
It's gratifying to know my 30-laps-of-dual-slalom workouts at Valmont Bike Park translate into decent climbing fitness. I will never be great uphill, but it's nice to bang out 3,000 vertical feet and not feel terrible.
Meet my mate (he's Australian) Richard Boyd at the top then pin Radio Flyer. Oh man what a trail! Imagine a 2.3-mile DH pump track that's cut into the hill much like my pump track.

My back yard.
Climb back to the top.
Radio Flyer again. So good.
Take a short black connector to lower Big Mamba, which has fun bermy flow then take the Mane Lane black to the bottom. Lots of civilian traffic out there, but what a fun ride.
Civilians
Being a professional skills coach, living in Boulder and riding almost entirely by myself, I rarely see regular riders in the wild.
• Lots and lots of enthusiastic riders having a great time on the mountain. That is super cool to see. We met a pair of adventurers from Brooklyn, NY who were probably the most stoked of all.
• Wow, many non-riders are looking awfully scared. I think this will be the last time many of them ride mountain bikes. A basic lesson up top would be great. Butt off the seat, heavy feet, light hands …
At the top, a guy in full KTM kit rolled up on a KTM XC bike. I was like, "Cool, I've never seen one of these bikes in person." He blew me off. Which made me think, if you want to talk about my Specialized, I'll tell you all about it and probably convince you to buy one. This guy seemed too busy. Or serious.
Richard and I were about to roll into Radio Flyer, and Team KTM rolled up. I was like "Hey, this is so sweet. Rad rad rad!" and he blew me off again. I went to roll into the trail, and he barged ahead. I let him go a ways, then Racer Lee clicked on.
BRAAAP! I pinned the Stumpy 29 down that beautiful trail, pumping and jumping and cavorting until I caught Team KTM, who did not allow the pass. At a wide spot I sprinted by and left him muttering.
I've had the privilege of being shown what's up by the likes of Brian Lopes, Curtis Keene and most recently Collin Hudson. While those are humbling moments, they keep us hungry and striving to improve. I hope Team KTM appreciates the favor!
Dangit, I want the Strava KOM on Radio Flyer. I need a clear run, and maybe I should take the lift to the top. Yeah, take the lift up and warm up on the trainer right at the trailhead. Not that I'm taking this seriously.
Strava!
---
Know more. Have more fun!
Join the leelikesbikes mailing list:
---
https://www.leelikesbikes.com/wp-content/uploads/2018/08/leelikesbikeslogoheader.jpg
0
0
leelikesbikes
https://www.leelikesbikes.com/wp-content/uploads/2018/08/leelikesbikeslogoheader.jpg
leelikesbikes
2012-08-13 10:41:10
2012-08-13 10:44:01
Riding Vail on a Saturday