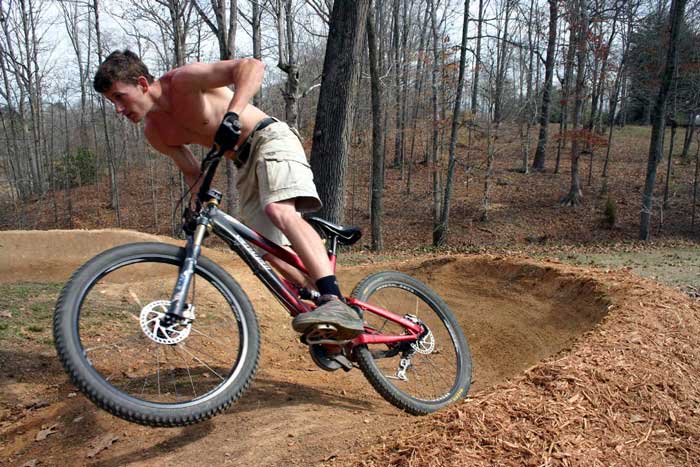 Sweet pump tracks, made to order. Here's our first out-of-state project:

Dear Lee,
I am a neurologist with more money than time. I'd like to hire someone to come out to Tennessee and build a "pump track" in my back yard. How much would that cost me, and who might be available to do it this winter or spring? That is, do you know any nearly broke mountain bikers who need extra cash and have the requisite design skills?
— Julie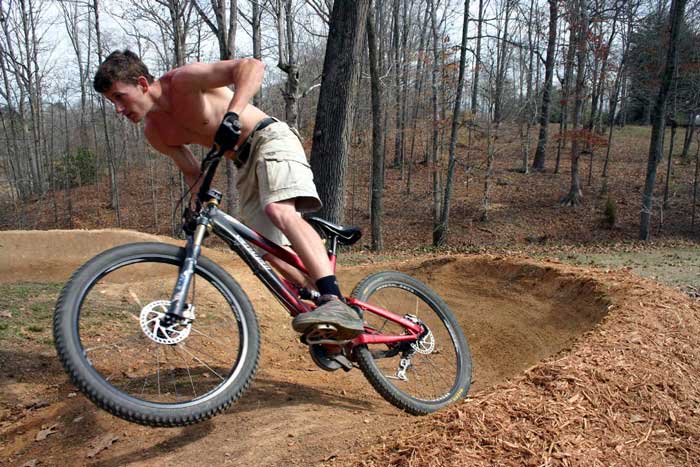 Do I know any broke mountain bikers? Hell yeah!
And I knew two perfect guys for the job: Steve Wentz, our local pump track genius, and Chris Herndon, a North Carolinian racer, builder and nice guy.
In four days they:
– Build the track by hand — including underground drainage in the berms. "That was the hardest I've ever worked," said an exhausted Steve.
– Went to a rodeo.
– Taught Julie to ride the track. She could barely get through a berm at first, but she was soon pumping her entire track — even the uphill sections.
Super cool!
If you want a custom track of your own (including pro riding lessons) email me at lee@leelikesbikes.com
Photos by Doug Ferguson. Thanks Doug!
https://www.leelikesbikes.com/wp-content/uploads/2018/08/leelikesbikeslogoheader.jpg
0
0
leelikesbikes
https://www.leelikesbikes.com/wp-content/uploads/2018/08/leelikesbikeslogoheader.jpg
leelikesbikes
2006-03-14 12:26:13
2006-03-14 12:31:13
Pump Tracks 'R' Us