Postmortem: Free clinics at Angel Fire MSC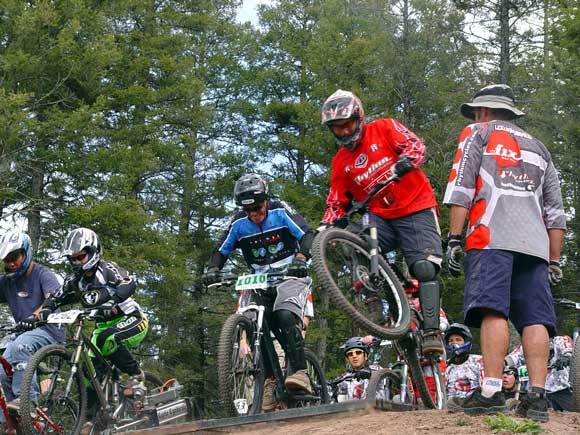 This weekend we held four free clinics for beginner and sport XC, DH, 4X and SD racers. I hoped to encourage new racers to try these events, and to help everyone feel more comfortable out there. Some things went well; others can go better.

---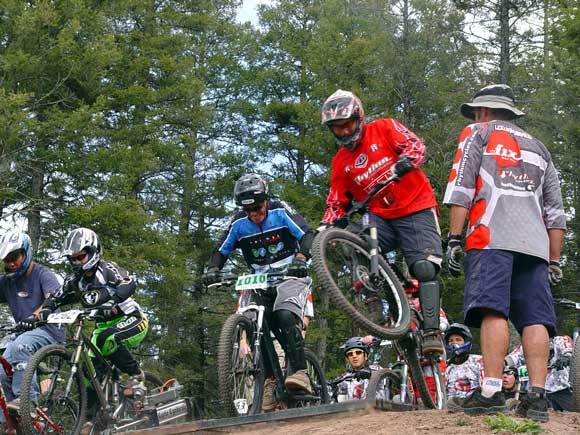 Clay Watson demonstrates his spastic but effective gate. I oversee in my new The Fix jersey. Photo by Yosei Ikeda.
Mountain cross
Attendance: Probably 50. I'd say 20 were actual beginners; the rest were experts trying to poach extra practice.
Covered: Jon and Bobbi Watt helped everyone with their gates then revealed some lines lower on the course. I helped people pump the first straight (rather than get bucked off the rollers, which is what happens when you get a good gate then stiffen up).
Outcome: The beginners seemed to learn a lot. In the race I saw them getting good gates and pumping the rollers like champs. Jon said most people ignored this line advice; they just wanted to pin it. We spent a lot of energy kicking team riders out of the gate.
Improvements: Beginners only. Do the clinic while experts are busy with something else.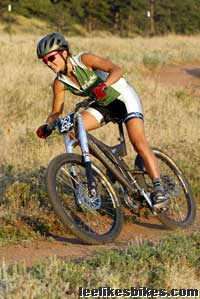 Abby, your XC tour guide.
Cross Country
Attendance: 4; 2 of whom had already ridden the course
Covered: We did a Q&A with Abby Hippley, the Maverick American rad racer chick, then she led the group around the course. … You know those dudes were stoked!
Outcome: The Q&A energy was pretty low. I haven't heard from Abby about the pre-ride.
Improvements: What terrible attendance! Seems like we need to get the word out. If you think you know everything, wake up! This clinic is free, and I promise a pro racer will teach you something.
Downhill
Attendance: 5
Covered: We did some drills to find our neutral attack position (find your feet, find your feet!), then we applied the concept to hard braking. We hiked the first rock section — critiquing riders' forms — then I led the crew down some tasty lines.
Outcome: Five dudes who were more confident. One found me after his race. "Lee, that was so helpful. I just kept thinking, 'Find your feet, find your feet,' and I had a great run."
Improvements: I think this went well. I couldn't have handled many more riders.
Super D
Attendance: about 12
Covered: Basic strategy for the LeMans start.
Outcome: At the beginning of practice, the Super D course was labeled very poorly. The riders I talked to trickled in over an hour.
Improvements: Set up some mock starts. Running to your bike is such a shock!
I hope we did some good this weekend. If you have suggestions, please post 'em.
---
Upcoming clinics
Chalk Creek – ST

Crested Butte – SD
Eldora – XC
Snowmass – 4X

Telluride – DH

Keystone – SD

www.racemsc.com
https://www.leelikesbikes.com/wp-content/uploads/2018/08/leelikesbikeslogoheader.jpg
0
0
leelikesbikes
https://www.leelikesbikes.com/wp-content/uploads/2018/08/leelikesbikeslogoheader.jpg
leelikesbikes
2006-05-22 11:59:59
2006-05-22 12:02:40
Postmortem: Free clinics at Angel Fire MSC