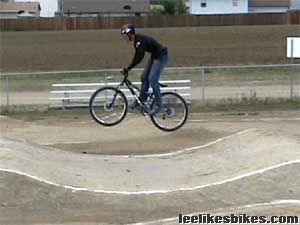 Rob is a snowbound thirty-plus 4X racer, and he's looking for some 4X training advice. In a nutshell: Consider the essential components. Mix them up to suit your lifestyle.
---
Lee,
I have read the book that you and Brian wrote together an number of times. My Wife jokes it is the most reading she has ever seen me do. I continuely go back to it as a referrence on various skills. I have lent it out to a few friend and they have also commented on how good it is. The pics are of great help also.
My question to you is with regard to off season training for 4x racing. I am looking to increase my power and speed areas. I have read a number of different books and gotten ideas from others, but hoped to get some from you and Lopes.
I live in Ontario Canada so outdoor training is not available. I typically do most of my training on a indoor trainer on my road bike and do a combination of base training and some sprint intervial.
I race for fun in the 30 and over club.
Any help would be great.
Thanks
Rob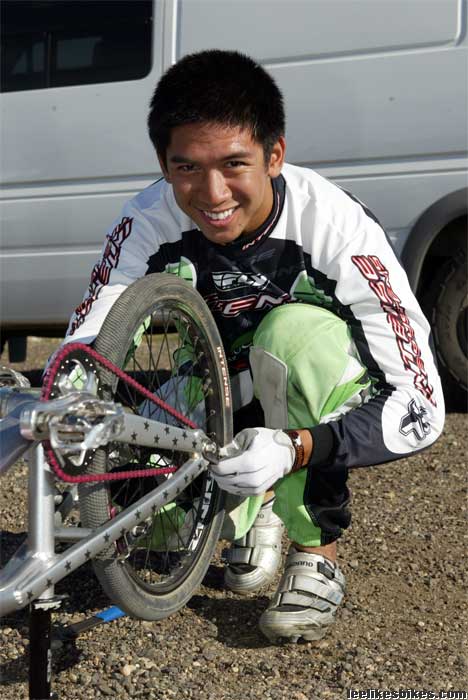 Danny C is helping me with my BMX book/video. He's super nice, extremely powerful and very flowy. I'm learning a lot from him. (BTW: That's his girlfriend's bike with the pink chain.)
Hey Rob,
As you know, training advice can get very detailed. Let's keep it simple.
4X and BMX require almost the same kind of raw power and handling skills. The 4X and BMX racers I know spend their off seasons like this:
Weights. Must … build … power. You can get fast without strength training, but you can get faster with it. No wonder virtually every serious 4X and BMX racer spends time in the gym. Danny Caluag, the current ABA champ in both 20″ and Cruiser, has one of the top trainers in BMX, and he does an enormous amount of squats. You can do the MTB Strength Training Program at home with a pair of dumbbells. It's very effective; just ask Rich Houseman.
Road bike. Must … build … fitness. Caluag is doing a lot of base miles, including long intervals at lactate threshold. His trainer has him doing 30 minutes at red line: "I hate that!" My friend the Mighty Keith Newsome, a fierce and busy 30-something racer, does intervals on his rollers.
Gates and sprints. Must … get … faster. This time of year, Brian Lopes does sessions at his local BMX track. He focuses on gates and the first straight. And, yes, he snaps almost everyone on his MTB.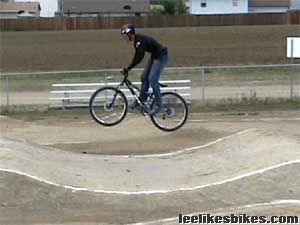 You all know about Lopes. Check out his interpretation of this BMX rhythm — from nearly a dead stop. Power = yes. Flow = yes.
Riding. Must … get … smoother. Most riders mix up time at the track and their dirt jumps. I know Lopes likes to ride cross country. It's all about building skills, expanding confidence and having fun. If you can't ride out in the dirt, be creative around town. Go to a parking garage. Set up a mini course with turns and bunny hops. That'll get you going.
A whole lot of science goes into devising the ideal training program. You have your overload, your recovery, your periodization, the phase of the moon and all kinds of other funny business. While the top racers benefit from this kind of attention, most people don't need it.
Find a mix that suits your climate, your schedule and your body. This time of year in Colorado, I enjoy shoveling snow, carrying rocks up mountains, doing intervals on my recumbent and practicing my cornering drills in town.
Two of the most successful racers EVER — Lopes and Ned Overend — don't have trainers, nor do they follow training plans. They know what they need to do, and they mix it up based on their schedules and how they feel. You can't argue with those guys!
Get strong and have fun,
— Lee
BTW: The BMX book will have lots of training info. For that I'm partnering with AA pro and professional trainer Greg Romero. Another nice guy and great rider.
---
https://www.leelikesbikes.com/wp-content/uploads/2018/08/leelikesbikeslogoheader.jpg
0
0
leelikesbikes
https://www.leelikesbikes.com/wp-content/uploads/2018/08/leelikesbikeslogoheader.jpg
leelikesbikes
2008-02-06 12:15:57
2008-02-07 06:59:00
Off season 4X training