Mini Canyon Strive CF 8.0 review
My friend Alex can afford any bike he wants, and he regularly buys expensive bikes on a whim. He's been on a Canyon Strive for a couple days, and I got to ride it at Valmont Bike Park. Thoughts: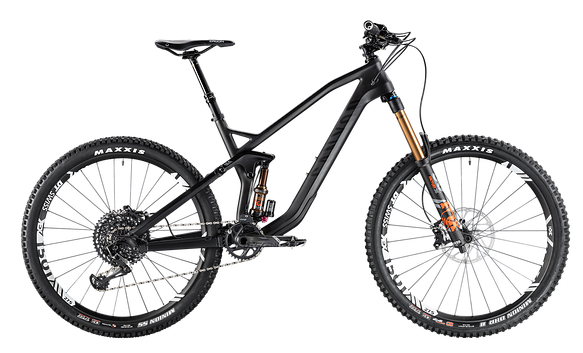 Details: Model is Canyon Strive CF 8.0. This is their second-highest model with a retail of $4,999. The site shows FOX suspension, but this one has a RockShox Lyric up front and a Monarch in the rear. Wheels are 650b.
Overall: This is a great looking bike. Clean lines. Nice parts. It looks excellent on top of a WRX.
Shapeshifter: You can switch the rear suspension between 160mm/slack and 135mm/less slack with the push of button. The bike climbs very well in the uphill position. It handles great in the downhill position. This is like having a Stumpy and an Enduro at the same time, which is pretty rad.
Rear suspension: In the DH mode the suspension has an interesting combination of support and smash. At moderate pump levels, the bike feels firm: like it's a smaller bike. When I snap it harder or hit something, the valving seems to open up, and then it uses its travel hungrily. I'll bet it's awesome in rocks. Alex says yes.
Compared to: When I got back on my beloved Enduro Öhlins Coil it felt big. Maybe it was the 29″wheels, or the higher seatpost. After a couple runs I took my bike on a huge wall ride I've been eyeing for six years, so it's not like my bike sucks.
Watching Alex: He's been riding a YT Capra and loves it. Loves it. He took to the Strive instantly and was throwing big style on his second run. He is super stoked. I think part of that is the fact the Strive is a nice bike. Part of it is he knows he got a great deal on a solid package. He bought this Strive for one of his friends. He has a Pivot Firebird on order; let's see which one goes to his friend.
Money and perceived value: I pushed Alex hard to buy an Enduro from our local bike shop. When he bought the YT Capra I was bummed. But the Capra CF Pro Race at $6k was looking like an S-Works Enduro at $9k. As he said, "I'll pay $500 for cool, but I won't pay $3,000 for cool."
Bottom line: I can see why people are going for direct-order bikes like the Canyon. It's a very nice bike. From what I understand, Specialized is answering Canyon's entry into the US market with competitively spec'ed and priced models — like a Stumpy with carbon wheels in the $4K range. That is great.
Have fun out there.
Lee
https://www.leelikesbikes.com/wp-content/uploads/2018/08/leelikesbikeslogoheader.jpg
0
0
leelikesbikes
https://www.leelikesbikes.com/wp-content/uploads/2018/08/leelikesbikeslogoheader.jpg
leelikesbikes
2017-09-16 06:59:22
2017-09-16 07:28:48
Mini Canyon Strive CF 8.0 review