Michelin XCR All Mountain 2.2 UST tire
As with most Michelins, the All Mountain looks very different from its competitors. How well does it work?

---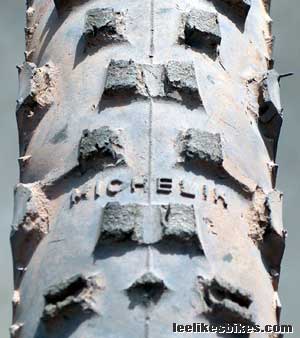 After four rocky, aggressive rides.
Appearance
The center of the All Mountain looks pretty normal. You have staggered blocks with plenty of space between them. This usually makes for mega traction but slow rolling.
The side knobs are wimpy compared with the manly knobs of a High Roller, Minion, Weirwolf or Blue Groove. While the All Mountain's side grabbers are low and few, they keep the tire's profile round, and they appear to have a nice working edge.
What you can't see is Michelin's dual-compound technology. The surface uses soft rubber, while the underlying tread uses hard rubber. This supposedly delivers good grip, fast rolling, stable cornering and reduced punctures. Hmm. We'll see.
Ride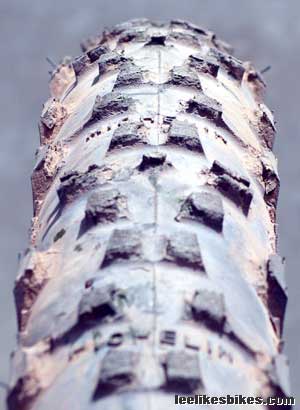 The side knobs are definitely doing their job.
This tire rips! It rolls crazy-fast, and it corners like a champ. The cornering is stable and predictable: no squirm, good hold, smooth release (aka drift).
I had one test tire, and I switched it between the front and back of my Specialized Enduro. That 6-inch, slack bike encourages me to ride hard on Colorado's dry, rocky trails. That's probably why the tire looks trashed after four rides.
Check out the wear. The braking surfaces are eroding away, and the side knobs are getting picked off like celery in teeth. The tire still feels great, but here — on my bike — that's a temporary condition.
Verdict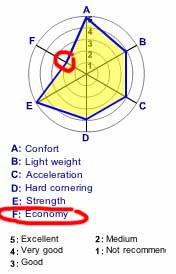 Michelin's relative performance chart. They agree this isn't the most economical tire — but we aren't in this for the economy, are we?
The Michelin XCR All Mountain 2.2 UST is a darn good all-around tire. If you ride hard in rocks, it'll be expensive. If you live in a softer neighborhood — say Santa Cruz, CA — it'll rip and last a while.
MSRP: $59
Details on the Michelin site
https://www.leelikesbikes.com/wp-content/uploads/2018/08/leelikesbikeslogoheader.jpg
0
0
leelikesbikes
https://www.leelikesbikes.com/wp-content/uploads/2018/08/leelikesbikeslogoheader.jpg
leelikesbikes
2006-06-28 13:54:37
2006-06-28 13:56:32
Michelin XCR All Mountain 2.2 UST tire