Yeti-FOX boys mix it up at Mt. St. Anne
Mt. St. Anne, Quebec (June 24 and 25) – The Yeti-FOX Factory Racing Team always look forward to the Mt. St. Anne World Cup. With every Canadian on holiday there are huge crowds and lots of parties. Oh yeah, and there's a sweet bike race too.

This is a press release written by me, Lee McCormack
DH top 10
1. Chris Kovarik
2. Greg Minnaar
3. Sam Hill
4. Marc Beaumont
5. Steve Peat
6. Matti Lehikoinen
7. Cédric Gracia
8. Nathan Rennie
9. Gee Atherton
10. Julien Camellini
The team arrived from Vermont late Monday night then laid low during two straight days of rain. When they walked the downhill curse Wednesday, they found a shorter, faster route than last year, with more open ski runs and fewer tree sections. The remaining tech areas were cleaned up a bit, and new machine-built berms promised to keep the speeds up.
In practice, the world's best downhill riders burned in some sweet lines, and after only a few runs the course was already super speedy. Arm pump became an issue, but a few clicks on the FOX 40 forks took care of that.
Race day dawned perfect. Justin Leov ran a fast 15th-place run, right in the mix with all the big boys. Rich Houseman rode great: "I thought I killed it! I had a relatively mistake free run, hit all my lines, but only took two seconds off my semi-final time. I was bummed. Sometimes it's like that I guess?" Jared Graves rolled his rear tire off the rim and finished at the end of the field. He's been super consistent all year — sometimes it's like that.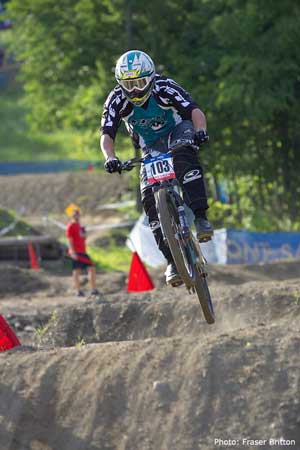 Big House in the 4X. Photo by Fraser Britton.
The 4X course followed the Mt. St. Anne pattern, which is big and fast. Because of the speed and rocks, Houseman decided to run his Yeti 4X suspension bike. He had a "decent run" and qualified 6th. Said Houseman, who has been focusing on the NMBS, "I was pretty stoked on that qualifier because I was not really sure how I'd stack up against the World Cup competition."
Apparently pretty darn well. Big House steamed easily through the round of 64. In his second start, he yanked his foot out of his pedal. "That allowed all 3 guys to beat me to the first turn. I tried making a move on the outside of them going into the 2nd turn, but I ended up going out into the soft stuff, and I just basically had to follow them all the way to the line. I really felt like I had a chance at making the final that night."
4X top 8
1. Michal Prokop
2. Jurg Meijer
3. Roger Rinderknecht
4. Gee Atherton
5. Jared Graves
6. Will Longden
7. Luke Strom
8. Chris Powell
Sometimes it's like that. As for Graves, he qualified 4th. He smoothly worked through the rounds of 64, 32 and 16, but he got axed in the round of eight. He wound up 5th. Not too shabby: Graves is ranked second in the series.
Next stop: The World Cup in Balneario Camboriu, Brazil. If the boys think Canadians party hard, those Brazilians are going to blow them away.
— — —
SPONSORS
The Yeti-FOX Racing Factory Team rides the best products on the market.
– FOX – Front and Rear race-tuned Suspension
– Shimano – Drivetrain, chain, brakes, pedals, footwear
– DT Swiss – Swiss quality wheelsets
– Maxxis – Rolling the best rubber on the circuit
– Chris King – The finest headsets on the planet
– MRP – The best chainguides available
– Topeak – Pumps, tools, and bike stands
– Thomson – Stems and seatposts
– Control Tech – Handlebars
For more information contact:
https://www.leelikesbikes.com/wp-content/uploads/2018/08/leelikesbikeslogoheader.jpg
0
0
leelikesbikes
https://www.leelikesbikes.com/wp-content/uploads/2018/08/leelikesbikeslogoheader.jpg
leelikesbikes
2006-06-28 10:13:00
2006-06-28 10:19:01
Yeti-FOX boys mix it up at Mt. St. Anne