Lopes is winning on his Ibis Tranny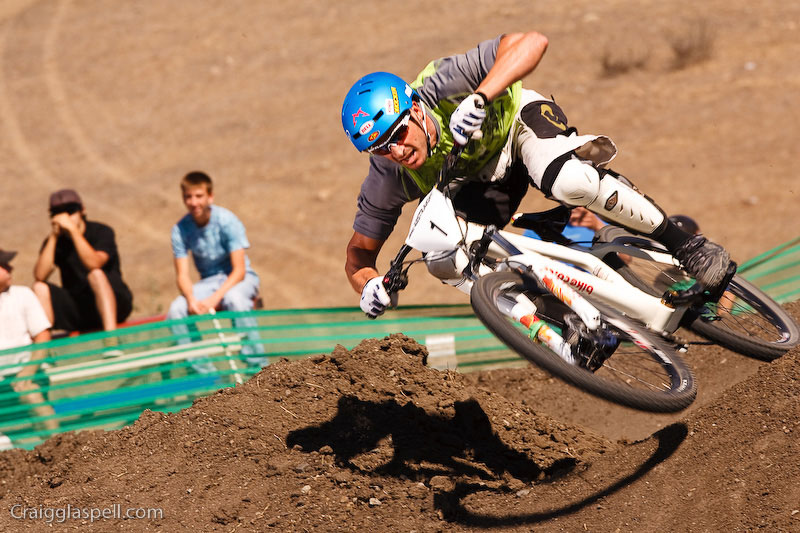 Hi Lee
I was surfing the net when I came across the Ibis Tranny, looks cool, concept of a sub 20 lbs bike that comes apart to fit into a suit case and comes along on trips, brilliant! I know you and Brian are buds, has he said anything to you about the Tranny? I am really attracted to this bike but am a little leery of the price. My hard tail is an 06 P2 CrMo, how would the Tranny compare? Besides almost half the weight, is it pump track compliant?
Thanks for the great site, I visit daily.
Stefan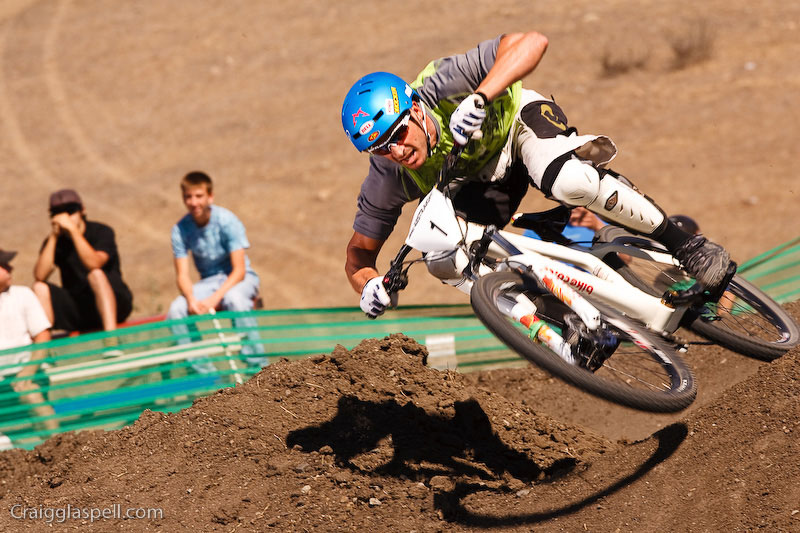 Heck yeah, it's pump track compliant. Lopes won last weekend's Jeep 48Straight race. Photo by Craig Glaspell.
Hey Stefan,
Brian says he loves his Ibis Tranny. It's stiff and light, and he digs the geometry. Crazy: He said the frame is so stiff, he can feel XTR cranks flexing.
Compared to your P.2 CrMo, the tranny is:
– Much lighter. MUCH lighter.
– Perhaps more versatile for all-around riding, because of the longer seat tube.
– Quicker handling. The Tranny's head angle is 70 degrees. The P.bike's is 69 degrees. Brian likes a steeper head angle.
– Easier to travel with. Because the rear end can be removed.
– MUCH more expensive.
I think P.bikes and other dirt jump hardatils are awesome all-around bikes. The Tranny is also an awesome all-around bike — for riders with bigger budgets.
Brian and the Tranny won the Colorado Crankworx dual slalom, the SolVista Intergalactic Pump track Championships (he even beat me — impressive!) and last weekend's Jeep 48Straight race in San Luis Obispo, CA.
Brian can rip on anything, but the Tranny certainly isn't holding him back!
— Lee
---
More info from Brian Lopes:
Lee,
Thanks for the answers on your site. I love the bike and can't wait to ride a stock one. I actually just got a stock one and will ride it soon.
The one I have been riding has a bonded rear end, so the slot to take it apart doesn't move and this frame was also laid up with a lot of extra carbon to make it extra stiff.
In all reality, it came out too stiff in my opinion so the stock one should feel better than the current one I have been on, and of course it will be lighter than the one I have been racing.
– Lopes
---
Press Release from Paula Lopes: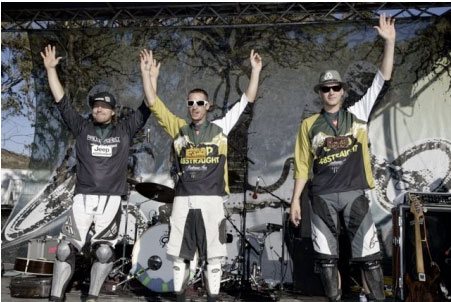 Carter, Lopes and Minnar.
Lopes finds luck in Madonna!
San Luis Obispo, California, Sat. October 24, 2007:
This year's Jeep 48Straight finals brought out some of the world's top-ranked mountain bikers, from ALL disciplines; Greg Minnaar from DH, Adam Craig from XC, Kyle Strait, Cam Zink and Cam McCaul from freestyle and Brian Lopes from 4X and did I mention celeb snow-boarder Shaun Palmer came out for a cameo.
The well-rounded bunch showed off their skills in a course designed by seasoned racer Eric Carter. The course, nuzzled in the mountains at the Madonna Inn, proved effective in weeding out the true prospects during the qualifying run.
Lopes demonstrated to be up for the challenge as he qualified with the fastest time, followed closely by series-point leader Cody Warren. Warren who was eliminated early on by Mike Harderer, as well as Petr Hanak, were two of the 3 potential series champions. Leaving Carter as the sole contender for the overall title.
Both Carter and Lopes eliminated their opponents skillfully, meeting up for the final round. With over 60 years of combined racing experience and a long-standing racing rivalry that dates back to BMX days, Lopes and Carter went on to put on a good show for the fans and TV cameras a like. Lopes making the step-up jump look easy and Carter hamming it up for the crowds.
The end results proved mutually successful, as Lopes took the win for the race and Carter the overall!
Congratulations to EC and Melissa Buhl for their overall win!
Big thanks to JEEP and 48Straight for elevating the sport and bringing it to homes nationwide via CBS Sports!
MEN FINAL RESULTS
1. LOPES Brian (Oakley/Ibis)
2. CARTER Eric (Mongoose)
3. MINNAAR Greg (Santa Cruz)
— — —
Also read: Lopes rocks his Ibis hardtail
---
https://www.leelikesbikes.com/wp-content/uploads/2018/08/leelikesbikeslogoheader.jpg
0
0
leelikesbikes
https://www.leelikesbikes.com/wp-content/uploads/2018/08/leelikesbikeslogoheader.jpg
leelikesbikes
2008-10-27 16:18:51
2008-10-27 19:18:03
Lopes is winning on his Ibis Tranny