Lopes rocks his Ibis hardtail
Brian just raced a prototype Ibis hardtail in a 4X in Poland, and he sure made it work. Here's the press release from his wife Paula:
THE TRANNY BATTLES THE DUTCH
SZCZAWNO ZDROJ, Poland, Sat. May 3, 2008: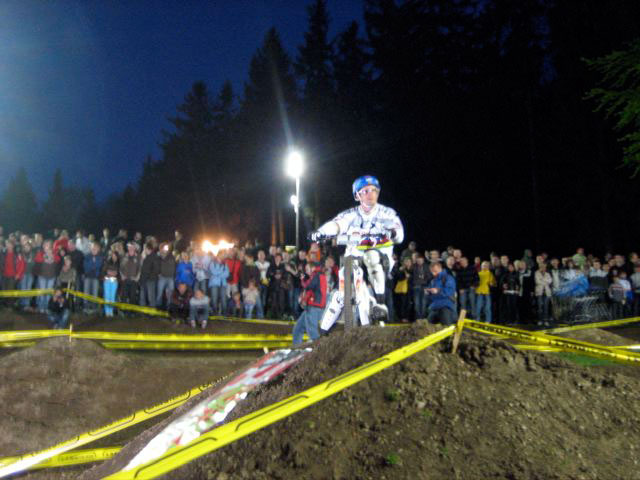 Lopes on the track, looking fully cross country on his XC hardtail.
So for those of you who didn't read Chuck Ibis's spew, "Lopes goes to Poland with a Tranny", Tranny is the hardtail prototype that Brian brought to compete in the invitational "Four Cross Night Race" held in southern Poland. And with the fastest qualifying time, Lopes and the "tranny" proved to be a winning team from the get go.
The beautifully-manicured and well-lit course found in the charming town of Szczawno Zdroj, was brimming with approximately 4,000 spectators saturday night. The crowd was composed of a diverse group of serious cycling fans and some locals, both looking forward to some high-speed entertainment. And that is exactly what they got!
The first straight demonstrated to be the most challenging, as the two middle lanes appeared to be slightly faster featuring a set of doubles leading to a high-speed left-turned drop and a series of the switchbacks. Plus, did I mention it was a over 46 seconds long.
Nonetheless, Brian and the "tranny", kept their eye on the prize and tackled a field of predominately Dutch racers. This held true in the finals as well, as Brian met up with Joost Wichman, Jurg Meijer and Joey Van Veghel. Lopes got a good start, only to bump elbows with Meijer, allowing Wichman to take advantage and grab the lead. Lopes chased Wichman down 3/4 of the course, reeling him in as they both approached the finish-line. But the Brian/Tranny team ran out of track and had to settle for 2nd place at their first showing!
"Man…I could see the cross-county guy coming at me as we reached the finish line" said Joost Wichman who had driven over with a car full of fellow-Dutch over 9 hours to participate in the 4X Night Race.
FINAL RESULTS
1. WICHMAN Joost NED
2. LOPES Brian USA
3. MEIJER Jurg NED
4. VAN VEGHEL Joey NED
Next week Lopes hits the first world cup in Maribor, Slovenia.
BIG thanks to Oakley, Marzocchi, Kenda, Ibis, Bell, Hayes, Easton, TLD, Shimano, MRP, ODI, Fizik and our Polish hosts Andrzej Skrzypczak, the mayor of Szczawno Zdroj, Team Lang!
— — —


The Ibis Tranny with the WTF group weighs 19 pounds. These photos snagged from the Ibis site.
About the Ibis Tranny
When I heard that Lopes was riding with Ibis, I knew he'd lend the brand a hardcore credibility, and that a whole new crew of riders would consider Ibis as their next bike.
The Tranny is a pretty nifty do-everything hardtail. Among its traits:
– Carbon monocoque.
– The rear end swings back and forth with a pair of adjustment bolts. This is a super-light way to adjust single-speed chain tension, and it lets you fit the bike into a standard suitcase.
– In the end, you get a XC race bike, singlespeed, travel bike and, apparently, a 4X race bike.


The Slot Machine adjuster lets you adjust your chainstay length.
Lopes' comments after his first ride: "Rode the bike tonight at the track and it was so friggin bad ass. SUPER stiff and the head angle was perfect. A lot of people at the track were tripping out on it, couldn't believe how nice it looked. The only thing that I can say right off the bat is I need to drop some weight off it. I am running saint cranks on it because xtr just flex too much on a stiff frame like this."
(He can feel his XTRs flexing? Crazy.)
— — —
All right. Go Brian!
---
https://www.leelikesbikes.com/wp-content/uploads/2018/08/leelikesbikeslogoheader.jpg
0
0
leelikesbikes
https://www.leelikesbikes.com/wp-content/uploads/2018/08/leelikesbikeslogoheader.jpg
leelikesbikes
2008-05-05 08:43:09
2008-05-05 19:00:19
Lopes rocks his Ibis hardtail