Level 2 skills class at Sunset East trails, in Erie, CO

On my 47th birthday a couple days ago, The Wife and I explored the trails at Sunset East in Erie, CO.
What fun! An easy climb with green, blue and black descents, all flowy and lovely. It's the perfect layout for riders of different levels to enjoy mountain biking. Go slow, go fast, go little or go big. It's all there. I, for one, plan to nab the blue KOM.
On Oct. 1, 2016 I'm teaching a Level 2 skills class. Learn to ride these trails (and others) with style!
---
Ride the Sunset East trails with style! Have tons of fun in Erie, CO — and everywhere else you ride!

Yummy flow on the green line.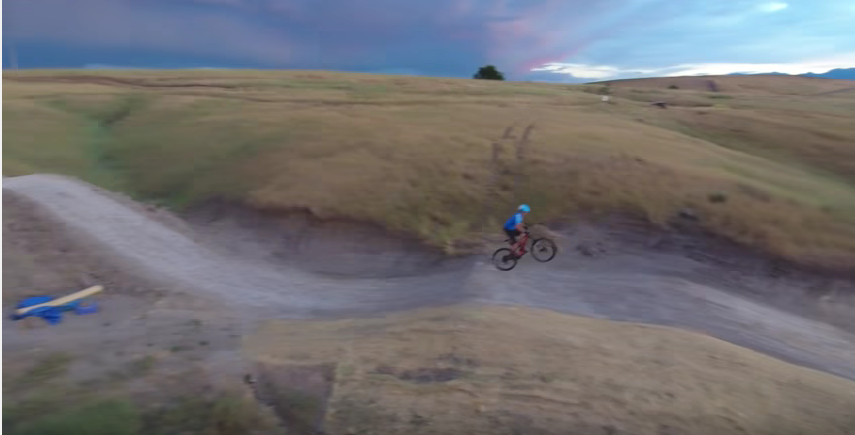 Boosting the black line.
Our mission
Erie Singletrack Advocates asked us to teach classes at the Sunset East Trails, and we are stoked to do it!
We will teach you how to ride all kinds of terrain with more confidence and speed, but we'll focus on the "flow" terrain at Sunset East.
Because riders will leave the ground, this is a Level 2 class. You should be a relatively fit, experienced rider. If you've taken a Level 1 Lee Likes Bikes class, that's excellent but not necessary.
We'll start with the fundamentals that inform all great riding — positions, braking, cornering, pumping and — yes! — jumping. We will build your skills and confidence one step at a time. You will have fun. You will stay safe. If all goes well, you'll shred the black line with style.
Learn more about the LLB skills instruction >>>
Dates and times
Oct. 1, 2016 : 10 a.m. to 2 p.m. : SIGN UP >>
Location
Sunset East Trails in Erie, CO
Meet in the small dirt lot on the west side of County Road 5, just north of Weld County Road 6.
We'll send a map after you sign up.
Check out the trails
Sunset East has a mellow climb with three downhill options. It's a great place for riders of all abilities to share a great time.
(Lee rode there on his birthday with his wife.)
Sunset East – Green Line

Sunset East – Blue Line

Sunset East – upper Black Line

Email Lee with questions.
Let's have some fun!
---
Know more. Have more fun!
Join the leelikesbikes mailing list:
---
https://www.leelikesbikes.com/wp-content/uploads/2018/08/leelikesbikeslogoheader.jpg
0
0
leelikesbikes
https://www.leelikesbikes.com/wp-content/uploads/2018/08/leelikesbikeslogoheader.jpg
leelikesbikes
2016-08-26 15:16:17
2016-08-26 15:16:17
Level 2 skills class at Sunset East trails, in Erie, CO