Lesley Paterson: a professional at work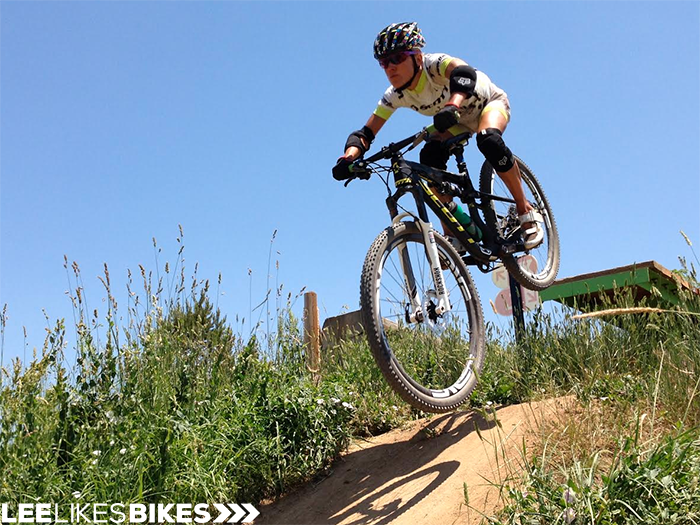 This week I've been working with XTERRA world champion Lesley Paterson. She is a gifted, driven, smart and methodical professional athlete.
Her fitness + LLB kung fu skills = world class mountain bike racer. Just watch.
---
On Monday and Tuesday, Lesley and I rocked deep kung fu at Valmont Bike Park in Boulder, CO. She reminds me of Conrad Stoltz, another XTERRA world champ. Athletes at this level are humble, and they never stop learning. That's how they got there.

The cul de sac that forges champions. Lesley learned to corner ~20% faster in an hour.
Yesterday we rode this weekend's US PRO XC course in Colorado Springs, with the goal of plugging her new skills into the trail. The track rolls around grassy knolls, claws around a rocky hillside and bombs down rutted dirt roads.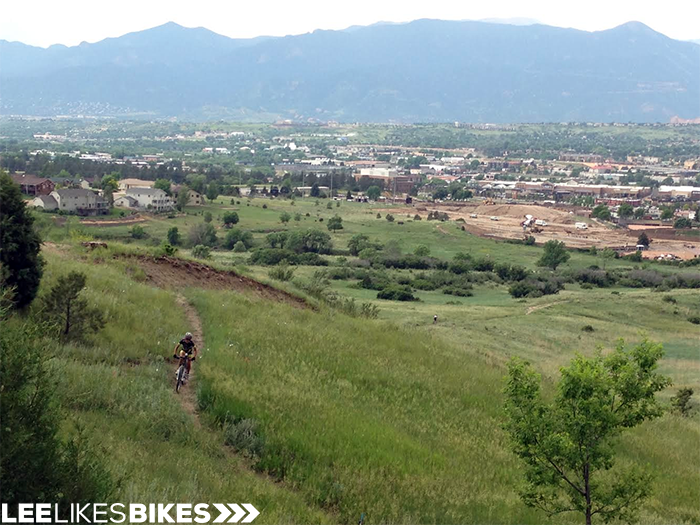 That view! Lesley does work.
I rode a few laps with Lesley, then I ditched my bike and hiked the technical sections. When Lesley came through I gave her [minimal] feedback, and she kept hammering. While I waited for her next lap, I said something encouraging to everyone who rode by: "Good job! Hammer it!" Most whined:
"The course is too easy. It's too hard. This is lame, I have the wrong tires, blah blah whine whine." Most racers rolled one or two laps then left the scene.
Which made me think:
• If you're a pro, shut up and do your job. If you whine while riding your bike, how are you gonna handle digging a hole, or putting out a fire, or fixing bad code? I swear hiring managers should go to mountain bike races. Hire whoever does the work with quiet focus, then teach them the skills you need.
• If you're doing this for fun, and it's this awful, stop. Unless you enjoy whining.
Meanwhile, I'm watching Lesley work.
• She trains relentlessly. Even when she feels crappy.
• She goes to work when she might not feel like it. She won XTERRA Costa Rica with a torn shoulder tendon — swimming 1.5K with one arm by her side then crushing the bike and run.
• She invests in her craft. She won last weekend's USA Cycling Pro Cross Country Tour race in Missoula, MT and she still hired an MTB skills teacher.
• She knows what she needs to do, and she does it. We made some setup changes at Valmont, but it was too much for a race week. She went back to her familiar setup and banged out lap after lap, each one smoother and faster. By the time she rolled her 8th or 9th lap, she was riding with the aggression, fluidity and stoke of a downhiller.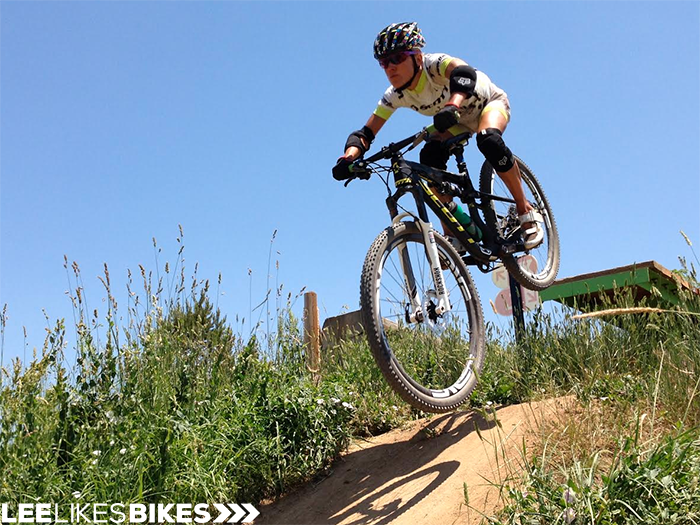 Braaap! Making angles and managing flight at Valmont Bike Park.
This was preceded by a two-hour swim and followed by a 30-minute run.
On the final lap she attacked a steep, rocky chute that was giving everyone trouble. Lightning struck and rain pounded. Mud covered jagged boulders. Seat was high and stem was long. Her eyes drove — pierced — straight down while bike, hands and feet made beautiful violence. She pumped the last rock, used that drive for the corner and was gone.
"Whoo hoo!"
Eyes on the goal. Doing the work. And having fun.
Go Lesley!
Lee
---
Know more. Have more fun!
Join the leelikesbikes mailing list:
---
https://www.leelikesbikes.com/wp-content/uploads/2018/08/leelikesbikeslogoheader.jpg
0
0
leelikesbikes
https://www.leelikesbikes.com/wp-content/uploads/2018/08/leelikesbikeslogoheader.jpg
leelikesbikes
2015-06-25 15:54:00
2015-06-25 16:38:26
Lesley Paterson: a professional at work