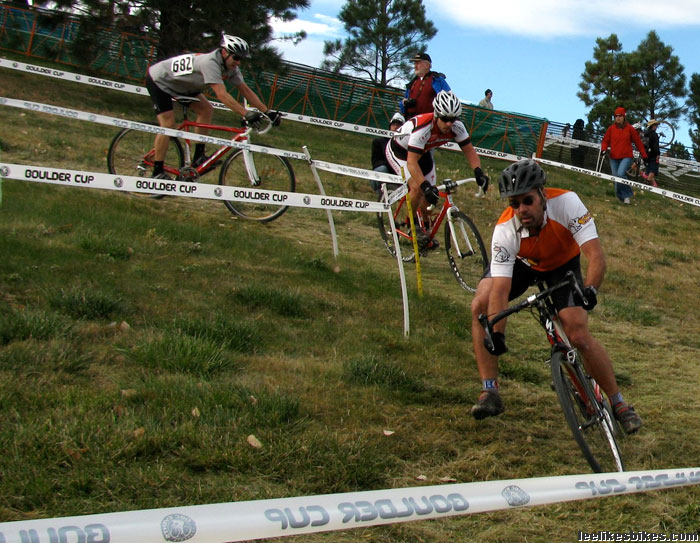 When I signed up for yesterday's Boulder Cup cyclocross in the 35+ Cat 4 class, I had no idea what to expect. As a new CX racer, would I get my ass kicked, or would I kick ass and look like a sandbagger?
I did NOT sandbag, but I did have fun.
Photos by Farid Tabaian. Thanks man.
Bike props
Frame/fork: Specialized S-Works Tricross. Super amazing carbon sweetnesss. I am just beginning to learn what this bike can do.
Wheels: Sun Accelerator 2.0. 29er MTB hoops for forget-about-'em strength.
Tires: Clement Crusade PDX. Recommended by Brandon at Boulder Cycle Sport. Big, meaty and grippy, loaded with 40 psi.
Prep: Tuneup and creak chase by Boulder Cycle Sport. The bike felt so perfect I never thought about it.
Jersey: Fire-breathing bunny.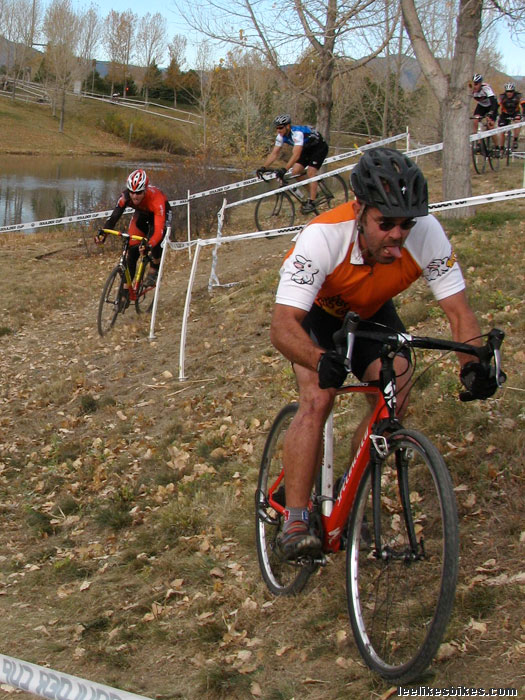 Riding the first "run-up." The tongue helps shift the center of mass forward.
Asthma
Last Tuesday I rode from home to the gym, did a hard workout, did some Computrainer SpinScan radness, rode up to the house then worked until 3 a.m. I felt like a Tough Guy, but it was too much for my frail self. I've been battling a nasty cold since.
My exercise induced asthma usually isn't a big issue. If I'm riding for fun or coaching, my lungs get tight at the first hard effort, then I'm fine. If I'm racing DH or Super D, I induce an asthma attack during practice, use my inhaler then I'm fine.
When I'm sick my asthma hits me harder and lasts longer. Yesterday I woke up feeling crappy and — since I haven't raced in forever — I couldn't find my inhaler. Oh well, I figured, I'll just get a great warmup.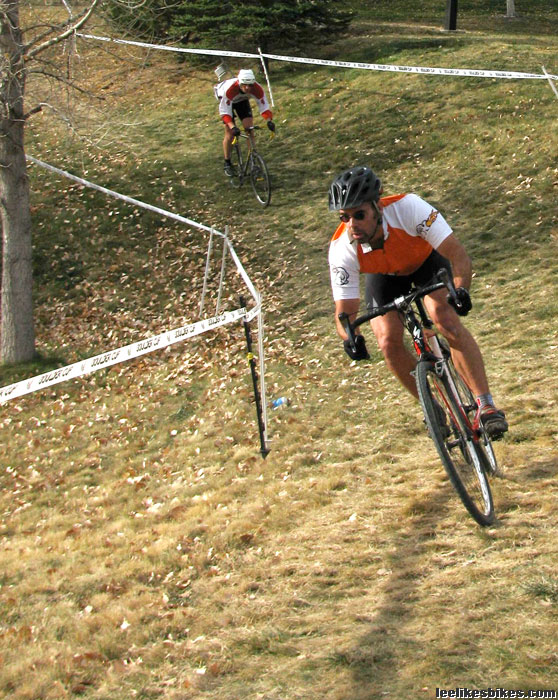 Railing the bowl at the end of the lake. Dang this was fun.
So this is a cross course
I reached the venue early, got my number and went out for two practice laps. The course was rad!
Short paved sprint into a fast 180, dash across the parking lot — jump the grass median! — then dive onto a concrete path. Achieve ramming speed then drop into off-camber grass. Hold, hold, hold the edge, shut it down then grunt up a steep 180 and across the hill. Another 180, back up to fully pinned then carve/clatter around the bowl at end of the lake. The faster you go, the more you stick. Touch your brakes and slide down to the tape. Drop onto the path. Sprint!
Cut left onto flat dirt. Carve the tricky tightness then rock the pump section — a smooth drainage ditch with a easy/main line on the left and a steeper/faster line on the right. Push in, pull out then load the flat left. Braaap on drop bars!
That ends the fun for now. Settle in and climb climb climb up concrete then grass. Whew. This is nice at practice pace, but it will suck in the race.
At the top. Grab some gears, surrender to the fall line and rail a loooong, buuuumpy right. The exit is uphill, so braking is stupid. Hold a line (or not), surge up to the concrete path then back to fully pinned.
If you get passed here, worry not because it's about to get interesting again. Off camber grass to steep "run-up." That's in quotes because ambulating up something this steep is called hiking. Most people start braking way too early. Pass a handful of sheep as you hold your speed on the outside. Wait for the hill slow you down. Jump off the bike and hike!
Pin it across the parking lot, find your feet, relax your hands and prepare for off-camber grassy goodness. Over the curb, quick left, quick right then dooown into a falling right. Set edges or die! Left, right, left you fall onto the concrete path. Sprint up a grassy knoll. Another traverse then a steep 180 onto the berm around the lake. Drop right, cut back up left — set edges, trust the knobs, stay high — sprint!
This is almost it. Hammer across the grassy saddle, dismount and run! Jump over a barrier. Run! Another barrier. Jump onto your bike and sprint 100 meters to the finish.


Welcome to Pump Track Nation!
Duh
I knew I needed to do a long/hard warmup to get the asthma out of the way, but I also wanted to line up at the front of the group. I figured I could uncork a decent start, get into a good position then fend people off as I recovered.
So I skipped the warmup and lined up at the front. Then I learned the guys with points get to line up first. Duh. So there I was in the middle of the 100-man pack, not warmed up. Everyone was tense. Somewhere, lots of wives were sleeping in.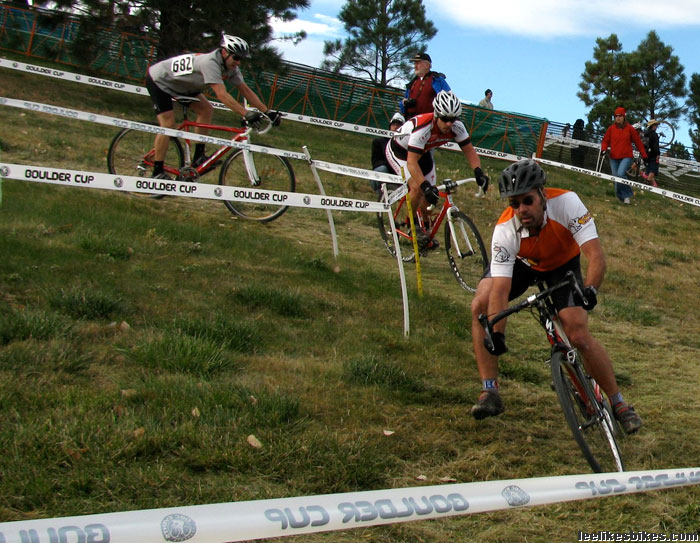 45 minutes of OUCH for this moment of SWEET! Weight forward, creating angles, setting edges.
Go!
The group accordioned out and soon we were hauling ass. I started picking off riders — a surge here, a clean line there — and it felt great. The dewy grass punished under-committed riding. When we hit the tech sections it seemed like a sea of riders was parting before me — usually with skidding rear tires.
We hit the first climb and — bam! — the asthma hit. The lungs tightened and soon the legs stopped working. Crap. It's hard not to feel stress in this situation. All I could do was back off and wait.
Guys started passing me. All the guys I'd just passed, plus more, plus a hockey player and a pirate. I rode the bumps and corners like a pro — nabbing a pass in almost every one of them. The bike felt smooth, the tires grippy, my flow perfect.
I braaaped the good parts and got outpedaled for four laps. On the last lap, my lungs cleared, and a group of eight hung in front of me. OK, it's back on. Time to get these guys.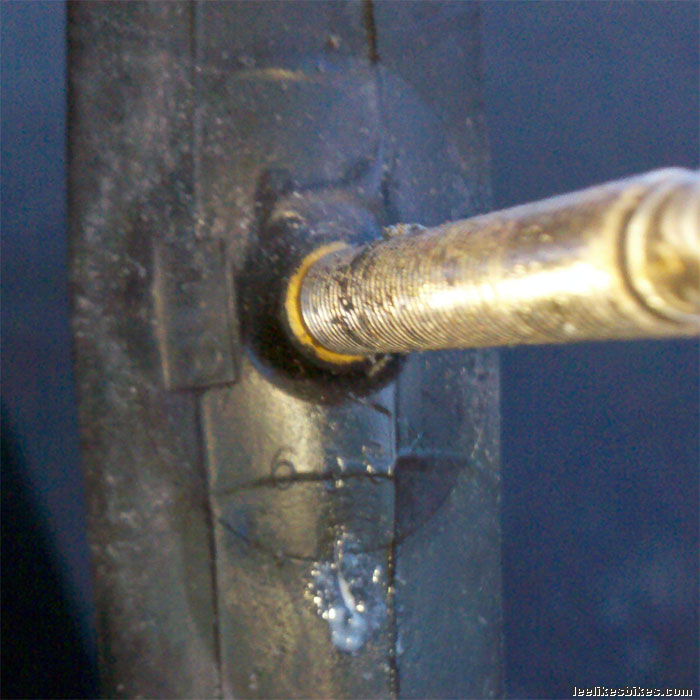 Right in the middle: This is a strange place to get a pinch flat. I wonder what happened.
Hips rotated forward, pushing across the top, laying down as much power as my confused legs could muster. Pin the bowl around the lake — wow that was fun! — nail the flat dirt slalom and hammer the climb. Yeah buddy! This is rad! Grab big ring and sprint down the fall line. Set edges — fisting the bar tape — and holy cow I am hauling ass through this turn. The bike skips and clatters and turns and sticks really well and then — huh? — I'm riding on the front rim.
Crap. I stay on it, uphill foot clawing at grass, and just try to stay ahead of the guy in the bee costume. All is sketchy but rolling until the tire unseats and lodges in the brake. The bee guy passes. I shoulder the bike and hike.
I wound up 86/100. No sandbagging here.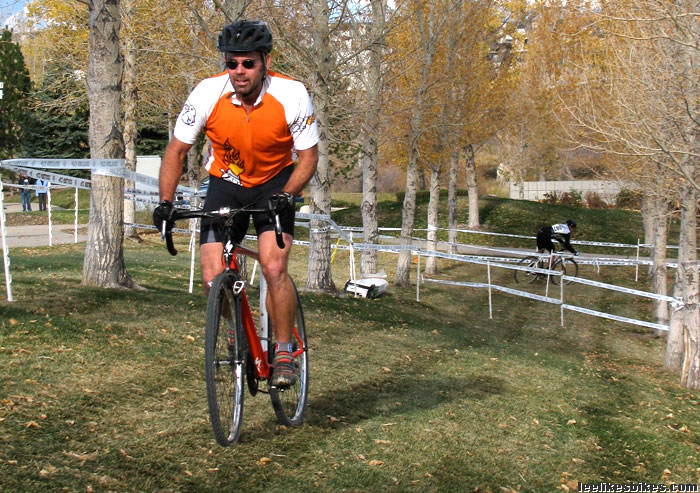 The last lap and finally breathing easy. Time to rock!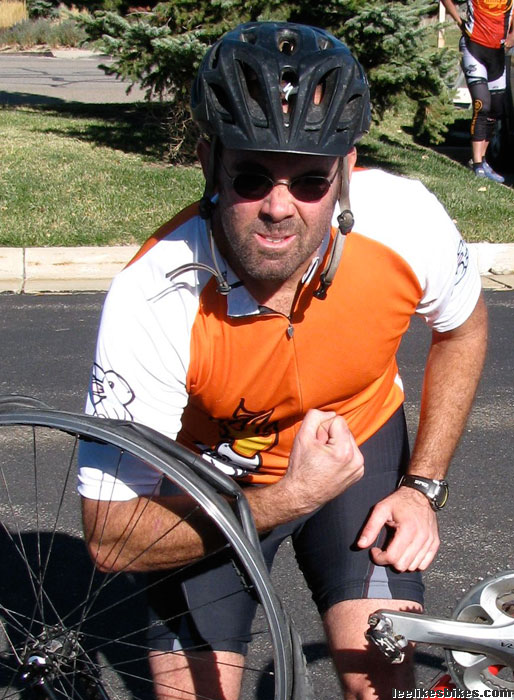 The bunny says maybe it's time to go tubeless.
Next
This was not my best race performance, but it sure was fun. There's plenty of racing left this season. I'll keep working on my 'cross skills and pedaling fu. If I manage my lungs better, I think I can mix it up in the middle of the pack.
---
Know more. Have more fun!
Join the leelikesbikes mailing list:
---
https://www.leelikesbikes.com/wp-content/uploads/2018/08/leelikesbikeslogoheader.jpg
0
0
leelikesbikes
https://www.leelikesbikes.com/wp-content/uploads/2018/08/leelikesbikeslogoheader.jpg
leelikesbikes
2010-11-01 13:26:53
2010-11-01 20:11:54
Lee Likes Cyclocross