Laying your bike flat in the air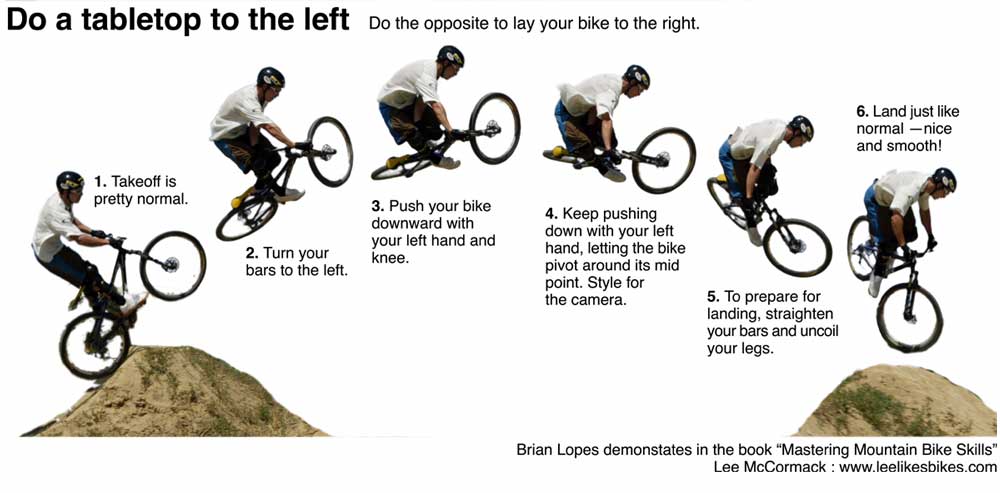 Hey Lee,
Great book and great site. I have tried and tried and tried, but I just can't seem to do a good table top. I only get the bike over a few degrees. Can you describe the best way to start to get the bike flat on its side.
Thanks,
Chris

---
Hey Chris.
I'm not great at this either. Here's what I've seen, heard and felt:
– Loose grip. You have to let your hands move on the grips — otherwise you get limited by your wrists' range of motion.
– Very relaxed. When you turn your bars, the gyroscopic forces will try to lay your bike flat. If you're tense this won't happen.
– Bring the bike very close to you in the air. This gives you the range of motion to move the bike around. When your arms and legs are straight, you can't do much of anything.
– Practice on a hip jump. You're already turning.
– Forward foot on the bottom.
– Say BRAAAP!
Check out page 117 of Mastering Mountain Bike Skills. Brian Lopes is pretty good at this:
https://www.leelikesbikes.com/wp-content/uploads/2018/08/leelikesbikeslogoheader.jpg
0
0
leelikesbikes
https://www.leelikesbikes.com/wp-content/uploads/2018/08/leelikesbikeslogoheader.jpg
leelikesbikes
2006-11-20 15:36:04
2006-11-20 15:37:30
Laying your bike flat in the air