It's time to get un-coached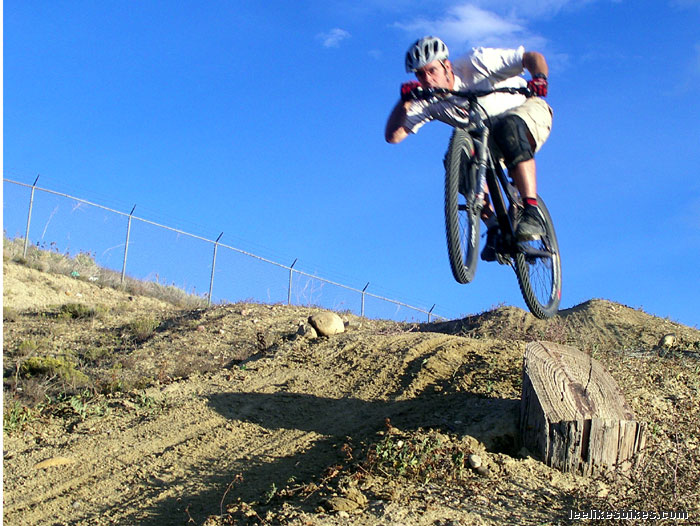 Today I didn't have to coach or teach a darn thing, and I enjoyed a random cornering session with my friends Steve, Matt, Chris and Lisa. To paraphrase Morpheus from The Matrix, today was a day to stop trying to rip — and just rip.

These guys are great at letting it fly. Especially Steve Wentz and Matt Fisher. As we practiced crazy mini-courses, their bikes slid and bucked and kicked all over the place, but the guys focused on where they wanted to go, and (almost) everything turned out fast and smooth.
Ever since I dedicated myself to becoming the world's best MTB technique writer and instructor, my riding style has become visibly regimented. It's like: Coast now, brake now, turn now, pedal now. You can see me going through the steps: 1, 2, 3, 4. It all started when I wrote the book, and although I'm smoother and faster than ever, my speed and smoothness are limited by my cerebral processing.
So this off season, I want to get un-coached. Steve Wentz coined that term today, and it's perfect. I was running our test course in about 13.5 seconds. Smooth, sure. Clean, yes. Fast, no. Fun, sort of. Steve and Lisa both pointed out my ride-by-numbers style, and that gave me a new focus.
I went to the top, breathed myself to a higher arousal level, saw the finish and pinned it. Fun, yes. Faster, yes – we're talking a 12.5. On a 3-minute downhill run, that change of mindset would have bought me 14 seconds.
So this winter I'll keep rocking the technique work, but I hope to spend lots of time getting un-coached by my friends.
Photos by me, Lisa Myklak and Steve Wentz (such a talented boy). Thanks guys.
| | | | |
| --- | --- | --- | --- |
| Matt was PINNING it! Yes, his face wound up in this yucca. "Yucc … a!" | This is a STEEP drop to a loose rut. | Lisa Myklak is coming off her best-ever season as a pro DHer. She plans to make next year better. | Chris boosts the infinite hip. |
| | | | |
| --- | --- | --- | --- |
| Nice overview. Lisa pops the little table. | Rad! Sick! Sweet! … Chaos underfoot, eyes still on the prize. | This, my friends, is setting an edge. Chris. | In situations like this I've seen Steve almost close his eyes. He's that relaxed. |
| | | | |
| --- | --- | --- | --- |
| Sucking up the table, Lee style. | Follow the tracks: Rip the berm, suck up the table, hit the edge of the jump, skim across the hole, slam into the back of the spine and bounce over the other side. Matt prepares to hold an edge across the slope then make one more left. Random style. | Bike crooked, feet crooked, legs crooked. Eyes, torso and hips perfectly straight. Matt wills it. | Such a pretty sunset … if you're into that sort of thing. |
https://www.leelikesbikes.com/wp-content/uploads/2018/08/leelikesbikeslogoheader.jpg
0
0
leelikesbikes
https://www.leelikesbikes.com/wp-content/uploads/2018/08/leelikesbikeslogoheader.jpg
leelikesbikes
2006-10-11 21:06:59
2006-10-11 21:22:11
It's time to get un-coached