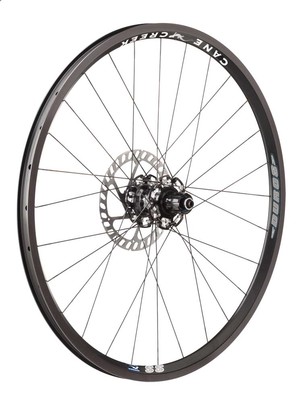 I've been rolling on some snazzy new wheels. Here's what I think of 'em:

---
What's unique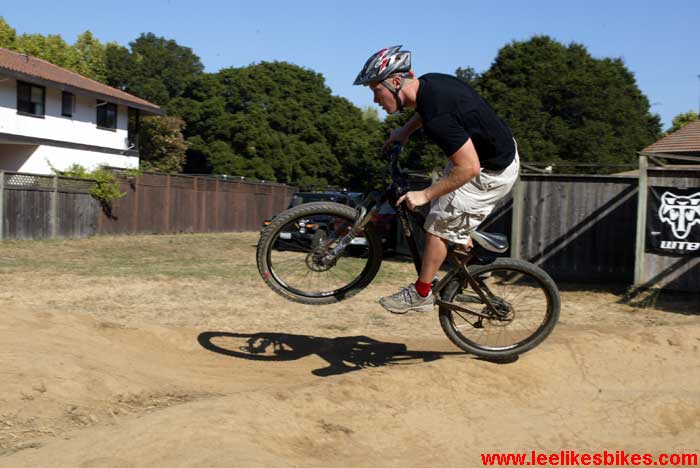 Ryan "Beavis" Finney loved the stiff, precise ride of my Duros-equipped P.3. Pump Track Worlds at Mark Weir's house.
Cane Creek Duros wheels do a couple things differently from their competitors:
1. They concentrate their mass near the hub. Nylock-reinforced nipples are a mere 22mm from the hub center, rather than way out on the rim. This results in a lower "moment of inertia," which means quicker acceleration. These wheels are near the light end of the the FR/DH/DJ class; the low MOI should make them feel very quick.
2. They use straight pull spokes. No J-bend means higher tensions, which means fewer spokes, less weight and a wheel that's stiffer torsionally and laterally. That is, Duros wheels resist "wind up" when you pedal, and they resist deflection when you sprint hard and rip corners.
Sweet: Cane Creek explains its technical kung fu with all the equations and charts you can handle: www.canecreek.com/wheel_tech.html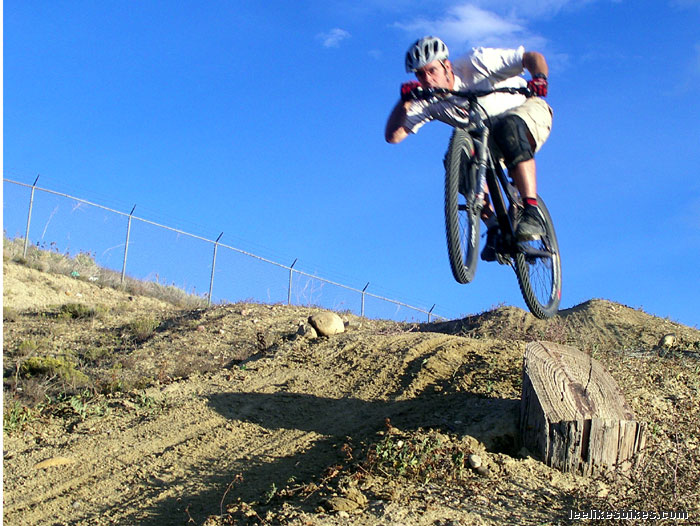 Light, quick and ready for action.
How they ride
I mounted a pair of Cane Creek Duros wheels to my Specialized P.3. Everything about this bike is stiff: the frame, Saint cranks and oversize bar/stem — and the Duros wheels fit in nicely.
The bike feels quick. BRAAAP and you're outta there. I can't say I notice the nipple location or the straight pull spokes; the bike just feels quick.
The bike feels stiff. You can hit turns SO hard. Super-aggro pump tracking never felt so good. My old Mavic D521s flex like crazy in 3G turns; the Duros track straight and invite me to push harder. Today I was attacking a pretty aggressive DH line — which was fun — and I was finishing with a big skid-turn against a bank. This would usually flex the heck out of a rear wheel, but the bike felt surprisingly planted.
These wheels and this bike are so stiff, it took me a few rides to get used to their responsiveness. But now it's on like Donkey Kong.
Working on the wheels
The P.3 has an assymetrical rear end, which requires some re-dishing action. I rode the wheel out-of-dish for over a month — call me lazy. After about 15 pump track, dirt jump and dual slalom sessions, the wheel was still perfectly straight. Truing requires removal of the rotor and cassette. The little Cane Creek tool worked really nicely, and the wheel came over without drama. The Nylock nipples felt sweet — smooth-turning but secure.
Removing the rotor and cassette is a pain, but if the wheel stays true for another month (or longer) it's no big deal. Cane Creek says you can replace the Duros spokes with any normal straight-pull spokes. They don't exactly grow on trees, but they're more available than, say, Mavic Zicral spokes.
The bottom line
I dig these wheels. Light, strong, responsive, durable and competitively priced.
A 20mm front would let me run 'em on my Enduro or Demo. Good news: A 20mm version will be available in 2007.


Front wheel.


Rear wheel. The freehub engagement
is nice and positive.


Rim profile.


Spokes: 28 straight-gauge stainless, front and rear
Axles: 100mm QR front, 135mm QR rear
Brakes: Disc or rim
Front weight: 1,013g
Rear weight: 1,260g
MSRP: $500 per pair. Disclaimer: I got a pair to test.
www.canecreek.com
---
2007 Duros XX front wheel
This just in from the folks at Cane Creek:
There are two versions of the Duros XX: Team and Race. Team uses an asymmetrical rim and has double butted spokes, while the Race uses the existing Duros rim and has straight gauge spokes. Expect to pay extra for Team style.
| | |
| --- | --- |
| 20mm front hub action | Entire wheel action |
https://www.leelikesbikes.com/wp-content/uploads/2018/08/leelikesbikeslogoheader.jpg
0
0
leelikesbikes
https://www.leelikesbikes.com/wp-content/uploads/2018/08/leelikesbikeslogoheader.jpg
leelikesbikes
2006-10-11 22:09:49
2006-10-12 09:24:50
Cane Creek Duros wheels