Ideal standover height and top tube length?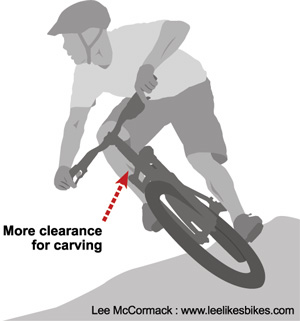 Lee,
I have two questions about proper bike fit that, unfortunately, the first chapter of your book did not cover: (1) how important is standover height?; and (2) how do you determine the proper top-tube length?

Here's some context. I am 5'10", but only have a 30″ inseam. The bike I am currently riding, a Gary Fisher Piranha (Medium, 17.5″), has a standover height of 29″ and an effective top-tube length of 23.9″.
One of the bikes I am seriously considering is the Santa Cruz Blur LT. I really like this bike, the only problem is that I wonder whether it really fits me correctly. It has an effective top tube length of only 22.5″ and the standover is 30.2″. The tall standover height seems like somewhat of a problem, though my local bike shop assures me that's not the case. And I get their point – bikes with lower standover height generally have a more dramatic slope to the top tube, so any fall with forward momentum is going to put me over the bike in a place where the standover height is greater than my inseam anyway. Also, I have heard from multiple sources that the most important measurement for proper bike fit is the top-tube length, but how do I know if 22.5″ is right for me for this type of bike?
$3,000 is a lot of money to spend on a bike, I just want to make sure I get one that I will be happy with for the foreseeable future.
Thanks for your help.
Todd
---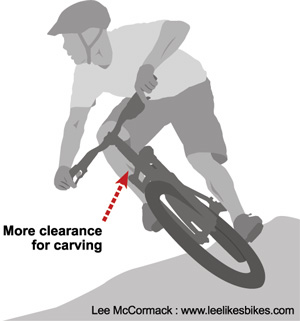 Corner by Lee. Vector graphics by Lee. P.3 frame by Specialized.
Hey Todd.
Great questions. You seem to have a relatively long torso and short legs. Based on that, you'll want a bike with decent standover clearance and a pretty long reach.
Standover height
That's always been the gold standard of bike fit, but not so much anymore. With suspension and high bottom brackets and all that, few of us can straddle our top tubes with the few inches of clearance our forefathers demanded.
BUT: More clearance is better. Not only for straddle-safety, but also for cornering. A lower top tube lets you lean your bike more. See the diagram action madness.
Top tube length
Your ideal top tube length depends on your body, the terrain and your riding style. XC riders want mega reach; dirt jumpers need mini reach. There is no set way to determine this. Not yet, anyway — I have an idea for an all-new sizing system, but that's pretty low on the list.
In the mean time, measure the reach on your current bike. That is, your effective top tube length plus your stem length. For example: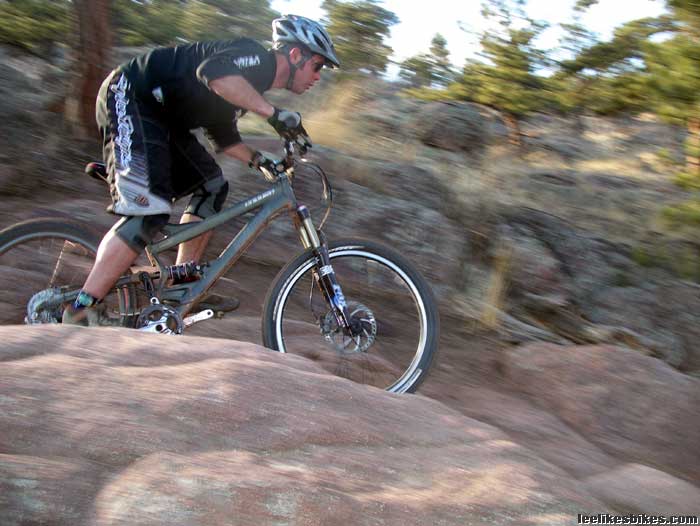 I'm 5-9 with average leg/torso length. My medium Enduro has a 23″ TT and a 50mm stem with a total reach of 63.5cm. That feels a bit short for climbing, but perfect for descending.
Piranha top tube: 61cm
Stem: 7cm (70mm – a guess)
Total: 68cm
Gary Fishers have very long top tubes and short stems. Gary calls it "Genesis Geometry." I too prefer a longish top tube and a short stem. Even with the same overall reach, short stems handle better than long ones.
Your reach seems a bit long to me, but if you like it, start there. The Blur's top tube is about average.
Total desired: 68cm
Blur top tube: 57cm
Stem: 11cm (110 mm)
That's a pretty long stem; I think you'll prefer a 90 or even a 70, but that's a matter of riding style.
At 5-10 with a long torso, you're between a medium and large. Many bikes get longer but not taller. You might consider a longer frame and a shorter stem. Test ride bikes at your local shop, and buy your bike there.
I want to give you a set rule, but I don't have it (yet). I hope this helps,
— Lee
https://www.leelikesbikes.com/wp-content/uploads/2018/08/leelikesbikeslogoheader.jpg
0
0
leelikesbikes
https://www.leelikesbikes.com/wp-content/uploads/2018/08/leelikesbikeslogoheader.jpg
leelikesbikes
2007-02-07 10:23:10
2010-01-19 10:55:22
Ideal standover height and top tube length?