I am so stoked for the new Shimano XTR M9100 group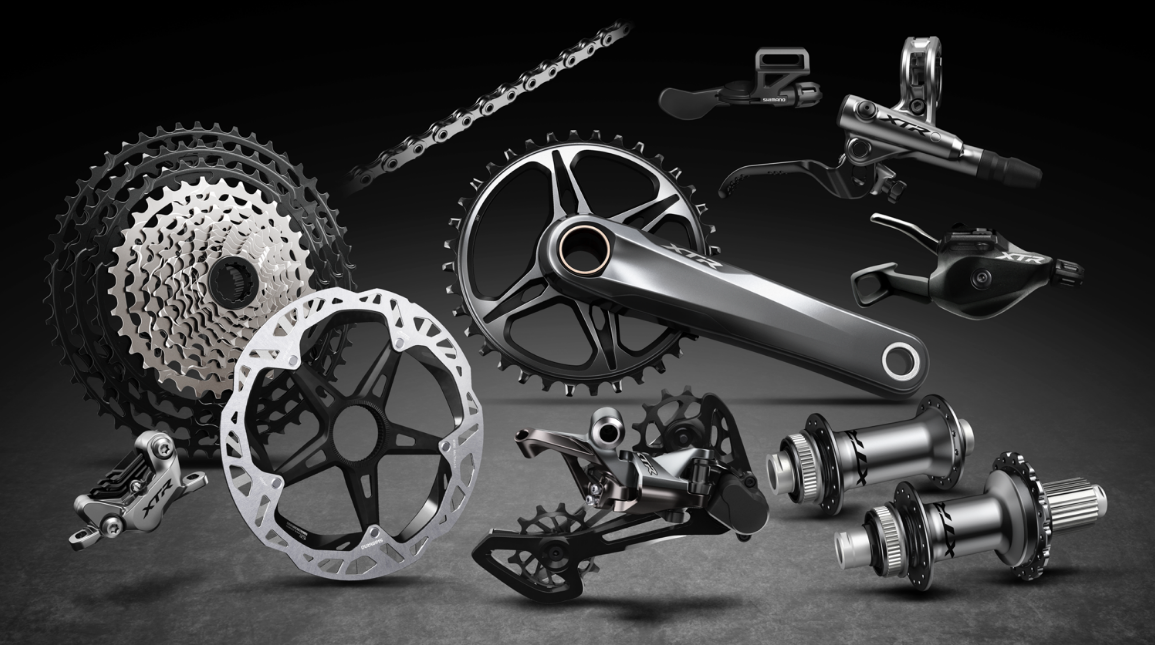 Not only will it have the XTR sweetness and Shimano bulletproofness, it's also a very thorough approach to dialing in your bike for your riding style:
• Wide variety of 1x and 2x gearing options
• Refined shifters and derailleurs
• Dropper seatpost remote
• More powerful brakes in XC and enduro styles
• Pedals with greater shoe contact and support
• And more
In my opinion, the other drivetrain company is a marketing company. They innovate, and they reach the market early and, in my experience, quality isn't on point. I'm talking about brakes that don't work consistently, a dropper that never worked once, and top-level drivetrain parts that need immediate warranty. If you don't know the difference, you can be happy. If you know the difference, and you pay serious money, this is not OK.
Shimano is an engineering company. They might not be first to market, but they take their work seriously, and when they launch a product it's dialed. How many times have I warranted a Shimano part over the past 25+ years? Zero.
Whenever I get a bike with the other components, the first thing I change is the brakes (depending on my mood, I'll run XT, XTR, Saint or Zee; those levers are like a pacifier — they make me feel safe). I ride the other drivetrain until it wears out or breaks or just plain annoys me, then I upgrade — generally to workhorse XT but occasionally and gloriously to XTR.
Once my bike is wearing Shimano, I stop worrying about braking and shifting, and I focus on riding. As someone who relies on his bikes to make a living, I can't over stress how nice it is to KNOW my stuff is going to function. Oh yeah, and meanwhile the SPD pedals just plain work. And work and work. I've been riding the same pedals for more than a decade. Shoot, I have some 636s from when I was racing downhill. Scratched but functional. Just like me!
Shimano fishing reels are the same way. I still have the ultralight spinning reel I received for Christmas when I was 10 years old. That's 38 years of abuse, including some crazy saltwater adventures. Tuna … dorado … yellowtail … that little reel kicks ass.
I have received generous support from Shimano. They believe in my mission to save the world through better shredding, and I appreciate their help. But most of the Shimano parts I use — ever since forever and even today — are purchased with my own money through a local bike shop. I recently bought XT brakes for my S-Works Fuse and Zee brakes and XT drivetrain for my Enduro. Again, I appreciate Shimano's help, but I don't wait for it. If I need parts that work for me, I buy them.
If all goes well (either with Shimano or my businesses), I'll be rocking the XTR 1x drivetrain with Wide Range cassette, XTR chain guide, XTR 4-piston brakes, and XTR trail pedals. Hashtag ride with impunity.
Read more about the new Shimano XTR M9100 group here >>>
Lee
https://www.leelikesbikes.com/wp-content/uploads/2018/08/leelikesbikeslogoheader.jpg
0
0
leelikesbikes
https://www.leelikesbikes.com/wp-content/uploads/2018/08/leelikesbikeslogoheader.jpg
leelikesbikes
2018-05-30 16:44:22
2018-05-30 16:56:14
I am so stoked for the new Shimano XTR M9100 group