Help: I want a new bike for everything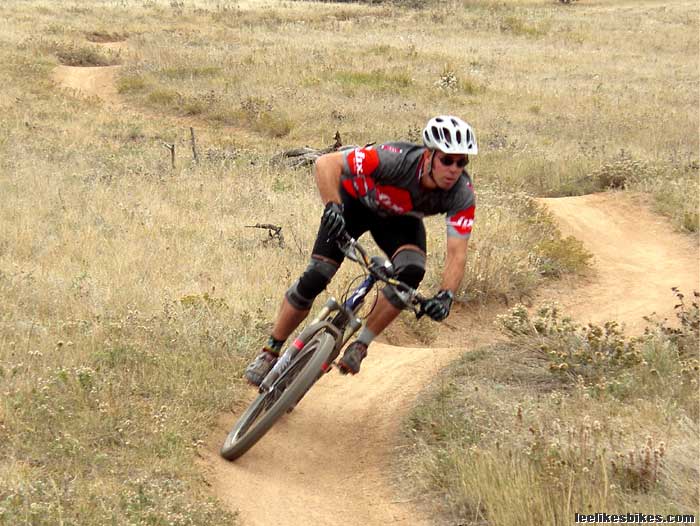 Hi Lee
I am in the process of getting a new bike. I have out grown my heckler and i want to get a 29r, but I love to jump bikes and when I land I land hard. I looked at a specialized stumpjumper 29r and a gary fisher rumblefish. I also looked at a specialized sx which my dad says that fits my personality very well, but I want to race and be competitive. i race xc a few times a year and we ride am/trail. the jumps are three to four feet that i build in the back yard. My dad offered me his 07 specialized enduro sl. What do you think? Thanks JD.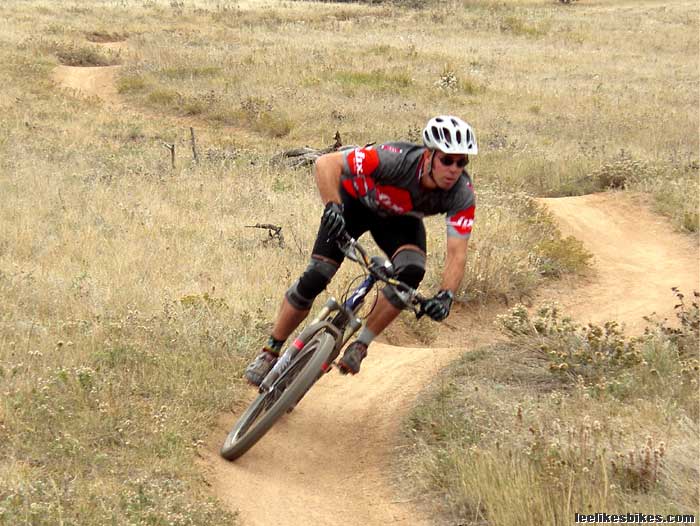 Wringing sweet sweetness from the 2007 Enduro SL. This bike is still going strong.
Hey JD,
You sound like a young pinner. Good for you.
You need a good all-around trail bike, one that can rip trails — up and down — and blip the occasional drop, jump or whatever pops up. I want the same bike, so I understand where you're coming from.
Let's break this down:
29er?
No doubt: 29-inch wheels roll over rough trails faster/easier than 26-inch wheels. 29ers are definitely cool and viable, and I've seen people rip on them. By "people" I mean Coach Mike at the Colorado Rocky Mountain Academy. He RIPS a 29er hardtail on trail, jumps and pump.
I'm not saying a 29er won't work for you, but if you're out there crushing stuff, you might be better off with smaller, stronger 26-inch wheels (and the frames that go with them).
Which style of bike?
You're focusing on a trail bike (Stumpy, Rumblefish) or an all mountain bike (Enduro), which makes sense. Both can be ridden up. Both can be ridden down. The trail bike favors the up; the all mountain bike favors the down.
Decide which is more important to you.
I've been riding four generations of Enduros, and I flat-out love them for most situations. That said, I just spent a solid two years on a 2008 Stumpjumper Pro Carbon (with Specialized fork and shock), and that thing is amazing. So amazing I didn't ride an Enduro for a year. So amazing I ride it on the road, on trails, on pump tracks, on dirt jumps and even for some DH clinics. That bike is very quick, very capable.
But remember: Where you are young and violent, I am old and smooth.
About the SX
The SX is a slalom/4X race bike. The SX Trail is a slopestyle/freeride bike. Both can be ridden on trail, but they strongly favor the braaap. If you want to race XC, they are not ideal.
| | |
| --- | --- |
| You can ride the fun stuff on an Enduro … | … or Stumpjumper. But you better be smooth on that Stumpy! |
Landing hard
If you land hard, I have two suggestions:
1) Graciously accept that Enduro SL from your dad. That awesome all-mountain do-all steed will withstand your punishment better than a trail bike, and you can race XC on it a few times a year. And: It's super fun to pin the DH through a tangle of brake-dragging, too-far-above-LT XC racers.
2) Learn to land smoothly! Smoothness first. Amplitude later.
To sum it up
Get that Enduro SL from Dad.
Do your homework. Mow the lawn. Be good.
Learn to Ride (capital R).
— Lee
---
Know more. Have more fun!
Join the leelikesbikes mailing list:
---
https://www.leelikesbikes.com/wp-content/uploads/2018/08/leelikesbikeslogoheader.jpg
0
0
leelikesbikes
https://www.leelikesbikes.com/wp-content/uploads/2018/08/leelikesbikeslogoheader.jpg
leelikesbikes
2009-10-27 10:49:52
2009-10-27 10:49:52
Help: I want a new bike for everything