Hayes Stroker Trail Brakes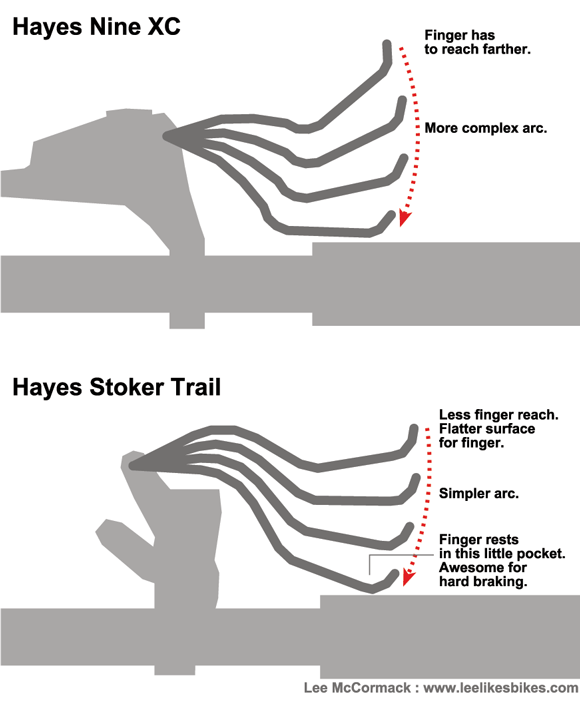 The new Stroker feels very different from the old Nines and Mags — different in a good way.
According to Hayes:
– The lever and caliper take up very little space on the handlebar.
– The new integrated reservoir and bladder handle fluid expansion 33% better than the Hayes Mag (which is a darn good brake). This compensates for pad wear and reduces lever pump on long descents.
– A whole lot of effort went into designing the lever.
– The aluminum adjuster dial uses a spring detent with positive clicks. Oversize metal bushings keep it smooth and durable.
– The insulated caliper helps control fluid temperature during heavy braking, which provides a more consistent feel under prolonged hard braking.
According to Lee:
As a member of the Hayes Test Program, I've been riding different versions of the Stroker since last year's Sea Otter. I have raw prototype Strokers on my Enduro and the white production Strokers on my new Stumpy.
– The narrow perch lets me run my SRAM trigger shifters where I like them. The adjuster dial feels good.
– I really like the way the lever feels. It's thin and minimal, and my index finger fits right at the end. The finger-spot is knurled for extra grip.
– I've spent a lot of years on Hayes Nines and Mags. The Stroker lever feels very different when pulled. I figured it must have something to do with the pivot placement and swing angle, and it does. Check this out:
So compared with the old Nine, the Stroker is 1. easier to reach, 2. has a simpler arc that feels more natural and 3. has a cool little pocket for your straining index finger. Under very hard braking, the Stroker lever feels very positive, very connected.
– The brakes work very well for aggressive trail riding and light DH. They have nice feel and plenty of power. I like to think I ride my Enduro pretty aggressively, and the Strokers are totally up to the task.
– On a certain downhill with a certain bald Marin resident, my prototypes overheated badly. But that protracted 33% grade was way outside the design intention of these brakes (and the brakes have since been refined.)
– The white looks cool!
To sum it up: I like my Hayes Stroker Trail brakes.
—
I had to ask Richard Travis, the Hayes product manager, where the name Stoker came from. Said RT: "Pedal stroke, stroker motors, hot-cranks/cams, and petrol chemicals somehow got me to stroker. I'm kinda a gear head type. Its the moto in me!"
---
https://www.leelikesbikes.com/wp-content/uploads/2018/08/leelikesbikeslogoheader.jpg
0
0
leelikesbikes
https://www.leelikesbikes.com/wp-content/uploads/2018/08/leelikesbikeslogoheader.jpg
leelikesbikes
2008-01-16 13:09:25
2008-01-17 13:37:58
Hayes Stroker Trail Brakes