Good times: Yeti Spring Series #1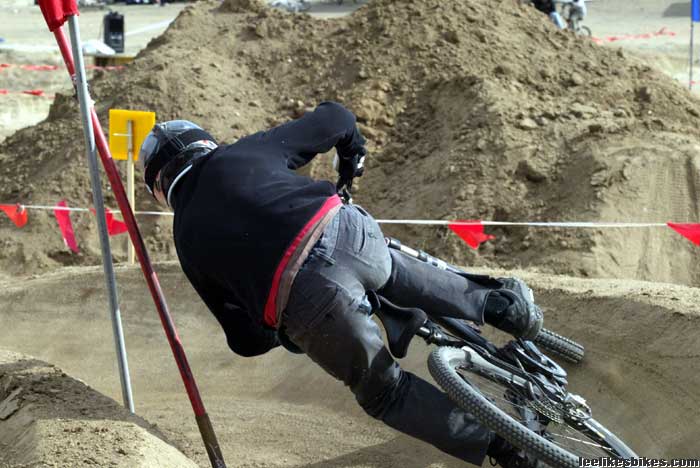 After another fantastic weekend at Darner's ranch, the reports are getting repetitive: fine weather, fun courses, great people, peak experiences, yada yada yada.
Real quick 'cause I'm leaving for Sea Otter …

The more you click, the more I can post. Lee Likes Groceries dot com!
---
Saturday Dual Slalom
Darner's course was fun last year, but a few built-up berms and mega rollers added even more braaap. This slalom track requires a complete blend of power, flow, BMX and MTB.
| | | | |
| --- | --- | --- | --- |
| 130 pounds of fury … Chris Boice rips! | Flowy up top, flat at the bottom. | Evan Powell, in his JrEx debut, chases Fast Shawn Neer into the Pit of Despair. | Practice made perfect. Matt "The Warrior" Ripley looks around this gate to the double ahead. |
| | | | |
| --- | --- | --- | --- |
| These flat turns separated the BMXers from the mountain bikers. It felt so good to bash right through them — rat tat tat! | BRAAAP! Evan rockets into the Pump Track of Death. These rollers were big and steep, especially at speed. | He'll break you, then he'll put you back together. The Esteemed Doc Branney crushes it. | I live for this sort of thing. My smooth qualifying run seeded me 8th in pro/semi. Stoked. |
| | | |
| --- | --- | --- |
| Super Joey Schusler rails his new SX. | The peaks were shrouded in clouds, but all was clear on course. | Proof: In the round of 8, I stayed with #1 qualifier Boice into the last berm. I actually pulled him on the flat turns, but then I blew up. Oh well. I brought everything I had — and I used a bit more. |
Sunday Mountain Cross
We rocked the Original course, which is ridiculously fast and flowy, but which allows little room for passing. I could session this track all day.
| | |
| --- | --- |
| It's all about the first turn. | Scheming. I got boxed out off the start, and here I am scheming a low-high pass on Alpha Bill TeSelle. It didn't work out, but you gotta try these things. |
Otro
| | | |
| --- | --- | --- |
| The Mighty Keith Darner. Dude, thanks so much for the courses, the hospitality and the love. | World Parking Lot Slalom Championships. Me and Steve Wentz. | Code name: 530. Thanks so much for sharing this adventure, taking the photos and being so dang cool. The weekend was fun and inspiring and fulfilling; you made it even richer. |
Coming up: Yeti Spring Series #2, April 28-29. It's a great time; come on out!
https://www.leelikesbikes.com/wp-content/uploads/2018/08/leelikesbikeslogoheader.jpg
0
0
leelikesbikes
https://www.leelikesbikes.com/wp-content/uploads/2018/08/leelikesbikeslogoheader.jpg
leelikesbikes
2007-04-09 12:47:37
2007-04-09 12:49:08
Good times: Yeti Spring Series #1