Hey, I'm going to Northstar this weekend to race in the beginner's (junior) class (karpiel, speed control, sticks & stones). This is my first time racing DH and I need some tips. I will be riding my Trek Remedy. I already have a chainguide, 28″ bars, 40mm stem, a RS lyrik, and 2.3 DTC nevegals F&R. Thanks!
Joseph
Hey Joseph,
Ah, Northstar. When I was hella NorCal I rode and raced there all the time. One year I was the expert champion. Funny: At one race I was the fastest amateur by like 10 seconds. I was totally proud of myself — until Curtis Keene came down –> 40 seconds faster than me!!! That was on a three-something course. Crazy.
General first-time DH tips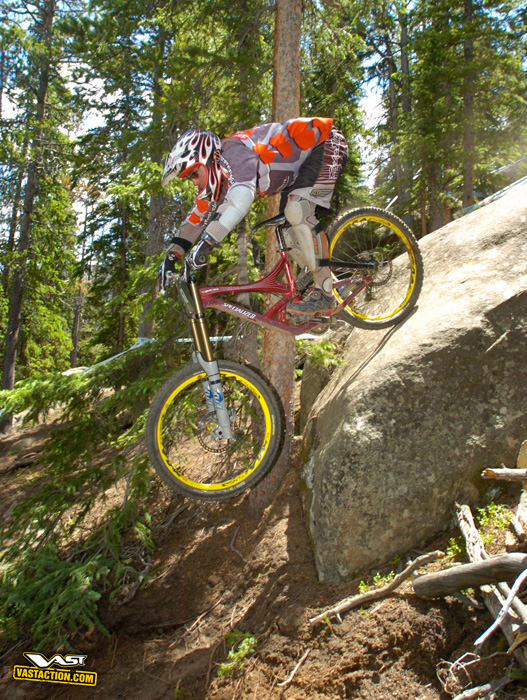 The crazier it gets, the more you have to find your balance and try to relax. And have fun! Me at Keystone, CO.
– Have fun.
– Gear up. Wear all possible protective equipment.
– Relax. Yes, every millisecond is being counted. But you have to ignore that.
– Learn the track. Know where it goes. Pick your preferred lines (but be ready to ride whichever line you end up on). Even if you've ridden the course a hundred times, walk it. You'll be amazed at what you see and learn. I used to be [in]famous for finding sneaky — but legal! — lines.
– Ride the way you always ride. This is important, especially for a junior beginner. If you're too chill you'll go slow and disappoint yourself. If you pin it extra hard, you'll make a mistake and possibly crash. This is why it's important to ride fast ALL the time. You can't go 60% every day then expect to rock 100% on race day.
– Pretend it's a normal ride with your buddies. Have fun. Screw around. Enjoy the feelings. When you're having fun, you're loose and flowing. When you're loose and flowing, you're fast.
– DO NOT try to pin it and win it! You will blow it for sure. Remember this is a normal ride (with a timer accurate to 1/100 of a second, but ignore that).
– Have fun!
Specific Northstar DH tips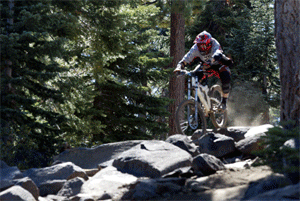 Keene rocks the waterfall on Sticks and Stones in 2003. Watch how he turns all that gnarl into three distinct porpoise-like bounces. Sweet!
Unless it just rained, Northstar is dry, loose and burly. Very few riders can actually Flow there with a capital F.
– Use the ruts. The dirt is very loose I've found at that place it's often better to rail an established rut, even if it's not an ideal line, than to carve my own mathematically perfect line.
– Pump! This is how Curtis made 40 seconds on me back in the day. Northstar has a lot of big, nasty rocks. Don't let your bike smash into any of them.
– Save your energy. N-star is super physical. Be as relaxed and smooth as you can. Save your energy for the pedaling sections.
– Pedal! When the course flattens out, PIN IT!!! When you hit the technical stuff, find your attack position and relax.
Have fun. Did I say that?
— Lee
PS: Say hey to all the hella NorCalians. I miss those guys.
---
Know more. Have more fun!
Join the leelikesbikes mailing list:
---
https://www.leelikesbikes.com/wp-content/uploads/2018/08/leelikesbikeslogoheader.jpg
0
0
leelikesbikes
https://www.leelikesbikes.com/wp-content/uploads/2018/08/leelikesbikeslogoheader.jpg
leelikesbikes
2010-08-03 08:24:03
2010-08-03 08:34:29
First time racing DH