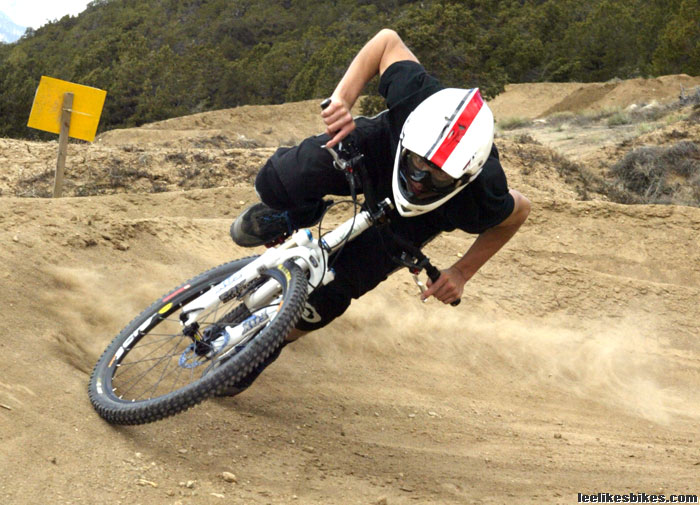 At yesterday's D-R-D session at Darners's, we enjoyed nice-but-windy weather and some excellent riding.
Everyone swept and/or shoveled all three race course, and we got to session the dual slalom course. The rest of the 20-strong gang might have ridden some more in the evening, but we had to get back to Boulder.
Photos by Evan Powell, Ian Martin and me.
| | | | |
| --- | --- | --- | --- |
| This sums it up: Two people rail while everyone else hikes or watches. | Weaving through the gates. As sweet as the berms are, this might be my favorite section. | That famous background. Evan gives some. | Yeah, Evan pulled this off. As the kids today say: "Sick!" |
| | | | |
| --- | --- | --- | --- |
| Lee Likes Colorado. Lee Likes Keith Darner. | I had a couple fun races against T-Coop. Silly: I lost a lot of time by jumping so high. | Me vs. Zach Hughes. T-Coop and Hughes will both be racing Vet Pro this season. It's going to be a fun class. | Enter wide and high, pump the first half, then get out of there. |
| | | |
| --- | --- | --- |
| Ian has been riding for, like, two weeks, and he rode the course smoothly. That famous view. | Ian threads the needle. Watch out for this guy. | Doc Branney rocks it. |
---
https://www.leelikesbikes.com/wp-content/uploads/2018/08/leelikesbikeslogoheader.jpg
0
0
leelikesbikes
https://www.leelikesbikes.com/wp-content/uploads/2018/08/leelikesbikeslogoheader.jpg
leelikesbikes
2008-04-06 14:46:31
2008-04-06 14:46:31
Dig, ride, dig