Day one on the 2012 Demo 8 II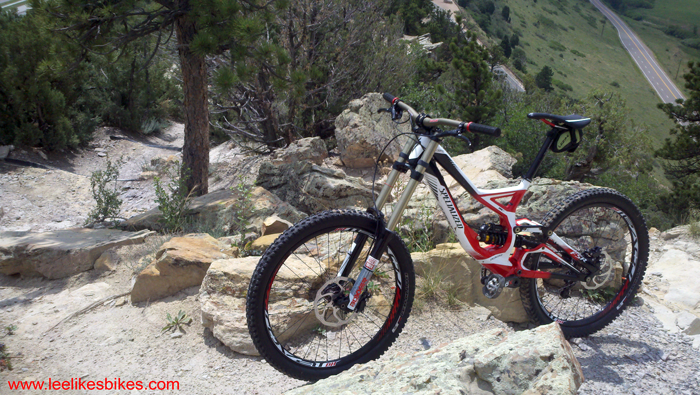 Yesterday I picked up a new 2012 Specialized Demo 8 II. It's been years since I rocked a downhill bike, and I was honestly worried about the size and slackness. I mean, the last time I rode a head angle like this, the bike was a Honda 250. Could I handle it? Would my years of pump track and indoor trainers make me unable to ride the big bike?
Well …
---
My 2012 Specialized Demo 8 II is bone stock, built from the box yesterday by Master Steve Schelp at The Fix Bike Shop in Boulder, CO. I put on my own pedals and set my own sag, but that's it.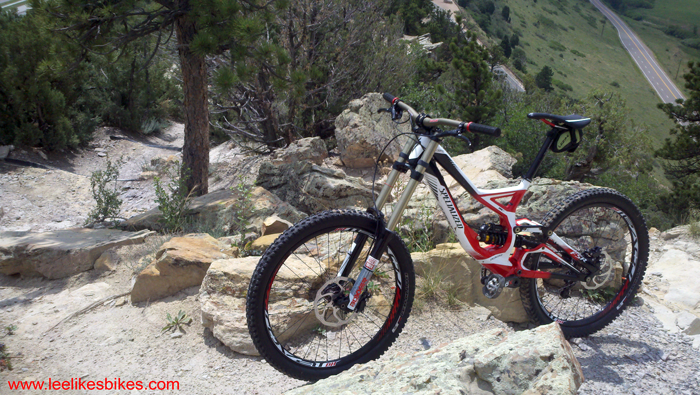 I wish I would not have cut the seatpost. At stock length I could have gotten full XC height. I think I'll install a dropper post.
On the way to a meeting this morning, I stopped at a popular Denver trailhead, checked the tire pressure settings, raised the seat, rode up the pavement then hiked up a pretty steep, rocky trail.
Since I ordered the bike, I've felt my mind slipping into the old DH racer mindset. I chased those wins for a lot of years, not always for the healthiest reasons. Being a racer means I'm taking chances, and I sure can't afford to get hurt, plus I don't need to be slipping into self-destructive obsessiveness. But … This is such a beautiful weapon. Can't I just enjoy it for what it is, find some easy flow and ride the big, beautiful sine waves? No racing!
Hiking felt great as always. Certain parts of my body strongly prefer walking to sitting on bike seats. I scoped some lines but mostly wondered and worried: Is the bike gonna be too big? Too slack? Can I ride this thing? As I became a coach and got away from downhill racing, I found it harder to make my old Demos work well. For the past few years my DH bike has been the Mighty Enduro, and that's been plenty. So how is this thing gonna feel?
At the top I lowered my seat, clipped in and sprinted.
Wow.
The mind is a wonderful thing. Somehow it sensed the stability of the geometry, the firm plushness of the rear end and the overall stiffness of the chassis and just started going for it. We're talking a public trail on the lookout for hikers, not a World Cup DH, but within a few moments I found myself riding that bike with absolute comfort and confidence. Not fully pinnedness (yet), but confidence.
Compared with my old Demo (a 2008), this bike feels smaller, tighter, stiffer and quicker. Yet it also feels more planted. The stock settings give a bike that feels poppy and pump-able yet swallows gnar. I found myself taking the biggest, straightest lines I could — often right over and off big rocks (big sine waves!) — and only botching corners because I reached them sooner than expected. The corners I was ready for, I railed.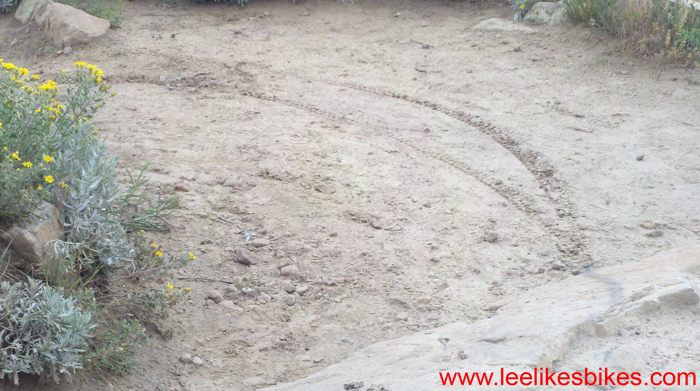 Loading the front tire into the turn, shifting weight to the rear upon exit. This bike has a very moto-like enter forward, set an edge and ride the rear feel.
A couple times I saw huge rocks in my way and, when the instinct to hop them buzzed into my legs, I just relaxed and plowed through them. AND: I noticed my hands just floating on the grips. Having a tea party while barreling through boulders. Bone stock! The shock has Brandon Sloan's personal settings, and that is perfect for me.
As I edged my way around a sandstone outcropping and lined up a 5-foot drop like it was a roller on my backyard pump track, I thought, "Hmm, DH racing would be cool. I sure would like another crack at Masters Worlds. …"
I pulled a top 10 in 2003, and I didn't even know how to ride a bike (but I didn't know that yet). These days I'm more skilled, more confident and more at peace. I could win my age group. …
I don't know about that, but I know I'm gonna have fun learning to ride this beautiful bike. If I decide to race DH again, I'll sure have the right equipment.
---
Know more. Have more fun!
Join the leelikesbikes mailing list:
---
https://www.leelikesbikes.com/wp-content/uploads/2018/08/leelikesbikeslogoheader.jpg
0
0
leelikesbikes
https://www.leelikesbikes.com/wp-content/uploads/2018/08/leelikesbikeslogoheader.jpg
leelikesbikes
2012-06-07 22:03:37
2012-06-07 22:09:27
Day one on the 2012 Demo 8 II