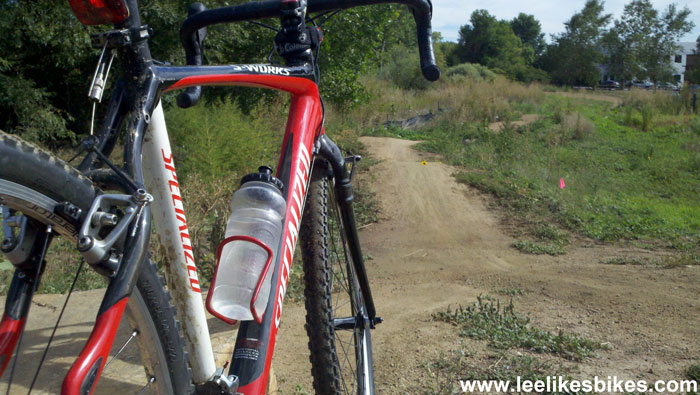 In Rome you do whatever the Romans do. In Boulder you ride cyclocross.
This weekend is a big CX race at Valmont Bike Park, so this morning …
---
… after an early meeting I drove to Valmont Bike Park, left all MTB/BMX in the van and grabbed the S-Works Tricross.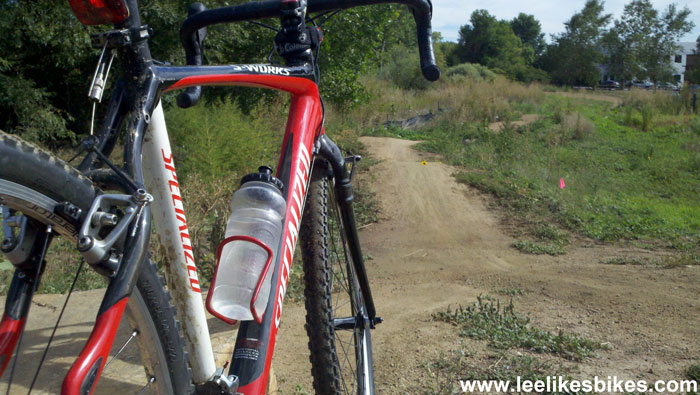 The next section is a lush, linear pump track of love.
Setup: S-Works Tricross with Sun Accelerator 29er wheels, 45C Specialized Borough tires and flat pedals.
Wow! Valmont's XC trails are super fun on the cross bike. You have to push pretty hard to wake up a 6-inch trail bike; the crosser feels like it's alert and alive: punching over small climbs, railing flat turns, pumping smooth rollers, boosting little jumps. Rad.
I suck at running, and, to be honest, I don't feel like demolishing my knees I can get 25th instead of 30th in a Cat 4 vet cyclocross race. When I race cross this season, I'm gonna stay on the bike as much as I can, pedal my best and work the corners.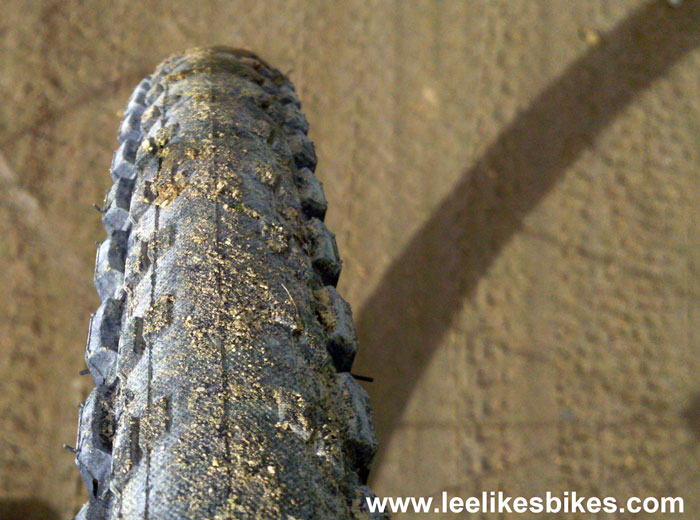 Specialized Borough CX Pro 700×45. Probably intended for commuters and hybrids, but pretty damn capable on pavement and dirt.
I like my tires. I've been riding Specialized Borough CX Pro 700×45 tires all year for pavement, dirt road, errands, baby trailer and various training missions, and they're pretty great. The lightly gnurled center tread rolls pretty fast, and the transitioned corner knobs bite pretty well. Plus the ridiculous 45C width lets me ride with impunity.
Today was the first time I've attacked single track, and the Boroughs rocked: rolled fast enough, gripped well enough, drifted then caught, didn't flat. Game on. No need to race on skinnier tires. Fat tires are not the reason I will get out-pedaled.
The cross bike is fast. On my normal 10 laps of The Glades, I was consistently running 2:35s instead of 2:55s on the mountain bikes with 2.3 Eskars.
Pump Track Nation is in no danger of becoming Pump Track CX Nation. On the main pump track, the Borough tires reeled in corners like 80 lb. test monofilament, and the front end carved like Ginsu, but the high seat kept me from from working the back of the bike. Braaap not achieved.
But wait a second … Won't my old 27.2 mm Gravity Dropper fit on that bike?
Braaap! I mean hup hup!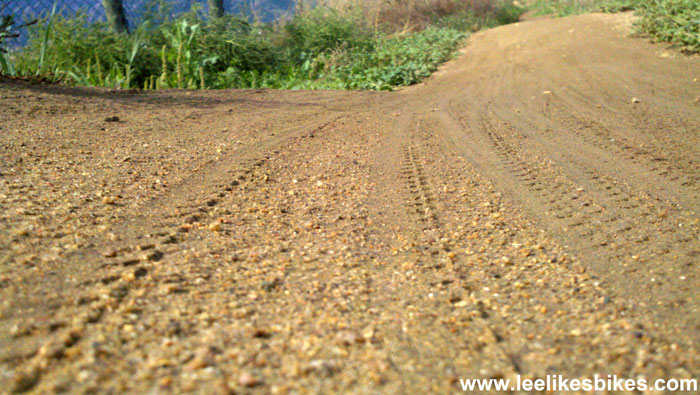 This corner is so tacky you don't need tread, but the Boroughs' side knobs sure were doing their job.
---
Know more. Have more fun!
Join the leelikesbikes mailing list:
---
https://www.leelikesbikes.com/wp-content/uploads/2018/08/leelikesbikeslogoheader.jpg
0
0
leelikesbikes
https://www.leelikesbikes.com/wp-content/uploads/2018/08/leelikesbikeslogoheader.jpg
leelikesbikes
2011-09-12 13:04:05
2011-09-12 13:18:53
Crossing it up