Braaap! on drop bars – Specialized Tricross Expert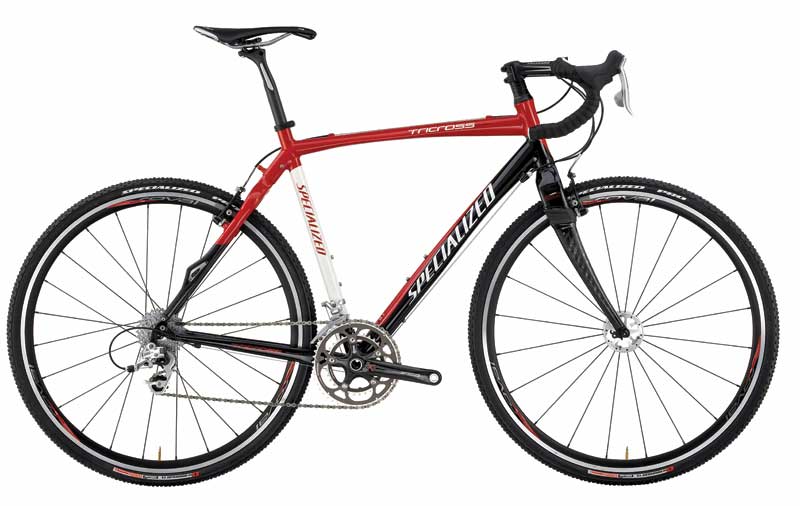 A cyclocross bike seems like a versatile and braaapable alternative to a road bike. Jason "The Man" Emmanuel from Specialized loaned me his brand new 2008 Tricross Expert, and I've been wringing it out all week.
The more you click, the more I can post. Lee Likes Groceries dot com!
---
Parts is parts
Frame:Curvy-sexy Columbus E5 SLX aluminum. FACT carbon seat stays with Zertz vibration-damping inserts. The top tube has only a slight slope, so there's plenty of room to put the bike on your shoulder. The underside of the top tube is shaped for shoulder comfort. If you're running late for a phone meeting, you can sling this bad boy over your shoulder and hike straight up the side of a mountain to your house. Don't ask why I know this …
Fork: FACT carbon monocoque legs, crown and steerer with Speed Zertz for extra vibration absorption.
Rack and fender fittings: Yes. On the fork and frame. Hello Versatility!
Wheels:Specialized's house brand Roval Classique Pave SL. Deep-section, double-wall rims with high-flange hubs. Light and stiff.
Tires: I love tires the way The Wife loves shoes. Specialized Houffalize CX Pro, 700x32c, dual-compound tread, aramid bead, 120TPI. They roll way faster than my mountain bikes and not as fast as a straight road tire. The off-road traction is impressing me, especially on hardpacked clay, and they somehow hook up on steep, loose, rocky climbs. Although I've two-wheel drifted through deep gravel (by accident), I've yet to find the limit of these meats.
Bars: Specialized Expert, 6061 alloy, short-reach drop, ergonomic top shaping, 31.8mm. They have a nice shape, especially the flat spot on the top, but at 44cm they're awfully narrow for this guy. I'd kill for some 46 cms, and I'd lop off part of my liver for a set of 28″ drop bars.
Saddle: Body Geometry Phenom SL, super light foam, carbon reinforced base, microfiber cover. I like this seat. It's tiny and hard, but it has a good shape that supports my sit bones. And the low profile means my Massive Thighs(tm) don't rub the sides of the seat.
Drivetrain: The new SRAM Rival 10-speed road group. You execute both up- and down-shifts with a single lever tucked behind the brake lever. One click to shift up, two clicks to shift down. I've been rocking Shimano STI forever, so this is different, but it works very well. The shifts are crisp, and the rings pull the chain, and the chain pulls the cassette, and the cassette turns the rear wheel. That's what I look for in a drivetrain.
Weight: Jason says the bike weighs 18 pounds. When you consider that a good road bike is about the same weight, and you can rip this thing on trails, that is rad!
Appearance: Swoopy. Racy. Sexy.
MSRP: $2,700
Five rides in five days
So far … A fair amount of road, both flat and steep. Some steep, rocky, loose trail. Some smooth hard-packed love trail.
Weird at first! While I started 20 years ago as a full-on shaved road/tri weenie, I've ridden a road bike just a handful of times in the past few years, and my last 700c ride was over a year ago. Yeah, I am a mountain biker; my road bike has been a P.3 with a long seatpost. A list of strangeness: steep seat angle, shorter cranks, longer stem, drop bars, anemic brakes (compared to hydro discs), puny high-pressure tires.
Wow, it's fast. The Tricross is light, stiff and responsive: almost road-bike fast, even with the stock knobby tires. With road slicks it would be just as fast as my old Allez Pro. And just as light.
40psi my a–! Jason says to run 40psi in the 32c tires. Ha! I can't run 2.25 MTB tires that low without flatting. I'm rolling 80psi — and it's killing me in the rocks. Unless …
'Tis better to skim. This bike is stiff! If you're gonna ride it on the brakes, slow, tense and hitting the flat face of every rock, you are asking for a beating. When I look to victory and let go of the brakes, this thing takes off like a champ. The 700c tires roll easily over little rocks, and once the hydrofoil kicks in, I'm skim-skim-skimming like a champ. It feels awesome.
Pump Track Nation. I've been pumping every little berm and water bar and — wow — this bike responds. BRAAAP! Like I said, the whole package is very stiff and responsive.
Railing hard pack. Boulder has lots of smooth, flattish trails that I've never bothered to ride. I mean, why put the Enduro in the van or ride all the way out there for such a mellow scene? The Tricross makes the road ride pleasant and those mellow trails fun. In the drops, pulling the 48t big ring, clattering through gravel, hopping across rocks, laying into slightly cupped turns — the high-pitched groan of tiny knobs wrestling with sun-baked clay … yeah, braaap!
Basically … The Tricross is quick on the road and fun off the road. I'm really enjoying it, and it looks like I'll have to man up and buy one.
The real question: How hard can I rip this thing on trail? I aim to find out!
So Jason, when do you want this bike back? And weren't the tires worn out when you loaned it to me? … 🙂
---
https://www.leelikesbikes.com/wp-content/uploads/2018/08/leelikesbikeslogoheader.jpg
0
0
leelikesbikes
https://www.leelikesbikes.com/wp-content/uploads/2018/08/leelikesbikeslogoheader.jpg
leelikesbikes
2007-11-01 10:02:56
2009-10-16 11:12:19
Braaap! on drop bars – Specialized Tricross Expert