Bike review: Lenz Sport Behemoth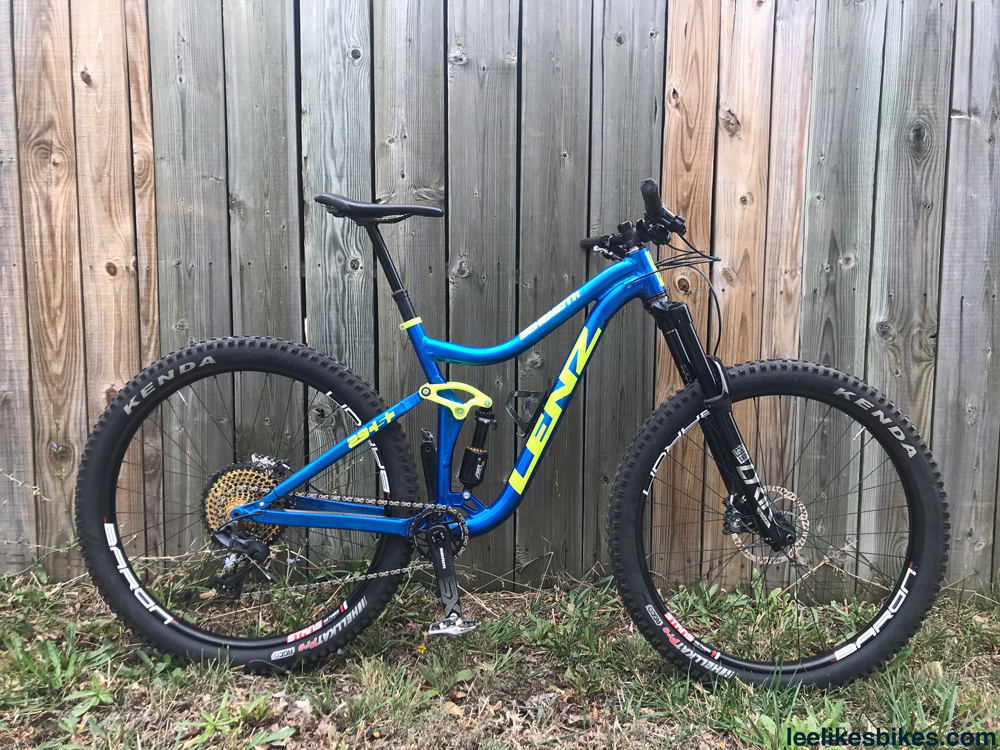 Hello Friends,
I spent much of last season on a Lenz Sport Behemoth, and I'm here to tell you about it.
This article begins with some background and context. For the bottom line, scroll to the bottom, which seems like a fine place for a bottom line.

Who/what/where is a Lenz Sport?
Check out https://lenzsport.com/
Devin Lenz is a genius engineer/builder in Fort Lupton, CO a bit north of Denver. I've known his name since I moved to ColoRADo in 2004; some fast regional racers rocked his machines on the Mountain States Cup circuit. I remember he had a DH bike with a concentric bottom bracket/main pivot. That was a big deal. And he made a sick little slalom bike.
These days Lenz is well known for snow bikes. Check out this video:
The Lenz Sport mountain bike menagerie consists of:
Lunchbox all mountain bike
Behemoth trail bike
Sesh women's (or small person's) trail bike
Fatillac dual suspension fat bike
Mammoth XC/downcountry bike
General benefits of a Lenz Sport bike
Built by hand, with metal (insert Ronnie James Dio devil's horns) in ColoRADo, by someone who cares about his craft.
Get any color you want. When they asked me what color I wanted, I said "bass boat blue with blue metal flakes" … and they made it for me! For 2022 I'm thinking dayglow pink (like I ran in the late '80s :). Every build is custom, so you can get any parts you want.
Ride a bike that fits you! Yes. This is key. While the mainstream bike industry has lost its mind with frame geometry (specifically, reaches that are too long for many riders), Lenz is still pretty traditional, which means that their bikes fit more people — especially those who are less tall. They know and use the RideLogic RAD bike fit system, so you can get a bike that works perfectly for you.
Consultive sale. When you reach out to Lenz, you'll hear from Nick Wigston. He's a good man who knows his stuff and wants you to be stoked. He will make it right!
What is a Lenz Sport Behemoth?
The Behemoth is Lenz's trail bike.
It's made of aluminum. It's surprisingly light.
130mm rear travel. Suggested fork travel is 150-160mm. This puts it smack dab in the middle of the trail bike category.
Head angle is 66 degrees with a 150mm fork. Perfect for most situations, I think.
Chainstays are 425mm, which is pretty short. Read more on that below.
The Behemoth is made for 27.5+, 29+ or 29 regular wheels/tires. Mine came with 29×3.0s, then I went to 29×2.6es. Read more on that below.
Frame reaches range from 408 to 454 mm. That's short compared with the fashionable bikes of today, but the industry's pendulum has swung too far toward long reaches. Just you wait: It'll swing back to reason.
For a very basic estimate of your maximum recommended frame reach for a RideLogic-style shred fit, multiply your height in cm by .25. For most people, shorter is better than longer.
Based on this logic, sizes small to XXL cover a height range from a bit less than 5'4″ to 6+ feet. If you're under 5'8″ or so, the Behemoth is one of the few viable options for a RAD fit. The Sesh (like a Behemoth but smaller) goes down to 394mm; good for a rider down to about 5'0″ to 5'2″ tall.
Frame reach has an enormous effect on your ability to fit a bike to your body. When frame reach is perfect, we can dynamically lock you into the bike, which gives you access to peak torque and great handling. The longer the frame reach is, compared with your ideal, the more you become a hunk of meat hurtling to an uncertain fate.
Lenz Sport on Lenz Sport
I asked Nick about the Behemoth's geometry, suspension and construction. Here's what he said:
The Behemoth features a 4-bar rear suspension system designed with a progressive spring curve. The bike has a plush top end for excellent small bump compliance. This helps smooth out the brake bumps and smaller rocks and roots and optimizes tire traction when riding fast over such terrain. The plush top end of the rear suspension travel combined with the low tire pressure of the plus tires creates a ride with unparalleled small bump damping and traction.
The geometry of the Behemoth is built to make you one with your bike. The reach is optimized for full range of motion on all areas of mountain biking, from steep descents to technical climbs and flowy rolling terrain. Our geometry is very capable for all mountain bikers, and you don't have to sacrifice good climbability for high speed stability or vice-versa. We focus on making our bikes stable at high speeds while also being nimble and playful with exceptional maneuverability. We do this by keeping the chainstay as short as possible so you can easily loft your front wheel up and over roots and rocks and land drops with ease. We also keep the seat angle steep so you can keep your weight directly over the rear wheel traction point while climbing. We keep the head angle slack, so you can optimize your fork trail to dial in the high speed stability or technical maneuverability. (Italics are mine; see below.)
Lenz bikes are true to size, which means when you calculate your RAD from the RideLogic fit program, you will end up fitting very well on the expected frame size. Usually there is no need to size up or down. For example, if you are 6′ tall, you will fit really well on a Large frame, and when we dial in your stem and handlebar position to match your RAD, you will be ready to shred trails of all types. We also design our bikes with extra standover clearance, so if you do prefer to have a longer reach you can size up without the bike being too tall for you.
Every Lenz Sport frame is handmade right here in our factory in Fort Lupton, Colorado. Devin Lenz uses a CNC machine to make all of the parts needed to create the rear suspension swingarms and levers, as well as the cable guides, bottom bracket shells, and dropouts. The head tubes are made on a CNC lathe to be strong and nice looking. Each tube is cut and bent into smooth curves for aesthetics and to achieve the perfect geometry. Once all of the pieces for a frame are created, Devin loads them onto a jig and welds them together into a finished frame. Once welded, the frames are taken to a heat treating facility to be heat treated to a T6 hardness. Powder coating is all done in-house and we offer lots of colors and custom design options so you can make your bike your own. Once powder coated, we face out all of the bearing bores and press the bearings and connect the rear suspension parts to the front triangle. Then it's time for assembling components.
My A1 rule for this review
The bike industry and bike media (which are paid by the industry) are chock filled with bullshit. That's how they convince you to buy things. That's how they get you to hate your old bike and lust after a new one. That's how they get you to crave a sick-ass Nomad on the tailgate of your TRD Pro for the parking lot fashion show, Bro, regardless of whether it fits you.
How do I know this? I wrote a lot of that bullshit! Yes, I've written (award winning) marketing copy for 30-40 brands in the bike industry.
At one point I was writing a magalog (part magazine, part catalog) that you might have received, and I was describing a variety of road bikes for a bunch of different companies. Depending on the shop that sent you the magalog, you might see spreads from Trek, Gary Fisher, Specialized, Fuji and others.
Functionally, all of these bikes are the same. Heck, Trek and Fisher were literally the same except for paint. So I'd make lists of attributes and adjectives for each brand, then use the same writing formula for all of them.
Trek is about performance, Fisher is about grit, Specialized is about innovation, Fuji is about practicality, that sort of stuff.
I was selling a Gary Fisher high end road bike that's exactly the same as a Trek Madone. The Madone copy was about Lance Armstrong and ripping the legs off of fools (appealing to that sort of ego). The Fisher copy basically said, "Gary knows road bikes are kinda boring, but he made this one for you because it has a punk rock spirit (appealing to that sort of ego)." Laughable. And it won awards for effective copywriting. Probably sold bikes too.
Brand allegiance is a powerful thing that bike companies spend a lot of money to create. When I help people with bike fits, they often insist on a Yeti such-and-such or a Santa Cruz whatever. I tell them plainly that all sizes are too big for them. The riders say I don't care, I gotta have it. Later, they tell me the bike feels like a boat, and they're bummed — except when they're in the parking lot Bro Show.
I'm human too. I'd feel way more bad ass with a Gary Fisher road bike on my Tacoma than a stupid Trek. I feel like a *real* badass on my 30-pound steel Specialized AWOL. See? I'm such a punk rock mountain biker that I don't even care about being fast on the road (appealing to that sort of ego).
I reached out to Lenz to test ths bike for three reasons:
It's getting hard for smaller people to find bikes that fit. Lenz' geo is quite reasonable.
Hand made in America!
With Covid making it harder to buy some popular bikes, maybe more people are open to other options.
I'll do my best not to put any bullshit in this article.
Note: This bike was a free loaner. I did not pay to ride it.
Some perspective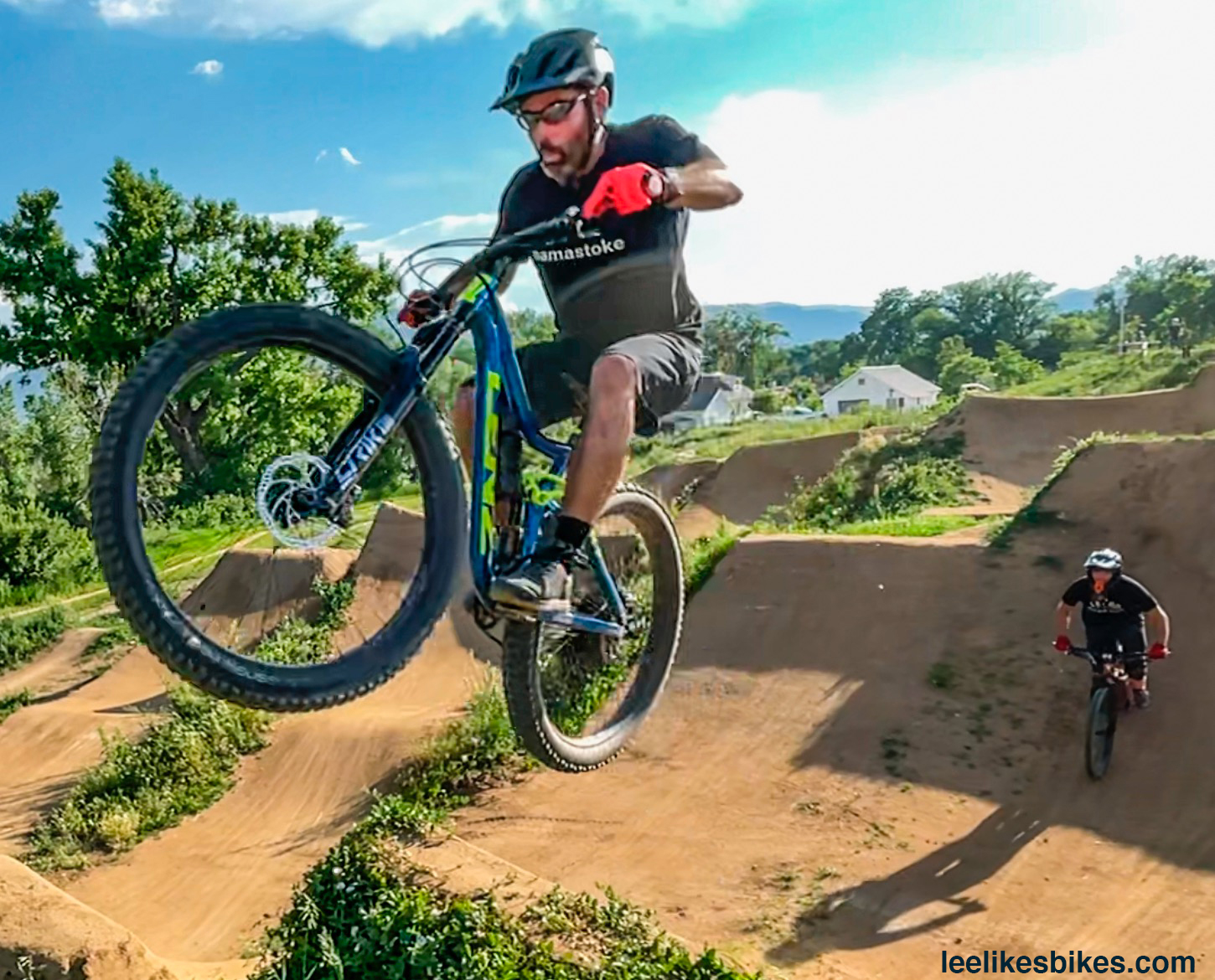 When I read a bike review, I look at photos/videos of the rider. If (s)he doesn't know how to ride above, at or near my level, I stop reading. If it's clear (s)he doesn't know what (s)he's talking about or is writing from the press packet, I stop reading.
In order for you to decide whether this review relates to your riding life, it helps to know a bit about me as a rider.
Age: 52
Stats: 5'8″ and 160-165 lbs. I'm not an elite athlete, but I'm no schmuck either. Current body fat is at about 10 percent. Watts/kg at threshold is about 4.0 (decent but not extraordinary). Peak sprint is around 1,800 watts (a bit more than decent). I've won downhill, 4x, slalom, Super D and cross country races. My core, hips and legs work great. My shoulders, not so much (this puts a premium on bike fit, riding form and suspension tuning).
Years as a mountain biker: 33
Why do I ride? These days I ride to refine my craft as a mountain bike skills instructor, to stay in shape, have fun, enjoy friends and — most important — to achieve Flow: be my best self and connect with the powers around me.
What's my main trail bike? This is important for this review. My main bike is a 2019 Stumpjumper carbon frame with a 160mm DVO Onyx fork, a 55mm stroke DVO Topaz T3 shock and a Cascade Components link. This bike has about 160mm of front and rear travel, which had been professionally tuned to perfection for me. Wheels are carbon and fancy. Parts are a mix of XTR and XT. Seatpost is a 175mm FOX Transfer. This bike is so freaking dialed it ain't funny. Build cost would be around $10,000. When I write about the Lenz Behemoth, it's in comparison with this "S-Works StumpDuro." That is important to consider.
Bike setup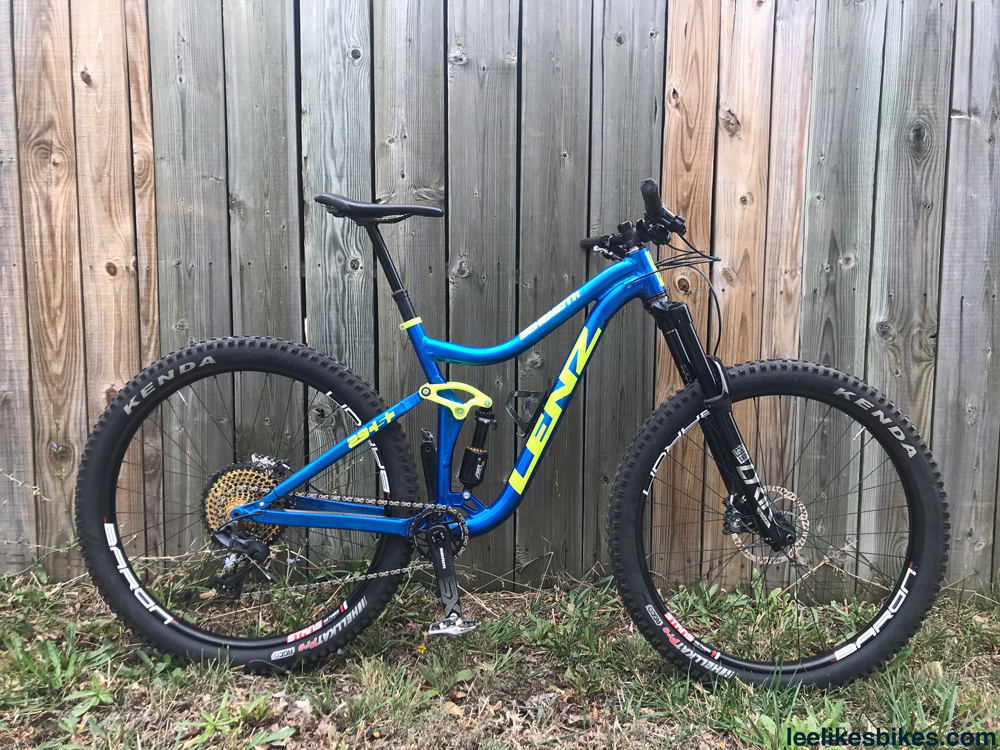 Much of what you feel when you ride a bike is the fit, suspension tune and components. Half the stuff I read on Pinkbike … I'm like, Dude, turn the little knob and that feeling will change. So I want to offer more context:
Size: Medium. Frame reach is 414mm.
RideLogic fit: RAD is perfectly neutral for me at 77cm. RAD angle (RAAD) is high, around 59 degrees. SHO is very close to 0mm. In short, this is a perfect, shreddable setup for me. Stem is a 30mm whatever (it really doesn't matter as long as the bolts don't pull out). Bar is an SQlab 30X aluminum with 16 degrees of backsweep.
Fork: 160mm RockShox Lyrik Ultimate. The extra 10mm of fork height slackened the bike by about .5 degree, to around 65.5 degrees. I started with the stock setup settings then made a few minor tweaks and left it alone. The fork did exactly what it's supposed to do. On bigger square hits, there's something about the damper that feels really smooth, yet supportive. Very nice.
Fork offset: Offset was the old standard 51mm. Maybe you've heard the hoo-ha about the benefits of reduced offset forks. They do make bikes more stable. And stable is the current buzzword in the industry. 1) No modern bike is unstable. 2) Other ways to say "stable" include "boatlike," "ponderous" and "un-turnable." A slack head angle with the old standard offset, in my opinion, is a more versatile option than a slack head angle with reduced offset. See below.
Shock: Cane Creek DBair IL. Very tunable, smooth and effective. I started with the stock setup then, based on a conversation with Cane Creek, firmed up the high speed compression damping. I installed all of the air spring spacers to make the bike even more progressive (to support my pump/jump habit). Once this was done, I never gave the shock another thought. This is a good thing.
Brakes: MAGURA MT-7 HC3 PRO HC. I'm a proud Shimano athlete who's used to XTs and XTRs with 203/180mm rotors. These Maguras with 180s front and rear worked great. They made all the power I needed, and it was easy to control how much I used (I refuse to regurgitate the word "modulation."). I got used to them and stopped thinking about them. The lever adjustability is incredibly good. Like, amazing.
Drivetrain: I'm chuckling because all I can say is it was a low end SRAM 1×12 group. Like I'm so cool and Shimano I can't be bothered to know the model. But! The bike shifted. And the chain stayed on. And life was wonderful. And I never thought about the drivetrain. So good news.
Wheels: Sun-Ringle Düroc 50 Experts. Compared to what I'm used to, these are way cheaper, heavier and wider. And you know what? They work great. The bike rolls. The bike corners. The bike goes over rocks. I didn't damage the rims. Are you hearing a theme here? You don't need fancy-shmancy to get a nice-riding bike.
Tires v1: If shoes make the man, tires make the bike. The initial build had 29×3.0 Bontrager XR4 Team Issues. Tread is a neutral standard XC pattern with hardish rubber: a proven formula on a plus tire. After a few rides, to allow lower pressure while protecting the rim and adding stability in corners, Nick installed CushCore. The resulting wheels were way heavy, but I never noticed while riding. This setup rolls surprisingly quickly and has tons of traction and comfort. It worked great at slow to medium to medium-aggressive speeds. Above that, the big tires just felt too bouncy and hard to control. So I asked for a swap.
Note: This was true for me, with my level of skill, strength, fitness, aggression and trail engagement. If you ride at a "lower" (I hate that word) level, it might work great for you. If you ride at a "higher" level than I do (not statistically probable), you might like this setup less than I did.
Tires v2: Nick swapped me to some Kenda Hellcat 2.6es with sticky rubber and heavy casings and gnarly knobs, basically downhill tires, with no CushCore. This changed the bike dramatically. It still rolled well and offered mega traction, but it felt snappier, more supportive and easier to control at higher energy levels.
Finally: How does it ride?
OK! Thanks for reading this far.
Pedaling in the saddle: Wow, the thing pedals really well. The suspension design feels very connected and efficient, with none of (or way less of) the bob I always feel on my Specializeds. On this bike, with the 3.0 tires, I PRed several of our local climbs. That shocked me … and it shows this bike is not slow uphill.
Pedaling out of the saddle: I get out of the saddle whenever I climb something bumpy. Again, the suspension design creates a nice, firm pedaling platform. It felt like the rear end tracked nicely through micro chop, yet the bike never felt wallowy. I cleaned some local climbs for the first time on this bike. Again, a shocker. But it shows this thing works.
Cornering: Yes! This thing rips! Why? 1) Solid geometry. 2) The right amount of flex in the frame and through the entire chassis. The bike felt precise and knifelike, which is about stiffness, as well as springy side to side and great in the random chop, which is about flex. 3) The short-ish chainstays. The shorter the chainstays, the greater the leverage ratio between the RAD (bottom bracket to grips) and the chainstays (bottom bracket to rear hub). The higher this leverage ratio, the more force a pull of the bars levers into the rear tire. So, if you have a corners-are-sideways-holes cornering style like mine, the short chainstays make the bike feel more explosive out of the corners. The not-too-long front end maintains a nicely centered fore-aft weight distribution.
Pumping, hopping and jumping: They are all in the same category because they are exactly the same skill and dynamic, with different timing and amounts of power. This bike does those things great (remember the short chainstays?) even with the 29×3.0 tires. I rode pump tracks a ton, I hopped many rocks and I got after it in the slalom, slopestyle and dirt jumps. This. Bike. Rips.
This video shows me jumpy-jumping the Behemoth on the large DJs at Valmont Bike Park.
Bumps: What Nick says about the Behemoth's suspension is correct. The progressive spring curve (especially with all of those air can spacers) makes the bike supple on the little stuff and supportive in the big hits. I never missed the 30mm of additional travel from the Stumpy.
Strava: For some of you, this is the ultimate metric. Keep in mind I normally ride the highest-end, most carbony, fanciest-pants Stumpjumper on Earth. Well … I PRed several local climbs and descents on the Lenz sport Behemoth. The climbs were steep, loose and long. The descents ranged from fast pinners to intricate turners. That's a big deal.
Joy: For me, this is the ultimate metric. I had a ton of fun on this bike. I loved the color. I loved the fact it's locally made. I kind of enjoy people asking me about it. It took me to some beautiful places, we enjoyed hella shred, and I had a great time. That's an even bigger deal.
Bottom line: This bike rides great. It's fun in a wide variety of situations. It can be built to feel however you want. The price is in line with other bikes (One of my client/friends is building a nicer one with carbon wheels for $7,800). Smaller riders can get one that fits. You won't be just another Bro in the parking lot fashion show. The Lenz sport Behemoth is a perfectly viable alternative to a Stumpjumper or other trail bike from a big brand.
This season I will be riding another Lenz Sport bike. Either the Lunchbox all mountain bike or the Mammoth downcountry bike. I don't have a Tacoma, but I wonder whick will look sicker in the back of my Transit van?
https://www.leelikesbikes.com/wp-content/uploads/2018/08/leelikesbikeslogoheader.jpg
0
0
leelikesbikes
https://www.leelikesbikes.com/wp-content/uploads/2018/08/leelikesbikeslogoheader.jpg
leelikesbikes
2022-01-10 12:59:37
2022-01-10 14:12:03
Bike review: Lenz Sport Behemoth