Better Homes and Pump Tracks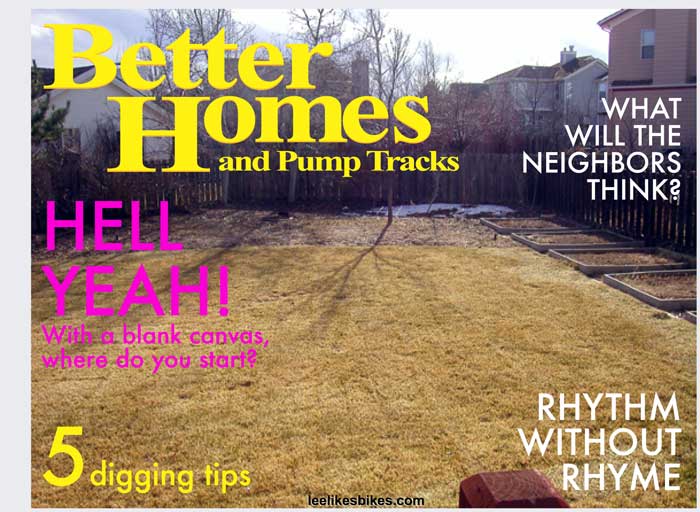 Does mowing the lawn make you yawn? Are the daisies making you crazy? Well, forget all that and turn your yard into something fun and useful: a pump track. We recently transformed a back yard here in Boulder, and I must say it came out nice.

---
Head designer/trail boss: Pro downhiller and tough guy Steve Wentz
Shoveler/sandwich maker: me
Design time: two years of dreaming capped by a three-hour white-board meeting
Berms: 5 or 9, depending on how you count 'em
Rollers: 16
Possibilities: infinite
Cubic feet of dirt moved: 2,600
Digging time: 50 man hours
Digging days: 10
Blood blisters: 7
Stroke of genius: the combo rollers/berms. You can ride around the big outside triangle, or you can cut a sweet S across the yard. Ride mini loops, big loops, figure eights, whatever.
Video! Low res 14MB Quicktime Superlow res 3MB Quicktime
Video! Low res 14MB Quicktime Superlow res 3MB Quicktime
In the first session the track was a bit mushy, but after a few weeks it's packed hard, and the blue grooves are appearing. You can carry ridiculous speed along the fences, and the crossover line is just stupid. Right, left, right, left. Swoosh swoosh swoosh swoosh. You hit the last berm so hard you bottom a Fox Talas with 200 psi. So sweet!
This is a bike skills laboratory. In each session I focus on a different part of the track or a specific movement — and I learn something every time. This track will make us all great riders, not to mention strong ones. You use every muscle in your body, and to go fast requires very explosive movements. It's more like bump skiing or motocross than classic mountain biking.
Are you watering and feeding grass, only to cut and discard it every week? You know what to do: Kill that grass and build a pump track!

Me, Lee, squashing the mighty SX.

Judy, pro XC speedster and newly sculpted pumpstress.

Me, straining the first time I went for this little stepup.

My favorite part of the track, right in the middle.

There's something so cool about this. Jon "The Doctor" Watt.

The Doctor with the superlow shoulders. Do you think you're low? Probably. Are you this low? No.

Steve isn't just the president of Wentz Track Design Corp., he's also a client.

Abby, another pro XCer, fills her bag with some more tricks.

Jess and her triceps roll the west-east/yin-yang transition.

Bobbi "Snap!" Watt, low and fast out of the berm. If I was another pro 4X woman, I'd be building my own pump track right about now.


https://www.leelikesbikes.com/wp-content/uploads/2018/08/leelikesbikeslogoheader.jpg
0
0
leelikesbikes
https://www.leelikesbikes.com/wp-content/uploads/2018/08/leelikesbikeslogoheader.jpg
leelikesbikes
2005-11-14 17:58:47
2005-12-28 08:17:36
Better Homes and Pump Tracks