Belgian pump track bonanza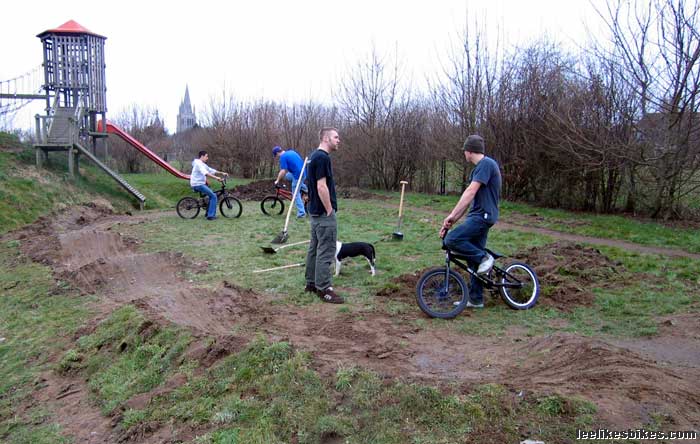 Oh yeah, pump track fever is buring hot in Belgium. These guys have a nice track in the works.

---
Hey Lee,
After seeing alot of pumptracks coming up, we decided to make one in Belgium. But I have a question.
We are all mainly BMX riders. We also have a couple of 26″ riders. We used the measurements from The Fix/RhythmCycles.com pump track.
Those are good for the bmx, but are the gaps between the rollers big enough for 26″ dirt bikes to get enough speed? We haven't had any visitors with 26″ wheels over yet so we can't tell.
Here's what we got so far, more coming up. When it's finished I'll give you a full review …
Any last tips that you have that we could use or stuff that you see that we do wrong…
And how the hell does Mark Weir get so much speed out of his pumptrack, damn …
Grtz

Steve
---
Steve!
Thanks for the note. It looks like you have a nice piece of land to work with. It's so green — here in Colorado we haven't seen green in months.
Those rollers are tight, but you can get speed on a 26. Manualling will be faster than rolling. Here are some other thoughts:
– Fill your entire track with berms and rollers. There should be no flat ground anywhere. Put rollers at the beginning and end of every berm, then space more rollers on each straight.
– On your long straight, try five big rollers with smooth transitions. It will be FAST!
– Make the berms tall — almost a meter — and as steep as possible. Then you can go as fast as you want.
– After the outside loop is dialed, build a crossover. More turns = more fun!
I hope that helps. Send me photos.
PS: Mark Weir's track is fast because every inch (centimeter) is smooth and banked, the rollers are big, the berms are steep, and those guys know how to ride. But I'm going to ride there right after Sea Otter, and I'm gonna show Weir that I have more hair AND more speed! 🙂
https://www.leelikesbikes.com/wp-content/uploads/2018/08/leelikesbikeslogoheader.jpg
0
0
leelikesbikes
https://www.leelikesbikes.com/wp-content/uploads/2018/08/leelikesbikeslogoheader.jpg
leelikesbikes
2006-03-26 22:13:09
2006-03-26 22:14:35
Belgian pump track bonanza