Bad memories: St. Catherine's Military Academy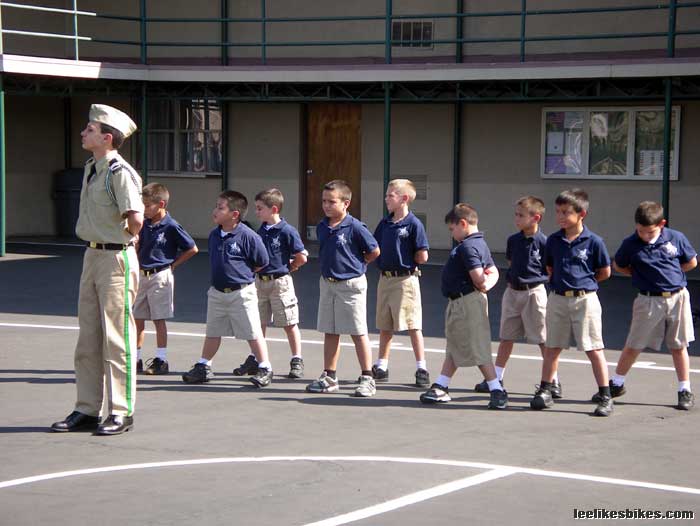 I endured ages 11 through 13 at a Catholic military boarding school in Anaheim, Calif. It's right across the freeway from Disneyland, and I still remember watching the fireworks through barred windows. (No, I am not crying right now.) A few weeks ago as I drove south on I-5, I something told me to turn left on Harbor Blvd.

Twenty-three years after I graduated, St. Catherine's is a kinder, gentler hell. The kids no longer wear uniforms every day, and corporal punishment is a big no-no. Back in 1983 we'd do 100 pushups and get our asses kicked on a normal day. If you only got the pushups or the ass-kicking, it was a special day.
| | | |
| --- | --- | --- |
| Cadets prepare for afternoon drill. Thankfully, I played trumpet in the band, so I got to stay inside. I can still feel every military march in my lips and fingers. | My need for external validation started here. I won the circled awards, including the school's highest honor, the American Legion award. The other awards didn't exist in my time. "Am I worthy? … What about now?" (No, I'm not crying.) | So you're 6 or 7 or 11 years old, and your parents drop you off here. "See you next week." (OK, now I'm crying.) |
| | | |
| --- | --- | --- |
| Unspeakable horrors. How about lining everyone up and awarding points to the company that undressed fastest. | As the batallion bugler, I played reveille every morning and taps every night. The way taps echoed down these halls … haunting. | On his first day, every cadet pees in these sinks. They look like urinals, don't they? |
https://www.leelikesbikes.com/wp-content/uploads/2018/08/leelikesbikeslogoheader.jpg
0
0
leelikesbikes
https://www.leelikesbikes.com/wp-content/uploads/2018/08/leelikesbikeslogoheader.jpg
leelikesbikes
2006-09-27 19:30:26
2006-09-27 19:31:31
Bad memories: St. Catherine's Military Academy