Aftermarket shock for 2006 Enduro?
Hey Lee
I have your book and look through it and your website almost daily. Really appreciate all you bring to the sport.
I was influenced in getting a 06 enduro(elite) from your book.When I test rode it I was sold.I have not been sorry since, I love it.
My question is about the DHX4.0 shock. The ProPedal was no longer working so I send it back to Fox through my bike shop.I was thinking about getting a spare to keep from having any down time.I then considered Push industries and getting a DHX coil shock and having them tune it.I was told by Push that DHXair was custom made for the enduro and that no other shock will fit the enduro.Is this true? and am I really left with no other options for my bike?
Shawn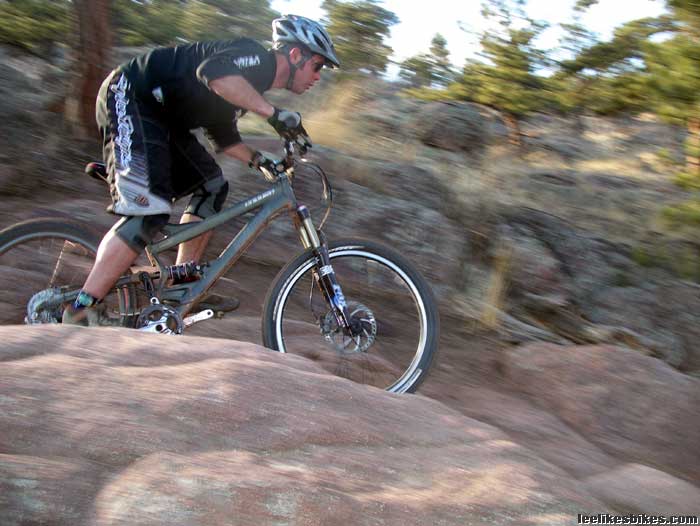 Rocking the mighty Enduro at Hall Ranch in Lyons, CO. On this rocky trail, the PUSH tune made a huge difference from stock.
Hey Shawn,
As I recall, the DHX coil shock won't fit that frame. Not without filing away part of the frame … bad idea!
My Enduro had a PUSHED RP3 air shock, and that thing was amazing. The PUSH internals allow much greater oil flow, and the custom valving made a huge difference on high speed, square-edged bumps. Instead of rat-tat-tatting, the bike just puuuuuuuushed through.
PUSH sells custom tuned RP23s (with the same external dimensions as the old RP3), and I'll bet you can get one to fit your Enduro. If you ride faster/harder than average, I pretty much guarantee a PUSHed RP23 will out-ride your DHX Air. The way the RP23 is designed, it allows greater tunability than the DHX platform. You'll notice that PUSH sells RP23s and not DHXes.
Rock,
— Lee
---
https://www.leelikesbikes.com/wp-content/uploads/2018/08/leelikesbikeslogoheader.jpg
0
0
leelikesbikes
https://www.leelikesbikes.com/wp-content/uploads/2018/08/leelikesbikeslogoheader.jpg
leelikesbikes
2007-12-16 08:57:15
2007-12-16 12:11:21
Aftermarket shock for 2006 Enduro?