2007 MSC #3 – Wildflower Rush, Crested Butte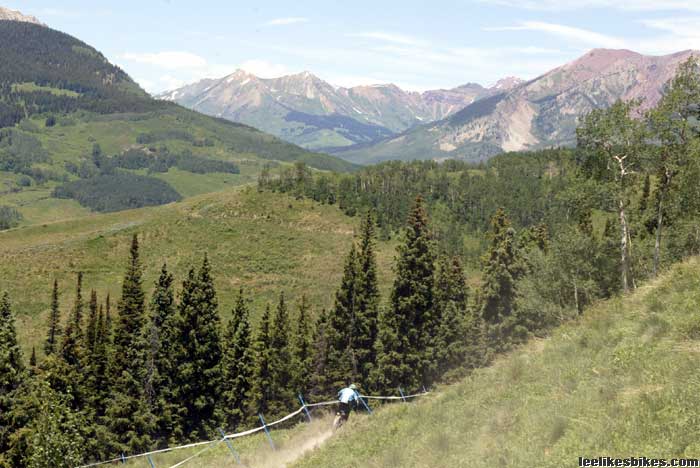 Standard-issue Crested Butte: so-so organization, awesome scenery and tame but fun courses.

The more you click, the more I can post. Lee Likes Groceries dot com!
---
Organization
I'm usually super-bro-positive about the races, but I gotta say:
Most MSCs are run by the Bigfoot Production team, and they run very smoothly. Crested Butte is run by the mountain staff — and the difference is painfully noticeable. To wit:
– Mis-printed lift tickets holding up registration.
– Very slow registration. These are not the pros you get with Bigfoot.
– Limited practice times. I know scheduling a race weekend is tough, but the other venues seem to get it.
– Ridiculous schedule. Awards scheduled for 1 p.m. Starts scheduled for 2-something.
– The same courses year after year. They're fun, but how many 5-hour drives will you do? Oh, and we get only XC and DH. No short track, no mountain cross, no dual slalom.
– Racers in the wrong categories, names without times, times without names, etc.
Bigfoot is stepping up the professionalism across the board, and this event stands out as an exception to the quality we've come to expect. I have to wonder whether we will (or should) be visiting Crested Butte next year. I love the place, but if we can go somewhere with a short track, a dual slalom and Bigfoot running the event, I say let's go.
Downhill
Course description from last year — sorry, super busy.
Most racers remember the Crested Butte course for its wicked (uphill) pedaling sections, but between the grunts there are are plenty of oohs and aahs.
You sprint down a dirt road then hang a hard left straight down the fall line. Aaaaaaaahhh! Clatter across the rocks, ruts and water bars, hit a road then bounce down, down, down. Full speed across a meadow, through a right then to the first and only technical test.
A rockfall drops into a big, bermed left. The rocks on the right look scary. The dirt o the left of the rocks is super loose. THe faint of heart go left, struggle thrugh the dust then blow the turn. The hot ticket: Roll right over the rocks and perfectly into the berm. It looks gnarly, but it's actually easier.
Carry mega speed out of the turn then blast across a flat into a short, swooping uphill. Pedal! Drop through a meadow into a tight, switchbacked woods section. Whee, then onto a road. Gather speed, stick a long 180 then turn hard right onto an uphill singletrack.
Here's where fortunes are made. PEDAL!!! Left, right, up, up. Keep pedaling over the bridge and let it roll through a series of wide turns. Whew. Take a breath then hard left into the woods. Another left, then a quick right — bam bam — feels so sweet. Pump the bridge and hammer onto the dirt road. PEDAL!
Hit the wedge jump a little to the right and fly 30 feet or so to smooth backside. Pedal! Suck up the ridiculously short table No. 1, gather your wits then repeat for No. 2. OK, cool. Rail the deeply rutted right around the trees and into the open. You can feel the venue and hear the crowd.
Nail the right berm, hit the jump and fly, fly, fly to (almost) infinite downslope. Land hard, hit the final road and PEDAL as hard as you can. Sweet!
This course rewards DH skill and XC fitness. Kain Leonard and Ryan Cranston took pro men in 04:36.94 and 04:41.91. Maverick tough guy Ariel Lindsley won semipro men — he would have been second in pro-pro. This ex-XC pro is getting the hang of this DH thing. BTW: He rides a stock ML-8 with a Boxxer fork. Jackie Harmony and Abby Hippely rocked pro women in 05:19.32 and 05:26.42.
This course suits my strengths and ignores my weaknesses. I was stoked to race it, but I decided to focus on coaching The Fix dudes. Cool: They did great! Neil Grigsby, 3rd in Expert 19-29; Joey Shusler, 1st in Jr. Ex; Evan Powell, 5th in Jr. Ex (his first Ex DH podium); Yosei Ikeda, 1st in Jr. Sport; Dylan Patterson, 7th in Jr. Sport … plus the rest of the people I've been working with. It pains my heart not to be challenging Ariel, but it feels great to help everyone prosper. (Keystone G3 this weekend … no coaching, just pinning!)
| | | | |
| --- | --- | --- | --- |
| Not sucking … | I know you walk every DH course. The Fix army scopes some tasty lines. | Practice times were limited. Lightning closed the lift. Lots of people earned their practice runs. | The top of the course is steep, rough and WIDE FREAKING OPEN! |
| | | | |
| --- | --- | --- | --- |
| My name is Evan, and I am pinning it through the trees. Evan podiumed in Jr. Ex on a Maverick ML-8 with Boxxer. Sweet! | These logs dropped onto a dirt road — BAP! For many riders, going around them was more trouble than just skimming over them. This game is so mental. | Jr. Ex about to drop from the first esses to the dirt road. | I almost always keep my feet up, but these blown-out corners justified the foot-out style. Mojo style. |
| | | | |
| --- | --- | --- | --- |
| Joey Schusler Peat, fully pinned, on his way to another Jr. Ex win. | Me, Lee, fixin' to do something extraordinary. | The only rocks on the course. This section would be a non-issue at Angel Fire, but here at Crested Butte it freaked everyone out. Choice A: Go left through the dirt and make a very tight turn. Choice B: Go right over the rocks and sweep through the berm. My choice: B, or a compromise in that direction. | Entering fast on the inside meant a foot-out, sketchy turn. Few riders make it work well. |
| | | |
| --- | --- | --- |
| Oh the pain. The top of the first pedaling section. | At a slow pace, tra la la … At race pace, gasp wheeze cough … | Still not sucking. |
Super D
While the Angel Fire course put the D in Super D, the Crested Butte course put the XC in Super D. I practiced the flat/smooth track on an Intense Spyder, and it was noticeably faster than my Enduro SL. For a course like this, XC bike all the way.
Course description from last year.
Welcome to the world of modern Super D, where the LeMans starts are long the the pedals are always turning. The run was originally supposed to be 100 yards downhill, but it got changed to a mega loop. Forget cycling shoes — it's time to rock running shoes and Power Grips.
Once you got on your bike, it was all fun. Blast the gravel road, rip the rolling singletrack, swoop through the woods then climb the road. More pedaling through the aspens, a few minor descents, a full-speed fire road then the final singletrack: a steep climb then a sequence of steep switchbacks to the venue. Pop out at the lift then sprint up the pavement to the line. Very XC, but good fun.
Surprise: Mike West crushed open men by a large margin. The run was so key, and passing opportunities were so limited. If you're a Super D racer, I hope you're practicing your starts.
Last year's Wildflower Rush: https://www.leelikesbikes.com/msc3-wildflower-rush-crested-butte-co.html
Next MSC: Blast the Mass, Snowmass, July 14-15 – www.racemsc.com
https://www.leelikesbikes.com/wp-content/uploads/2018/08/leelikesbikeslogoheader.jpg
0
0
leelikesbikes
https://www.leelikesbikes.com/wp-content/uploads/2018/08/leelikesbikeslogoheader.jpg
leelikesbikes
2007-06-25 18:35:37
2007-06-25 18:37:58
2007 MSC #3 – Wildflower Rush, Crested Butte