2014 public clinic #1 was awesome!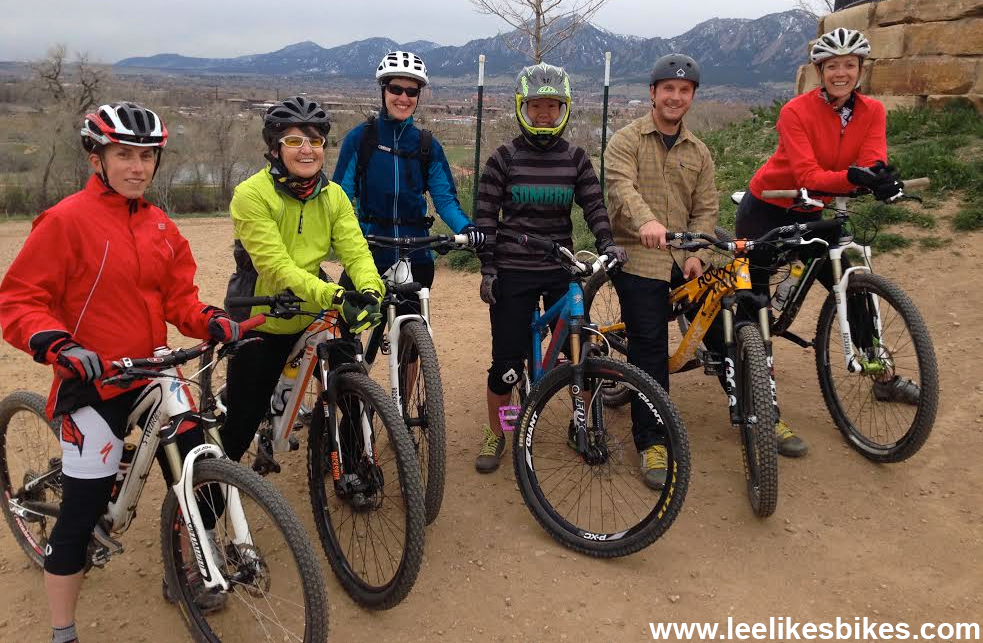 Last night was the first public clinic of the year at Valmont Bike Park. I'm nervous for every class I teach, but we tried a new format so I was extra wound up.
And … it went great!
---
About LLB public clinics at Valmont Bike Park
Over the past few years, we've been running $100, three-hour classes that cover the entire base of the skills tree. This year, the classes are only two hours and $75. Goals:
• Encourage more people to try
• Start weekday sessions at 5 p.m. instead of 4 p.m.
• Shorter, more focused sessions
• Leave people with plenty of energy for learning and practice
These sessions are held Wednesday evenings and Saturday mornings. Each two-hour session costs $75 and covers the most important safety/control skills:
• Lee Likes Bikes kung fu riding philosophy
• Balanced, effective riding position
• Safe, controlled braking
• Confident, quick cornering
• Riding up and down obstacles
Sign up for a public clinic at Valmont Bike Park in Boulder, CO >>>
Last night's session
We got a really cool mix of new riders, experienced riders who have lost touch with their bikes and advanced riders who want to dial in their fundamentals.
Everyone had fun and learned a lot.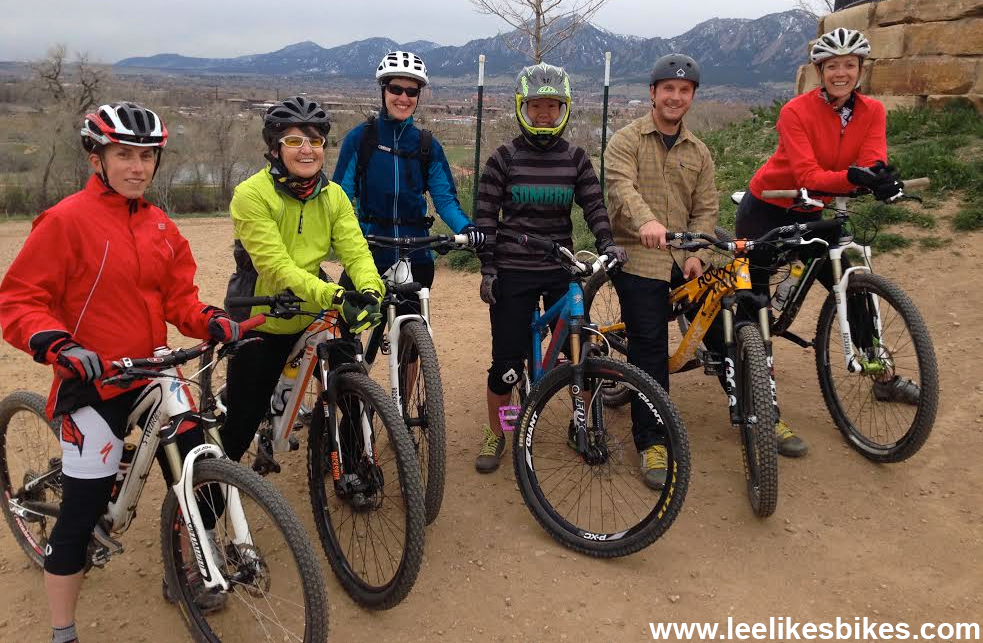 Sarah, Ann, Kate, Amy, Ben and Lauren
---
Hey Lee,
I just want to thank you for an awesome clinic last night. You really excited me about the world of mountain biking. I'm brand new to the sport and kinda thought it was, 'okay, just hang on and pray you make it over that stump…' But, now, after learning about position and being "low and awesome" not "high and afraid" it is a whole new concept. I feel more balanced, more confident and a lot less afraid.
I can't wait to go back to the park to practice in those bumps… Maybe some day I'll be like Amy and Ben flying over those jumps… well, maybe not in the near future, but, it sure is inspiring. 🙂
Thanks again for such a great introduction to the sport.
Ann
PS: i went out and bought your Mastering Mountain Bike Skills book last night after the clinic.
---
Lee – your coaching was absolutely fantastic and so immediately applicable. It's an amazing feeling to leave a 2hr session armed with so much more confidence in riding than at the start of the clinic. It was great to meet everyone and good luck with your riding!!
Lauren
And the next day …
FYI – just did a spin at Marshall Mesa and what a difference! Downhills are actually fun now because I feel so in control. Plus, I nailed this steep little uphill that has been giving me trouble by staying low, keeping heels down, and weight right over front of seat. If you had told me that one session would make a difference I would have been doubtful but my session this afternoon is proof enough!
Kind regards,
Lauren
---
Thanks Ann and Lauren!
It was a real pleasure working with you (and the whole crew)!
Lee
Sign up for a public clinic at Valmont Bike Park in Boulder, CO >>>
---
Know more. Have more fun!
Join the leelikesbikes mailing list:
---
https://www.leelikesbikes.com/wp-content/uploads/2018/08/leelikesbikeslogoheader.jpg
0
0
leelikesbikes
https://www.leelikesbikes.com/wp-content/uploads/2018/08/leelikesbikeslogoheader.jpg
leelikesbikes
2014-04-17 10:06:46
2014-04-17 13:54:01
2014 public clinic #1 was awesome!