2008 Stumpy vs 2008 Enduro SL – the debate continues
This guy lives on the East Coast and wants to motor through those perpetual up-and-down rock gardens. His needs are different from Big Mountain folks.
Lee
Loved your book – I've read it at least 3 times and I'm happy to say that the Kung Fu is systematically progressing. So I have a bike question for you. I'm currently riding a Fisher hard tail and looking to upgrade to a Stumpy FSR or Enduro SL. I'm 200 lbs and ride tight, rock-infested quick steep up and down CT singletrack and I ride pretty aggressively, but not DH/FR – I look to take 1-3′ drops and jumps on trails; I'm not a racer. Is the Enduro overkill for my description, or do you think it will be more appropriate given my size + riding style? Figured if anyone was qualified to answer this, it would be you – any insight and comment is greatly appreciated!
Matt
---
Matt,
Which is more important to you: up or down?
— Lee
---
I would say what's really important to me more so than up and down is snap of the bike, stability / lack of flex, ability to pick the bike up over obstacles and ability to motor over rock gardens (the entire state). I just see up and down as part of the ride and don't necessarily seek one or the other; I guess that's New England, neither is particularly long that you could focus on either.
I have to say, after sending you an email I noticed that a similar thread was posted on your site, so sorry for the duplication – I do really appreciate your response though – you must get this question a million times!
I guess what I really want to make sure of is if I spend 3K, I want to get the "right" bike in terms of durability and max capability that I can grow into, this will likely be my "one" bike. That being said, I do love high speeds and sharp handling. Reading the thread on your site, sounds maybe like a stumpy is the way to go. What do you think?
Thanks Lee, Matt
---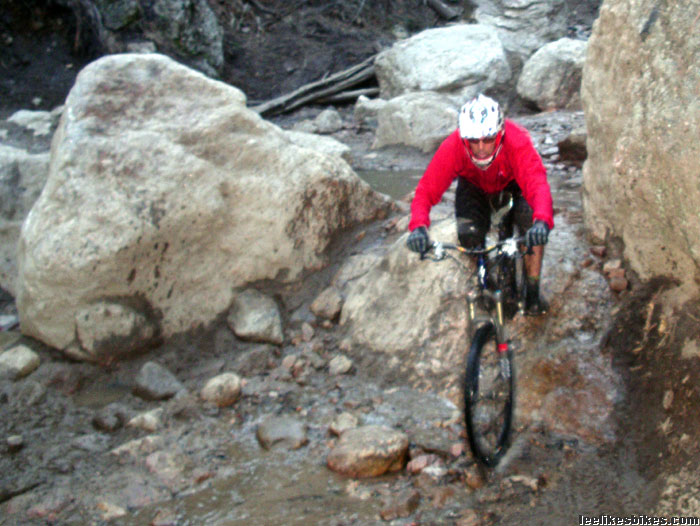 Carnage Canyon, in the belly of Left Hand Canyon OHV Area. This was Enduro SL style, but the Stumpy rocked the same lines.
Hey Matt,
The whole Stumpy-vs-Enduro thing has been hashed to death on this site, but the 2008 bikes are different, and I have new data. Let's take it one variable at a time:
Your size: Not a factor. Both the 2008 Enduro and Stumpy are overbuilt and stiff as heck. And Specialized has a killer warranty.
Terrain: The Enduro will shine on the downhills and through the rough stuff, and it will climb great. The same can be said for the Stumpy, except that bike will feel sharper and quicker. Here in Colorado, it's worth the trouble to haul a big, slack bike up the mountain, because you get a long, fast DH. There, in rolling terrain, I think the Stumpy would feel better. Like you say, it's all about motoring along and maintaining momentum.
Bike capability: Both bikes will do more than almost every rider will demand. I've seen the Enduro SL wrung out like a hated DH bike, and I personally have been wringing the heck out of my new Stumpy. Last week I rode the Stumpy at the gnarliest place around here, Left Hand Canyon OHV Area. That place is steep, rocky and raw, and it's a handful on a DH bike or moto. I am proud to say I rode everything, feet up, and the bike worked fine. I wasn't ripping it Demo 8 style, but I got it done. On our local (rocky) trails, I ride my Stumpy as hard as an Enduro.
Caveat: My Stumpy has burly wheels (Sun Charger 27s) and big tires. It needs a chain guide.
Riding style: If you are very aggressive, fit and skilled, the Stumpy is the weapon of choice for your terrain. The harder you ride it, the better it works (product manager Brandon Sloan says this was intentional). If you are a bit lazier or want more leeway, the Enduro will be the sled for you.
I hope that helps.
Braaap!
— Lee
---
https://www.leelikesbikes.com/wp-content/uploads/2018/08/leelikesbikeslogoheader.jpg
0
0
leelikesbikes
https://www.leelikesbikes.com/wp-content/uploads/2018/08/leelikesbikeslogoheader.jpg
leelikesbikes
2008-05-28 08:54:19
2008-05-28 08:55:55
2008 Stumpy vs 2008 Enduro SL – the debate continues