Mountain biking is such a rad sport—and it's about to get even radder.
Upgrade your riding life for just two hours and $75.

Do you know how it feels to rail a turn on skis or snowboard? Learn how to do that on your bike.
Who are these classes for?
Everyone who wants to ride safer, more confidently and faster on a greater variety of terrain.
If you are a beginner, we'll give you a solid foundation. Skip all the trial and error (and fear, and bad habits).
If you're an expert, we'll show you an even more effective—and way more fun—way to ride your bike. Go faster with less effort. Ride more safely. Shred new terrain. Every advanced thing you want to do is built on the core skills we teach.
You should be of driving age (We will make exceptions; email Lee). You should have decent basic bike control. Your bike should fit you and be in good working order. It should be a mountain bike. You will need to lower your seat. You will wear a helmet and gloves. Additional padding is encouraged.
Where are these classes held?
These sessions are held at the extraordinary Valmont Bike Park in Boulder, CO. Valmont is a fantastic place to learn and ride. Learn more: http://bouldermountainbike.org/valmontbikepark
Lee Likes Bikes is a Valmont Bike Park Official Adventure Provider specializing in adult skills clinics. 20 percent of your clinic fee goes straight to the park. For children's programs check out fellow Valmont Bike Park Official Adventure Provider Avid4Adventure.
What will you learn?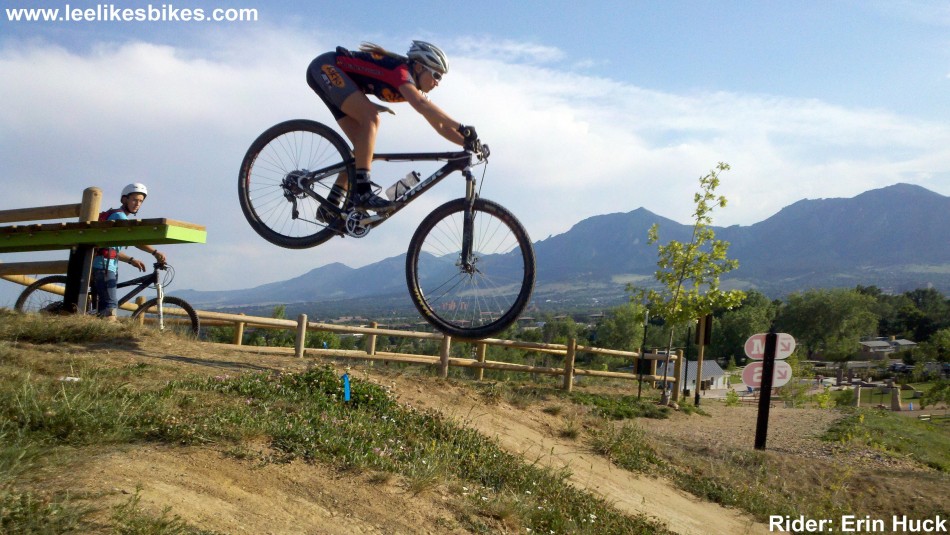 No matter what you want to do on your bike, we'll teach you the skills to do it safely. Pro racer Erin Huck with perfect flight.
We know you're busy, so we're going to deliver two hours of focused learning.
Expect to:
• Control your speed with absolute confidence
• Corner with less fear and more flow
• Ride up and down obstacles smoothly and easily
• Pump terrain for free speed and extra fun!
These core skills will help you ride everywhere, whether you are cruising on local singletrack or ripping the ski resorts. Once you get these fundamentals, it's a series of simple steps to more advanced stuff like:
• Dropping
• Jumping
• Pumping turns
• Flat-out ripping!
IMPORTANT: We do not skip steps, and we will not let you do something unless we know you're ready.
We use our teaching method with riders of all styles and levels, from kids to retirees, from XC riders to downhillers, from beginners to pros. This stuff works—and it's fun!
• Learn more about the Lee Likes Bikes teaching method, and check out options for private clinics.
Sign up

Cost per rider:
$75. 20% of your fee goes to Valmont Bike Park.
Riders per session: 6 maximum, 4 minimum
To grab your session(s), click the links below. You can pay with Paypal balance, credit card or bank account. You do not need a Paypal account.
To pay with a credit card over the phone, email lee@leelikesbikes.com.
When you get into Paypal, under "special instructions," please enter your cell number and riding goals.
April
SOLD OUT: Wednesday, April 16 : 5-7 p.m.
SOLD OUT: Saturday, April 19 : 9-11 a.m.
May
SOLD OUT: Saturday, May 10 : 9-11 a.m.


Wednesday, May 21 : 5-7 p.m.


Saturday, May 24 : 9-11 a.m.
June

Wednesday, June 4 : 5-7 p.m.


Saturday, June 7 : 9-11 a.m.


Wednesday, June 11 : 5-7 p.m.


Saturday, June 14 : 9-11 a.m.


Wednesday, June 18 : 5-7 p.m.


Saturday, June 21 : 9-11 a.m.


Wednesday, June 25 : 5-7 p.m.


Saturday, June 28 : 9-11 a.m.
July

Wednesday, July 2 : 5-7 p.m.


Saturday, July 5 : 9-11 a.m.


Wednesday, July 9 : 5-7 p.m.


Saturday, July 12 : 9-11 a.m.


Wednesday, July 16 : 5-7 p.m.


Saturday, July 19 : 9-11 a.m.


Wednesday, July 23 : 5-7 p.m.


Saturday, July 26 : 9-11 a.m.


Wednesday, July 30 : 5-7 p.m.
August

Saturday, Aug. 2 : 9-11 a.m.


Wednesday, Aug. 6 : 5-7 p.m.


Saturday, Aug. 9 : 9-11 a.m.


Wednesday, Aug. 13 : 5-7 p.m.


Saturday, Aug. 16 : 9-11 a.m.


Wednesday, Aug. 20 : 5-7 p.m.


Saturday, Aug. 23 : 9-11 a.m.


Wednesday, Aug. 27 : 5-7 p.m.


Saturday, Aug. 30 : 9-11 a.m.
September

Wednesday, Sept. 10 : 5-7 p.m.


Saturday, Sept. 13 : 9-11 a.m.


Wednesday, Sept. 24 : 5-7 p.m.


Saturday, Sept. 27 : 9-11 a.m.
If you want a lesson at a time that's not listed above, email Lee to set up a private or semi-private session. Learn about private and semi-private sessions.
---
Your coaches
Public sessions will be taught by Lee Likes Bikes founder Lee McCormack (learn more below) or an approved Lee Likes Bikes instructor. All
LLB
instructors follow the same curriculum and employ the same proven methods.
We are professionals who love bikes and love to teach. We are, quite simply, the best in the business.
Policies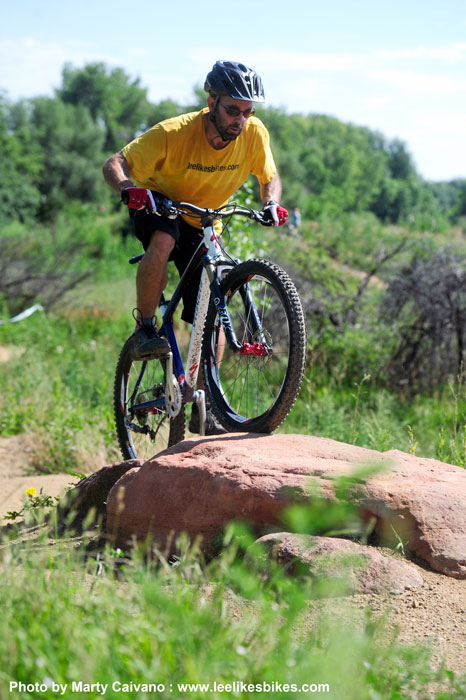 Technical climbing at Valmont Bike Park.
Time: The clock starts at the appointed time. Be ready to ride.
Equipment: Your bike should be well adjusted and in good working order. If we believe your bike is not safe, we will spend clinic time making it safe. If we need to adjust anything — brakes, gears, suspension — we will use clinic time. If you need any parts or service, see the crew at The Fix Bike Shop. They're right next to Valmont Bike Park, and they will take great care of you.
Changes and cancellations: If you want to change your appointment, you must notify me by phone or email within 24 hours. After that time, there will be no change or refund.
Weather: Bad weather does not cancel sessions. If the conditions permit any kind of riding, we will ride. If it's raining, bring a jacket. If it's muddy, we'll find another surface to ride on. If the lift closes because of lightning, we will push our bikes or practice in the parking lot. If we do cancel because of weather, it will be at Lee's discretion, and he will notify you as early as possible.
Liability: Bike riding has inherent risks, and you must accept those risks. You will sign a waiver before you ride. If we don't think you're safe, we reserve the right to end your participation and give you a pro-rated refund.
If you are a mountain bike skills coach or instructor, and you work on your own or with another party, please do not sign up for an LLB clinic. See below:
Use of information: The Lee Likes Bikes Training Method is the mountain biking instructional method developed by Lee Likes Bikes (LLB) for sole use by Lee Likes Bikes and authorized individuals. It is the intellectual property of LLB. The LLB Training Method information conveyed to the participant shall be used only for the participant's personal use. It is not to be used outside LLB-authorized activities for which LLB and the participant have a business relationship, nor is it to be shared with others — including riders, trainers or instructors — outside LLB authorized activities. Any appearance or representations made by the participant of this information in any form shall be credited to LLB. LLB does not train other bike coaches unless they are working in LLB-authorized activities. If you are interested in becoming an LLB-certified instructor, please contact Lee McCormack at lee@leelikesbikes.com.
Number of riders: While we believe in high instructor-to-student ratios, we reserve the right to allow additional riders. These might be media, sponsors, family members of attendees or people with special needs. We will make sure everyone is taken care of.
About Lee Likes Bikes
Hi, my name is Lee and I like bikes. I'm considered one of the world's top authorities on riding technique. I wrote and illustrated the bibles of
MTB
and
BMX
riding: Mastering Mountain Bike Skills 2nd Edition and Pro
BMX
Skills.
MMB
Sii is the best-selling
MTB
technique book in history, and it's available in seven languages.
PBS
is used as the coaching manual for the U.S. and Australian national
BMX
programs. They're both pretty good books.
As the skills development director for the National Interscholastic Cycling Association, I create the curriculum used to teach high school mountain bike racers how to ride safer and faster, and I teach the coaches how to teach the riders. All of the instructors I hire to teach at Valmont Bike Park use the same proven methods used to train riders throughout the U.S.
Come on out: As great as mountain biking is now, it's about to get way better!
Lee
Do you have questions or concerns? Email me at lee@leelikesbikes.com
Stoked riders!

Expect to do some bike yoga. Ryan, Mike, Meredith, El and Stacey.



WINDY BUT FUN

public level 1 clinic. David, me, Jesse, Kim, Lou, Lisa and Matt.

Andy and Tracy came out from Texas.

Cross country champion Heather Irmiger learned how to Ride (capital R) with me at Valmont. She started with some turning drills. On real terrain she says she's twice as fast—and half as scared.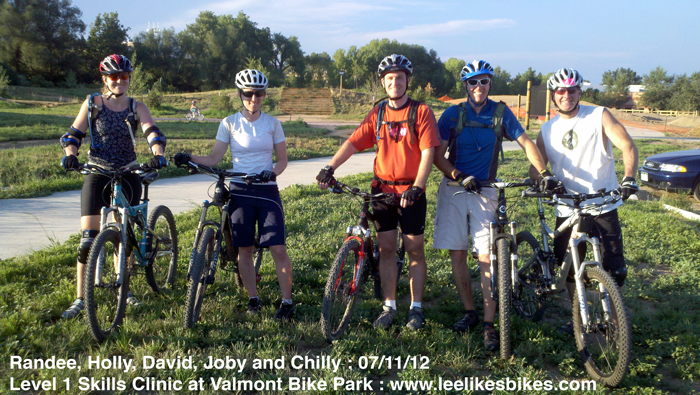 Randee, Holly, David, Joby and Chilly were stoked after their July 11, 2012 public clinic. Everyone was railing turns, ripping the pump track and riding right over a huge rock.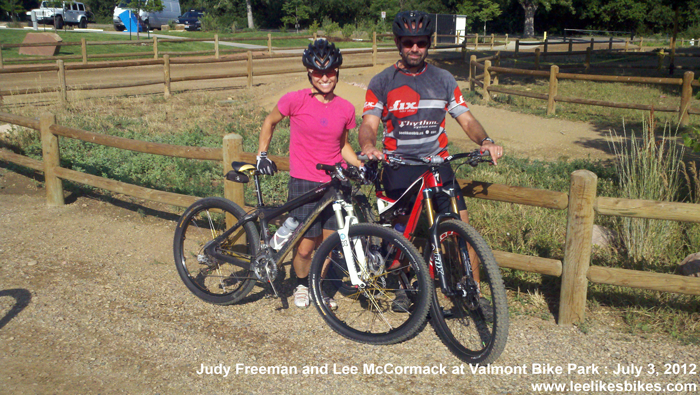 Pro XC racer Judy Freeman got in one last training session before heading to nationals.

Pro XC racer Judy Freeman rocks the rocks.
---
Know more. Have more fun!
Join the leelikesbikes mailing list:
---
1 Comment »
leelikesbikes Says June 8, 2013 @ 2:44 pm

Lee,

Just wanted to say thanks again for the class for Karyn. I had this concept that it was going to be a revelation for her, but I didn't fully believe it until I saw her jump into the pump track with our 4 y.o. with a huge grin and looking more aggressive than I've ever seen her on a bike.

She's psyched to get out an try her new skills and mentioned how when we get back to Fruita, Kessel Run will be a whole 'nother experience.



Leave a comment