Mountain biking is such a rad sport—and it's about to get even radder.
Upgrade your riding life for just two hours and $75.

Do you know how it feels to rail a turn on skis or snowboard? Learn how to do that on your bike.
Who are these classes for?
Everyone who wants to ride safer, more confidently and faster on a greater variety of terrain.
If you are a beginner, we'll giveapril 12 you a solid foundation. Skip all the trial and error (and fear, and bad habits).
If you're an intermediate rider, we'll show you an even more effective—and way more fun—way to ride your bike. Go faster with less effort. Ride more safely. Shred new terrain. Every advanced thing you want to do is built on the core skills we teach.
If you're an expert or want to learn more in a four-hour class check out the Level 2 clinic.
You should be of driving age (We will make exceptions; email Lee). You should have decent basic bike control. Your bike should fit you and be in good working order. It should be a mountain bike. You will need to lower your seat. You will wear a helmet and gloves. Additional padding is encouraged.
Where are these classes held?
These sessions are held at the extraordinary Valmont Bike Park in Boulder, CO. Valmont is a fantastic place to learn and ride. Learn more: http://bouldermountainbike.org/valmontbikepark
Lee Likes Bikes is a Valmont Bike Park Official Adventure Provider specializing in adult skills clinics. 20 percent of your clinic fee goes straight to the park. For children's programs check out fellow Valmont Bike Park Official Adventure Provider Avid4Adventure.
What will you learn?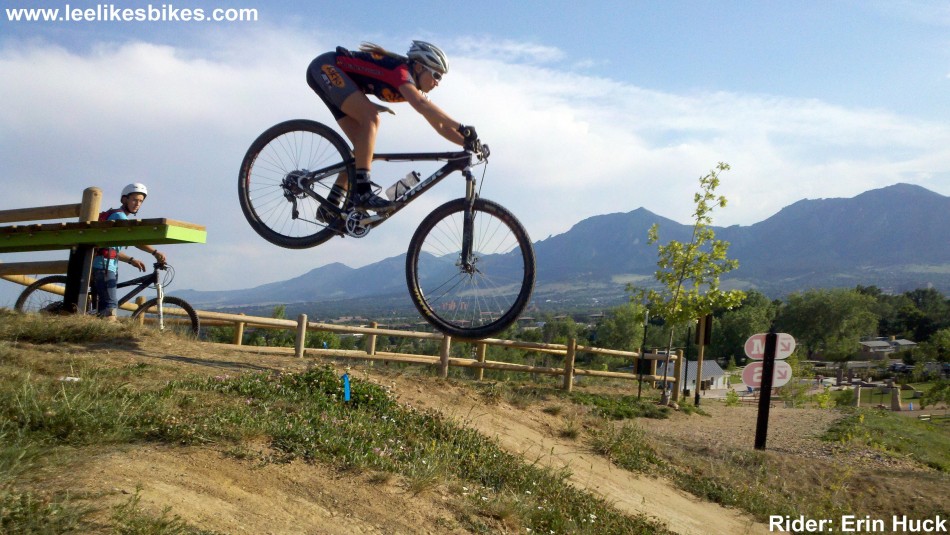 No matter what you want to do on your bike, we'll teach you the skills to do it safely. Pro racer Erin Huck with perfect flight.
We know you're busy, so we're going to deliver two hours of fun, applicable learning. We will focus on the most important safety/control skills:
• Lee Likes Bikes kung fu riding philosophy
• Balanced, effective riding position
• Safe, controlled braking
• Confident, quick cornering
• Riding up and down obstacles
These core skills will help you ride everywhere, whether you are cruising on local singletrack or ripping the ski resorts. Once you get these fundamentals, it's a series of simple steps to more advanced stuff like:
• Pumping bumps
• Pumping turns
• Dropping
• Jumping
• Flat-out ripping!
IMPORTANT: We do not skip steps, and we will not let you do something unless we know you're ready.
We use our teaching method with riders of all styles and levels, from kids to retirees, from XC riders to downhillers, from beginners to pros. This stuff works—and it's fun!
• Learn more about the Lee Likes Bikes teaching method, and check out options for private clinics.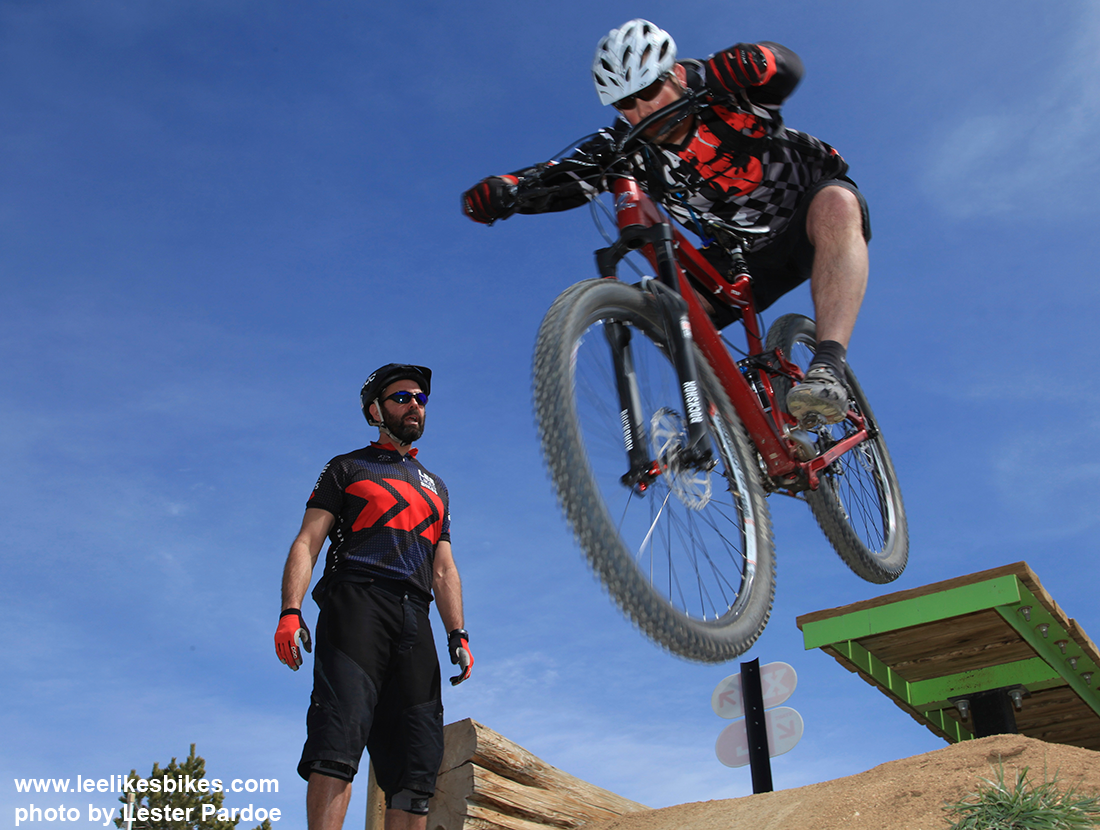 Fly safely and land smoothly.
Sign up!



Cost per rider: $75. 20% of your fee goes to support Valmont Bike Park.
Riders per session: 7 maximum, 3 minimum
To grab your session(s), click the links below. You can pay with Paypal balance, credit card or bank account. You do not need a Paypal account.
To pay with a credit card over the phone, email lee@leelikesbikes.com.
When you sign up for one of these classes, you agree to the policies for LLB skills instruction.
2016 DATES:
April
Tuesday, April 12 : 5-7 p.m. : SOLD OUT
Saturday, April 16 : 9-11 a.m. : SOLD OUT
May
Tuesday, May 3 : 5-7 p.m. : SOLD OUT
Saturday, May 7 : 9-11 a.m. : SOLD OUT
Tuesday, May 17 : 5-7 p.m. : SOLD OUT
Saturday, May 21 : 9-11 a.m. : SOLD OUT
Tuesday, May 31 : 5-7 p.m. : SOLD OUT
June
Saturday, June 4 : 9-11 a.m. : SOLD OUT
Tuesday, June 7 : 5-7 p.m. : SOLD OUT
Saturday, June 11 : 9-11 a.m. : SOLD OUT
Saturday, June 11 : 1-3 p.m. :
Tuesday, June 14 : 5-7 p.m. :
Saturday, June 18 : 8-10 a.m. :
Tuesday, June 21 : 5-7 p.m. :
Saturday, June 25 : 9-11 a.m. : SOLD OUT
Saturday, June 25 : 1-3 p.m. :
Tuesday, June 28 : 5-7 p.m. :
July
Saturday, July 2 : 9-11 a.m. :
Tuesday, July 5 : 5-7 p.m. : SOLD OUT
Saturday, July 9 : 9-11 a.m. :
Saturday, July 9 : 1-3 p.m. :
Tuesday, July 12 : 5-7 p.m. :
Saturday, July 16 : 9-11 a.m. :
Tuesday, July 19 : 5-7 p.m. :
Saturday, July 23 : 9-11 a.m. :
Saturday, July 30 : 1-3 p.m. :
Tuesday, July 26 : 5-7 p.m. :
Saturday, July 30 : 9-11 a.m. :
August
Tuesday, Aug. 2 : 5-7 p.m. :
Saturday, Aug. 6 : 9-11 a.m. :
Saturday, Aug. 6 : 1-3 p.m. :
Tuesday, Aug. 9 : 5-7 p.m. :
Saturday, Aug. 13 : 9-11 a.m. :
Tuesday, Aug. 16 : 5-7 p.m. :
Saturday, Aug. 20 : 9-11 a.m. :
Saturday, Aug. 20 : 4-6 p.m. :
Tuesday, Aug. 23 : 5-7 p.m. :
Saturday, Aug. 27 : 9-11 a.m. :
Tuesday, Aug. 30 : 5-7 p.m. :
September
Tuesday, Sept. 6 : 5-7 p.m. :
Saturday, Sept. 10 : 9-11 a.m. :
Tuesday, Sept. 20 : 5-7 p.m. :
Saturday, Sept. 24 : 9-11 a.m. : SOLD OUT
>>> We teach private and small-group lessons all year. To ride better and safer—and have more fun—check out our private rates and email lee@leelikesbikes.com.
Also check out Public classes throughout the United States >>>
---
Your coaches
Most public sessions will be led by LLB coach Kevin Stiffler, Lee McCormack or another Lee Likes Bikes instructor. All LLB instructors follow the same curriculum, employ the same methods and are great teachers.
We are professionals who love bikes and love to teach. We are, quite simply, the best in the business.
About Lee Likes Bikes
Hi, my name is Lee McCormack, and I like bikes. I'm considered one of the world's top authorities on riding technique. I wrote and illustrated the bibles of MTB and BMX riding: Mastering Mountain Bike Skills 2nd Edition and Pro BMX Skills. MMBSii is the best-selling MTB technique book in history, and it's available in seven languages. PBS is used as the coaching manual for the U.S. and Australian national BMX programs. They're both pretty good books.
As the skills development director for the National Interscholastic Cycling Association, I create the curriculum used to teach high school mountain bike racers how to ride safer and faster, and I teach the coaches how to teach the riders. All of the instructors I hire to teach at Valmont Bike Park use the same proven methods used to train riders throughout the U.S.
Come on out: As great as mountain biking is now, it's about to get way better!
Lee
Do you have questions or concerns? Email me at lee@leelikesbikes.com
Stoked riders!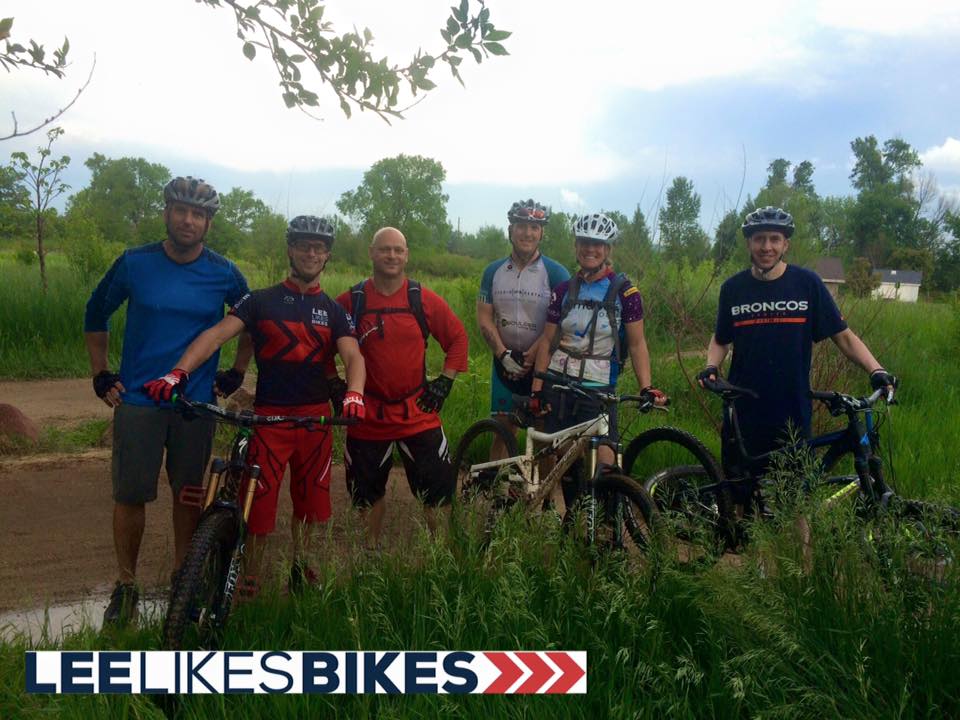 Kevin Stiffler and Amy Shenton rock another Level 1 public clinic at Valmont Bike Park. Riders said:
"Kevin, you and Amy knocked it out of the park today with your instruction. I now see where many of my faults were…I had gotten terribly sloppy and would never had noticed if not for this camp.
"Yes, Kevin and Amy…I will work on dropping my right heel!
"Thank you for a great two hours!"
Terry Jones
——
"First and foremost Kevin and Amy did a fantastic job! Super friendly and super knowledgeable. They should wear capes with a big LLB on it. I got a lot more out of the Skill Clinic Level 1 than I would have imagined. Looking forward to Skill Clinic level 2 in a couple of weeks! I have not had this much fun since that first day I learned how to ride a bike. It feels very much the same with what you get out of this class!"
Richie Sklenar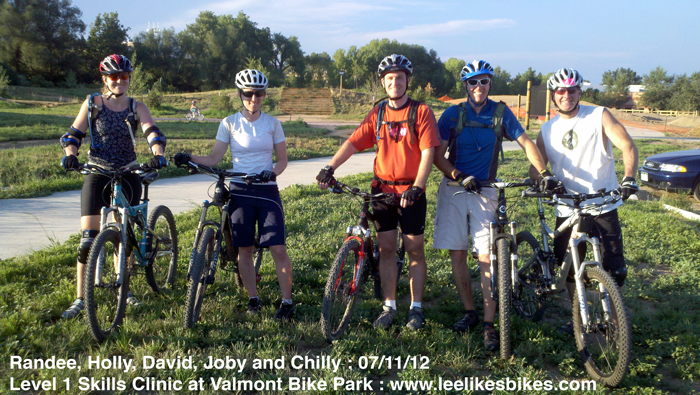 Randee, Holly, David, Joby and Chilly were stoked after their July 11, 2012 public clinic. Everyone was railing turns, ripping the pump track and riding right over a huge rock.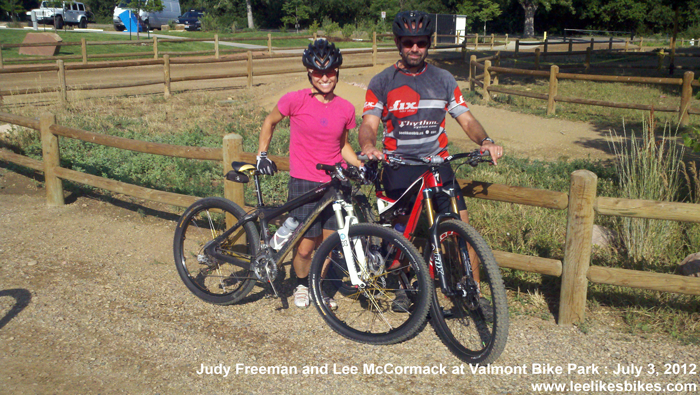 Pro XC racer Judy Freeman got in one last training session before heading to nationals.

Sarah, Ann, Kate, Amy, Ben and Lauren. See 2014 public clinic #1 was awesome!
---
Hey Lee,
I just want to thank you for an awesome clinic last night. You really excited me about the world of mountain biking. I'm brand new to the sport and kinda thought it was, 'okay, just hang on and pray you make it over that stump…' But, now, after learning about position and being "low and awesome" not "high and afraid" it is a whole new concept. I feel more balanced, more confident and a lot less afraid.
I can't wait to go back to the park to practice in those bumps… Maybe some day I'll be like Amy and Ben flying over those jumps… well, maybe not in the near future, but, it sure is inspiring.

Thanks again for such a great introduction to the sport.
Ann
PS: i went out and bought your Mastering Mountain Bike Skills book last night after the clinic.
---
Lee – your coaching was absolutely fantastic and so immediately applicable. It's an amazing feeling to leave a 2hr session armed with so much more confidence in riding than at the start of the clinic. It was great to meet everyone and good luck with your riding!!
Lauren
---
Lee and Kevin,
My buddy Craig and I really enjoyed the clinic today. As experienced riders we were both looking for a way to take it to the next level, and I think we've planted that seed. We spent an hour or so after the clinic in the park and enjoyed putting our now perfect cornering and balance to work.
I wish I would have had this type of coaching when I was racing 10 yrs ago…better late than never.
Thanks,
Brian Glater
---
---
Know more. Have more fun!
Join the leelikesbikes mailing list:
---
9 Comments »










Leave a comment