For 2008 Mountain States Cup has added a Vet Pro/Am class. Anyone 35 or older can race this category, and I am stoked. Here's why:
– The delta between VetEx and Semipro is huge! Very few older riders can compete or want to compete with the young bucks, especially in MSC 4X and DS, where Pro and Semi have been mixed. Give me a long enough DH course and I'll find a fun flow, but in gated events it's hard to roll with the raw aggression of a 20-year-old. Breaking a clavicle, recovering from surgery, realizing some things are more important … these things change a man.
– I think your ideal class gives you the possibility of a good result only if you train and focus and do everything right. That keeps you hungry and motivated. When I went Semipro (and became a coach), I realized if I risked it all and ignored my kids, I could get 15th. If I took it easy and took great care of the kids, I could get 17th. I know it's lame to say this, but Why risk? Why strive?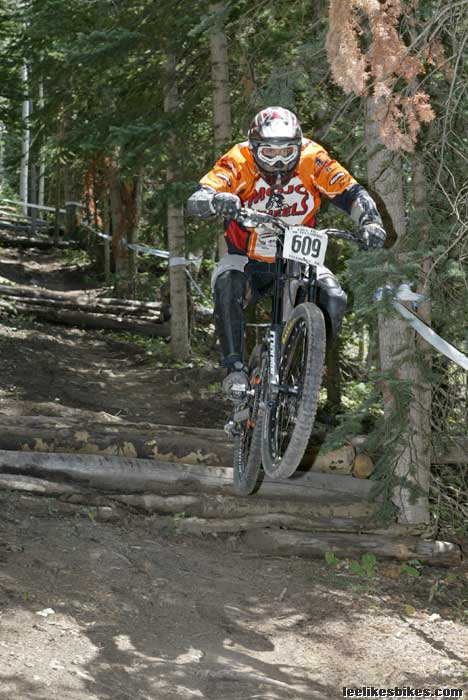 Troy Cooperman: powerful, committed and fierce
– A couple years ago a petition was brought to USA Cycling to officially add a Vet Pro class. They said no, there are too many classes already. Stupid!
– A Vet Pro class keeps older riders in the mix. So many guys get to a point where they're fast, but they can't compete with the younger guys, and they lose the spark, so they move into other sports. Many start riding moto. After two seasons of twisting throttles, they're out of MTB racing. Motos are a one way ticket to midnight. Call it … heavy metal.
– A Vet Pro class brings young riders into the sport. If Dad is competing in Vet Pro, all hungry and stoked, then you know he's gonna encourage his kids to race too.
– Other mature sports have similar classes. Two obvious analogs: motocross and BMX. At the hare scrambles around here, the Vet class is big and fast. Shannon Gillette, the PR guy at the ABA, says 30-34 and 35-39 are by far the biggest Cruiser classes. It's the dads.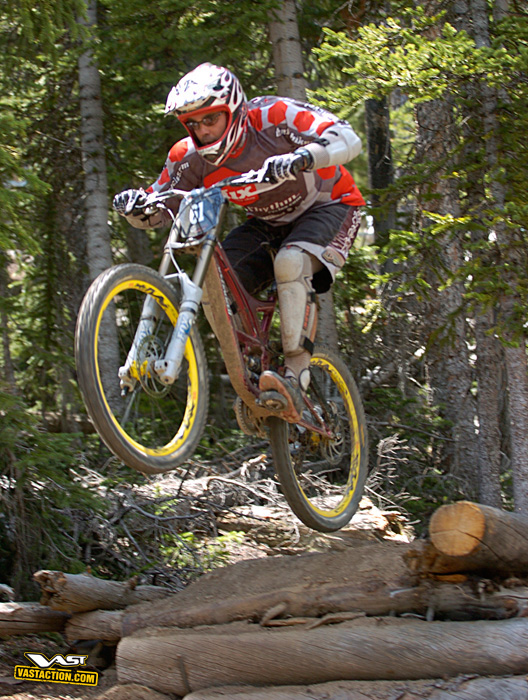 Lee McCormack: smooth and devious, but not so fierce
– The race series in Fontana, CA has a Vet Pro class, and it has been a huge success there. The Vet Pro class was great at this year's G3 events. We have a lot of old/fast guys in the Mountain States, currently scattered among the VetEx, Semi and Pro classes.
– Vet Pro is definitely the place for old/fast Experts and old/slow Semis and Pros. But what about vets who are still fast pros? That's an individual decision. You know Brian Lopes could demolish any Vet class he wants, but he still enjoys demolishing everyone. And then there's Ned Overend. When he turned 50 and was still mixing it up in Pro he told me, "I can get a lot slower and still be fast for 50. I want to be fast, period."
– I still believe that, if I do everything right, I can podium in a Semipro downhill. That would be very satisfying. But you know what? Standing on a Vet Pro/Am podium with Dan Weinman or Troy Cooperman or Bill TeSelle would be cool too.
Next year I don't want to be fast for 39. I want to be fast, period.
---
https://www.leelikesbikes.com/wp-content/uploads/2018/08/leelikesbikeslogoheader.jpg
0
0
leelikesbikes
https://www.leelikesbikes.com/wp-content/uploads/2018/08/leelikesbikeslogoheader.jpg
leelikesbikes
2007-12-21 10:00:37
2007-12-21 12:19:47
Vet Pro: yippee!