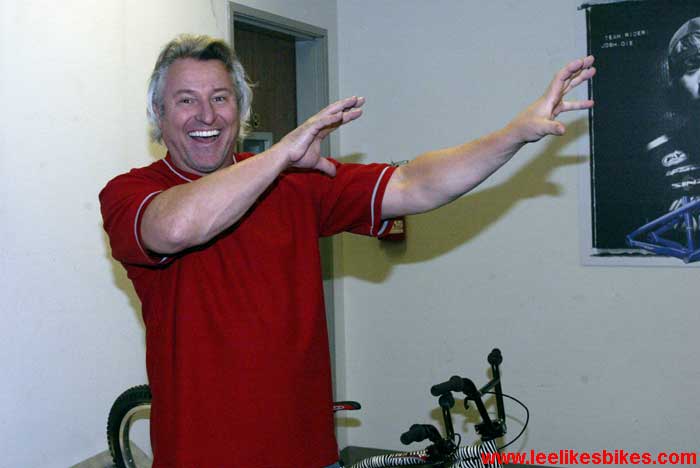 Last week, that is. I spent quality time with some BMX luminaries in SoCal, and I now have 20,000 words of notes for my book. These quotes pop out:
---
"The best way is the way that feels best to you. Even if it's slower, you feel more confident, and that makes you faster overall."
— Danny Caluag, 20, current ABA AA Pro and Pro Cruiser champ; on whether he uses a timer to determine which line is fastest through a section.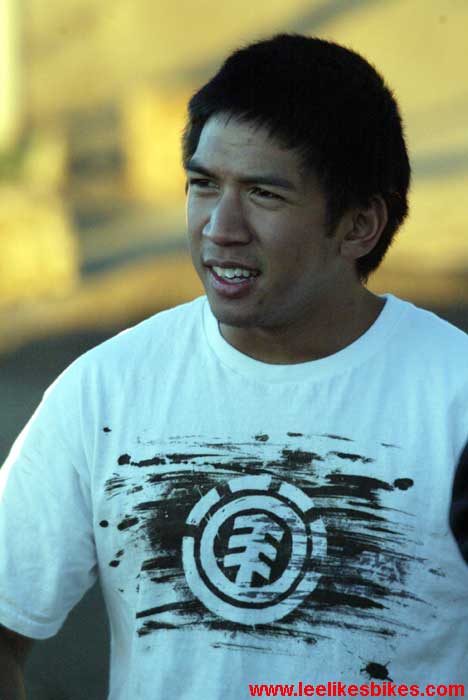 In Danny's second year as a pro, he did what's never been done: He won both the 20 and Cruiser classes. Nice guy too.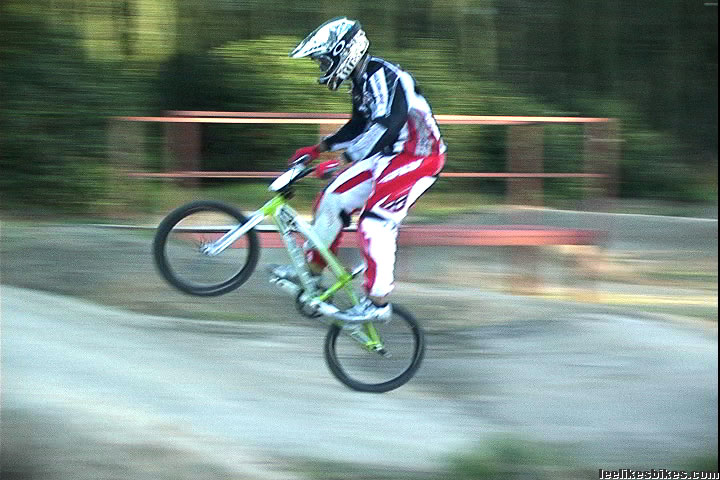 It's fun to watch Danny ride. This guy has so much power, and he directs it so precisely. Braaap!
---
"There's a certain rawness that you can't replicate scientifically."
— Jason Richardson, 33, longtime AA pro and world champion with degrees in philosophy and global business; on how his construction worker friends are burlier than he is, even though he's a pro racer and can lift a lot in the gym.
| | |
| --- | --- |
| Yeah, Jason is a character. Very smart, very educated, very well spoken. And pretty good on a bike. | Practicing in front of his house. Do you thrust your hips this far forward? Do you pull this hard? Probably not. |
---
"It's like you're back here, ready to pounce."
— Toby Henderson, 46, BMX and MTB legend and entrepreneur; on the design of his Intense BMX frames. This guy is a character!
| | | |
| --- | --- | --- |
| Toby expresses the emotional drive of the … | … Intense Factory Carbon XL. | Surveying his kingdom. Toby oversees THE, Intense BMX, Intense Tire Systems, SINZ and Vigor Helmets. His warehouse if full of cool stuff. |
---
And this was just cool. Orange BMX track.
---
https://www.leelikesbikes.com/wp-content/uploads/2018/08/leelikesbikeslogoheader.jpg
0
0
leelikesbikes
https://www.leelikesbikes.com/wp-content/uploads/2018/08/leelikesbikeslogoheader.jpg
leelikesbikes
2007-12-20 10:42:56
2007-12-20 12:34:28
Quotes of the week