Trail riding on a CX bike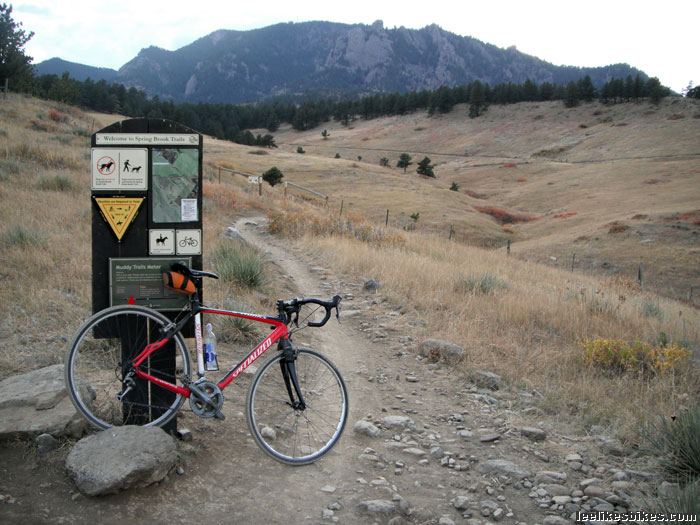 Hey Lee,
Been following your site for long time. Finally have a question for you. I recently moved from Boulder to Ann Arbor, Michigan. Not much here to ride my trail bike on, but I love to rail my Marin Cortina CX bike on the local singletrack. I was living in Boulder this past summer and cracked the Cortina at the headtube. I think riding Betasso and Marshal Mesa often was a bit too much.
Marin replaced it, but I am thinking about getting something else more appropriate for my style. I mostly ride trail (typical ride currently is 5-10 miles road with 15+ miles tight, fast singletrack). I also go on the occasional road ride, and I use the bike to commute a few miles every day. I entered my first CX race this past weekend and had a blast.
I remember seeing a few of your posts awhile back about riding trail on CX. It is fun! Naturally, one factor I'm considering is frame material. Been thinking about steel (see http://www.cotic.co.uk/product/x#). However, I have never owned a steel bike. My understanding is that steel would be heavier, but more damp, stiff, and durable. Better for trail riding on a CX, no?
Any other suggestions? Do CX bikes with better trail geometry exist? What would that be? Fork material? I'm thinking 1×9 set-up; bigger tires (currently running 32s), wider bars, maybe disc brakes, but I like the simplicity of cantis and we don't have much for hills here anyway.
I appreciate any advice. Thanks!
Joe
---
Hey Joe,
Thanks for writing. I feel like I've barely scratched the surface of what's possible on my CX bike, but I'll be happy to share what I know (or at least what I think).
Man, I wish I had trail-action photos for this post.
Fun
Yeah man, a CX bike makes a mellow trail seem extra fun. Trails like Betasso and Marshall Mesa don't ask much of a modern trail bike, but they sure wring out a CX bike (and rider).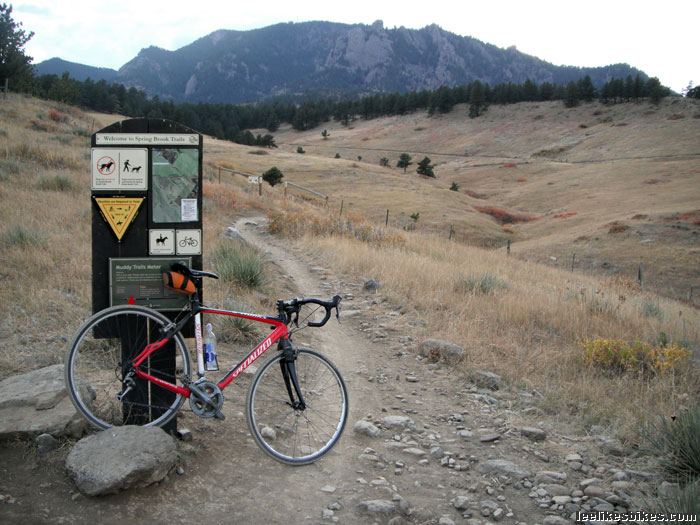 Tame on a tail bike. Exciting on a cross bike.
Geometry
My buddy Will, who works at da Vinci Designs, was going to build a run of "freeroad" bikes with steel frames, disc-brake mounts and 69-degree head tubes. That project fizzled out. Too bad, because that's a bike I'd like to ride.
I suppose a 'cross bike with a slacker head angle and shorter rear end would be more braaapable than a typical cross bike, but CX geometry seems pretty established. I don't know where you get that "freeroad" geometry, short of a custom order. Maybe someone out there has a tip?
Brakes
My S-Works Tricross has Avid cantilevers. These have long been the standard, and they work fine when they're clean and dry. But how often do you ride CX with clean/dry brakes?
If I was going to start fresh with a new bike, I would definitely want disc brakes. I don't care what terrain you're riding on; why would you consciously choose weak, finicky brakes?
Frame/fork material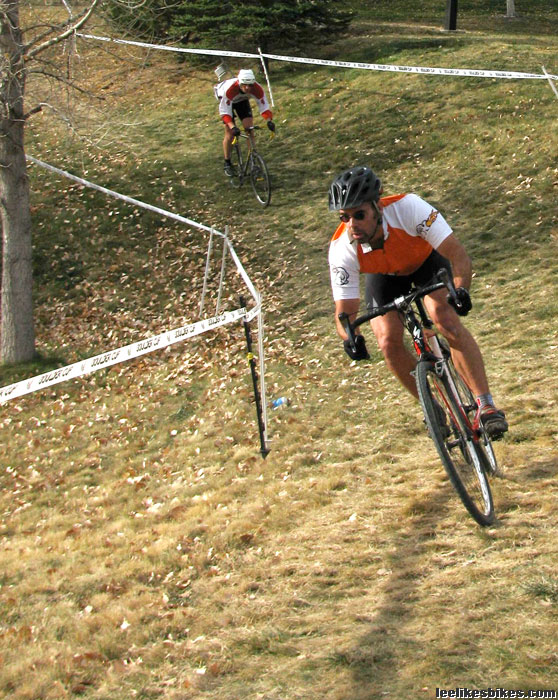 My carbon S-Works Tricross has a light, quick, smooth and beautiful ride. It better for what it costs!
We've all heard the traditional wisdom:
• Aluminum is light but harsh and temporary.
• Steel is heavy but smooth and durable.
• Titanium is light and smooth and durable.
• Carbon is light and smooth and durable.
or something like that. Fact is, a bike manufacturer can get pretty much any ride it wants out of any of those materials. An aluminum bike that's tuned for a smooth ride, or a steel bike that's made super light, might not last long. Titanium is expensive. Carbon has a lot of advantages, plus it's becoming more affordable. Regardless of frame material, more and more bikes are spec'ed with carbon forks (including your steel Cotic).
Any quality bike is going to be sweet. Aluminum works. Steel is real. Ti is magic. Carbon is pretty darn good.
A couple years ago, while I was waiting for my S-Works Tricross, I bought a used Surly Cross Check. The Surly is steel, basic and inexpensive. A lot of people love that bike. I rode it a lot on- and off-road, and I enjoyed it. It made me think, wow, why spend crazy money on a carbon bike? … Well, the S-Works Tricross came — with its carbon frame and fork — and OMG that extra few thousand dollars gets you something. The Tricross just feels better. No brake chatter, great stiffness where I need it, great smoothness elsewhere. Seriously, the Tricross is a beautiful-riding bike. If it had disc brakes it would be perfect.
I say this all the time: Pick something you like (that Cotic looks nice) and learn to ride it.
Ultimately, I think the quality of your ride is determined less by the "hard" parts of the bike and more by the tires.
Tires
I've spent most of the spring/summer on a set of 45C Specialized Borough XC Pro tires. These look like the lame half-and-half tires you get on hybrids, but I think they're really clever. The slightly gnurled center tread rolls pretty well, and the stepped, supported side knobs bite very well. The tires are so big (for a road/CX bike) that I ride them with impunity.
Smaller CX-specific tires like the Specialized Trigger Pro and/or Tracer Pro would feel lighter and faster, and they might grip better,* but you'd give up the volume. If you're gonna ride rocks at speed, a bigger tire will fight pinch flats.
*I will be testing the new Tracer and Trigger asap. The snow is flying here. If you don't ride CX in Boulder, you pay extra taxes.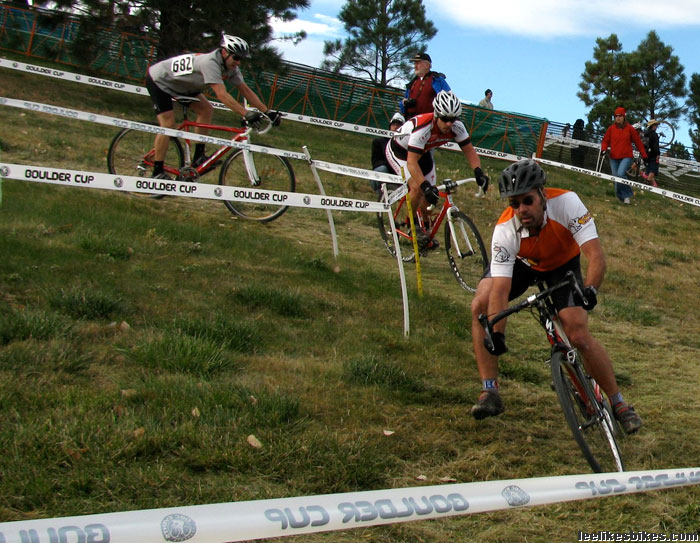 A knobby CX tire like the Specialized Terra Pro gets impressive traction in grass and loose dirt.
Other stuff
• Wide bars would be nice. Check out bars with shallow, flared drops, like the Salsa Bell Lap or Woodchipper.
• If it's flattish where you live, a 1×9 or 1×10 should work fine. I'd like to see a Gamut chain guide for CX bikes. Maybe use the new Shimano XTR rear derailleur, with it's chain-slap prevention?
• If you're gonna ride off road with any aggression, consider a remotely adjustable seatpost. X-Fusion, Rock Shox and KS make models that fit road/cx bikes.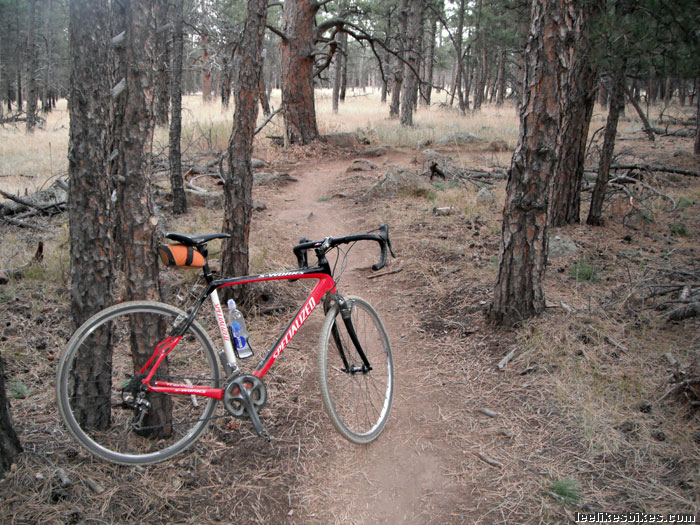 Why not drop your seat to pump some rocks and rip some turns?
I hope this was helpful. Rip it!
Lee
---
Know more. Have more fun!
Join the leelikesbikes mailing list:
---
https://www.leelikesbikes.com/wp-content/uploads/2018/08/leelikesbikeslogoheader.jpg
0
0
leelikesbikes
https://www.leelikesbikes.com/wp-content/uploads/2018/08/leelikesbikeslogoheader.jpg
leelikesbikes
2011-11-02 11:12:13
2011-11-02 11:12:13
Trail riding on a CX bike