The Great Spring Adventure of 2006, Part 2: Fox Press Camp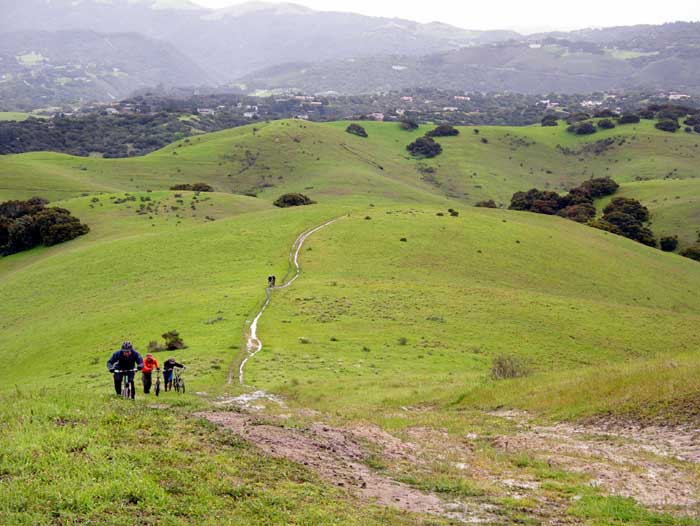 Food, suspension and MUD.

---
Monday
Check into the Monterey Hyatt Regency. After five days on the road, it felt really fancy — except they allow dirtbag mountain bikers.
Meet and greet cocktail reception. Catch up with the Fox guys I know, meet some more Fox guys, hob-bob with the all-powerful MTB media guys. Open bar.
Dinner! Full awesome buffet style. I threw down in a huge way. Every vegetable you can imagine, plus chicken, salmon and steak, followed by cheesecake and apple pie. Oh, and open bar.
After an evening like this, you get a warm feeling from the very thought of Fox Racing Shox. Or maybe that's the four vodka tonics.
Tuesday
Did I mention it's been raining? Holy cow. It's like one of those global warming/armageddon movies. You're sitting in your car thinking the world is about to end, then Mark Weir rides past in a wheelie and you know the end is nigh.
Breakfast buffet. I've administered soy milk and granola for the past hundred mornings. This morning it was all about the freedom toast and eggs. And 85 cups of coffee. Living large on Fox.
Classroom time. We get the scoop on the new Hutchinson tire line and Fox's 2007 forks and shocks. The info is embargoed until mid-April, so you'll have to wait. As much as I love bikes, and as much as new gadgets excite me, it was super-tough to sit still for those few hours. The legs were itching to RIDE!
We drive to the Sea Otter expo to ride the new suspension on the XC course, and it's raining like a mofo. The idea of soaking my shoes (and wearing them through Sunday) made me whine, but — dude — we were at Laguna Seca, and it was time to rock.
I got a Yeti AS-R with a Fox F100X fork. The front has an inertia valve, and the rear has some serious ProPedal going on. In the parking lot the bike feels rigid and dead, but it sprints like a champ. Hmm.
We string out along the access road and dive into the singletrack. The hills are green and round, and the trail is a mucky twine of running water and sheep shit. Oh man, do I love riding bikes. I charge near the front, splashing across sheets, swapping in ruts and slamming into holes. The group catches up on the big climb. I pick and slip my way up the sodden trail, with Richard Cunningham (Mountain Bike Action editor) on my wheel, offering random insights. I wish I could remember one.
The Fox crew works its way to the front; they know this ride. I push Fitzy off the trail, and he messes with my shift/brake lever. The last singletrack appears, and those guys pin it. I settle into third position then we're blasting through emerald tunnels, wallowing in mud, drifting on sand and hooking on loam. Fitzy dives, dives, dives into turn after turn, and I just surrender to the speed. Oh man, so sweet!
We get back on the pavement, and it's like — whoa — my bike feels so quick, and my suspension is so stiff. Well, it didn't feel stiff on the trail. It just plain worked. I used full travel front and rear, and I had a great time doing it.
Rain be damned, that was so fun!
https://www.leelikesbikes.com/wp-content/uploads/2018/08/leelikesbikeslogoheader.jpg
0
0
leelikesbikes
https://www.leelikesbikes.com/wp-content/uploads/2018/08/leelikesbikeslogoheader.jpg
leelikesbikes
2006-04-13 16:42:31
2006-04-13 16:44:16
The Great Spring Adventure of 2006, Part 2: Fox Press Camp